China urges 'restraint' after U.S. airstrike on Syrian airfield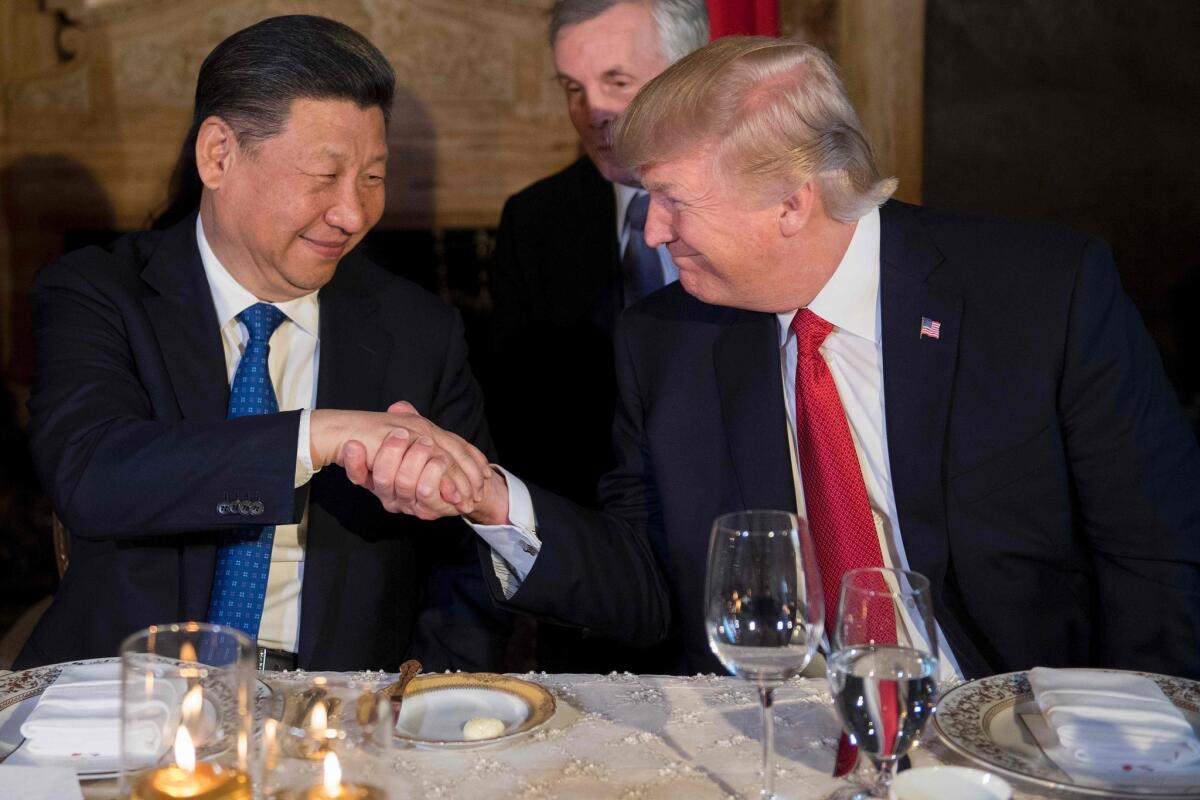 Reporting from BEIJING —
China on Friday warned against "the escalation of tension" in Syria after President Trump launched an airstrike on a Syrian government air base, adding a surprise twist to his two-day summit with Chinese President Xi Jinping.
The U.S. launched 59 Tomahawk cruise missiles at the base late Thursday in response to a chemical weapons attack in Syria earlier this week that killed dozens of people in a rebel-held area, many of them children.
Thursday's airstrike marked the first direct U.S. military action against the government of Syrian President Bashar Assad since Syria's civil war began in 2011. At least seven Syrians were killed in the airstrike and nine wounded, according to a statement by the Syrian army.
"We are concerned about the current situation in Syria and call for political settlement," Chinese Foreign Ministry spokesperson Hua Chunying said at a regular news briefing on Friday. "We hope all sides will stay calm and exercise restraint to prevent the escalation of tension."
In the first face-to-face meeting between the two leaders, Xi is meeting with Trump at the U.S. president's Mar-a-Lago resort in Florida for a two-day summit that ends Friday. The meeting has so far been cordial; Trump said Thursday that it would kick off "a very, very great relationship" with the Chinese president.
Experts said that the timing of Trump's strike could affect their negotiations over how to handle North Korea's nuclear threat.
"I think [the strike] may effect China's negotiating positions on the North Korea issue," said Zhang Baohui, a professor of international affairs at Lingnan University in Hong Kong. "This strike bolsters the credibility of an implied threat by Trump."
Trump told the Financial Times last weekend that if China wouldn't help "solve North Korea," the U.S. would do it alone, suggesting the possibility of military action.
"There's a possibility that [Thursday's airstrike] may push China to do more, to cooperate with the United States," he said. "Because China doesn't want a war in the Korean peninsula — that would be fundamentally against China's interests." He said that China could potentially ratchet up sanctions against its northeastern neighbor, threatening to deprive Pyongyang of fuel, food and capital.
Zhang added that Xi may not have been angered by the surprise strike. "What Xi wants is the image of a successful summit," he said. "So these distractions are not that important."
China has for years condemned U.S. use of military force abroad. Beijing blames Washington for destabilizing countries — Egypt, Libya, Ukraine and others — by inciting unrest to topple non-U.S.-friendly regimes. Beijing worries that similar campaigns could jeopardize its own grip on power.
"It seems that Western countries, especially the U.S., do not favor incremental but orderly reforms in non-Western countries and are prone to support chaotic revolutions in these countries," the state-run Global Times said in an editorial Thursday. "Under this approach, it seems the Syrian conflict could not be resolved peacefully."
China has repeatedly voted with Russia against U.S.- and British-sponsored United Nations resolutions aimed at pressuring Assad by imposing sanctions on Syria. In February, Amnesty International called Russia's and China's vetoes "shameful," adding that they "have displayed a callous disregard for the lives of millions of Syrians."
Last month, Assad said in a rare interview on Chinese television that Syria's relationship with China "is going to be on the rise." He called China "a real friend, a friend that you can rely on."
China responded to this week's chemical attack by calling for a "comprehensive, fair probe" by the Organization for the Prohibition of Chemical Weapons and other U.N. organizations. Western governments have blamed Assad for the attack. "There can be no dispute that Syria used banned chemical weapons," Trump told reporters hours after he ordered the missile strike.
Trump informed Xi of the Syria strike at Mar-a-Lago, officals said.
Trump also accepted an invitation from Xi to visit China, China's official New China News Agency reported Friday. There are "a thousand reasons to make China-U.S. relationship work, no reason to break it," Xi told Trump, the agency reported.
Nicole Liu in the Times' Beijing bureau contributed to this report
Twitter: @JRKaiman
ALSO
Syria and Russia issue rebuke after U.S. airstrike
Syrian ally Iran blasts U.S. missile strikes as 'dangerous, destructive and a violation of international law'
Syria's government was supposed to have gotten rid of its chemical weapons in 2014. So what happened?
Sign up for Essential California for news, features and recommendations from the L.A. Times and beyond in your inbox six days a week.
You may occasionally receive promotional content from the Los Angeles Times.