China vows to retaliate for increased U.S. tariffs as trade talks continue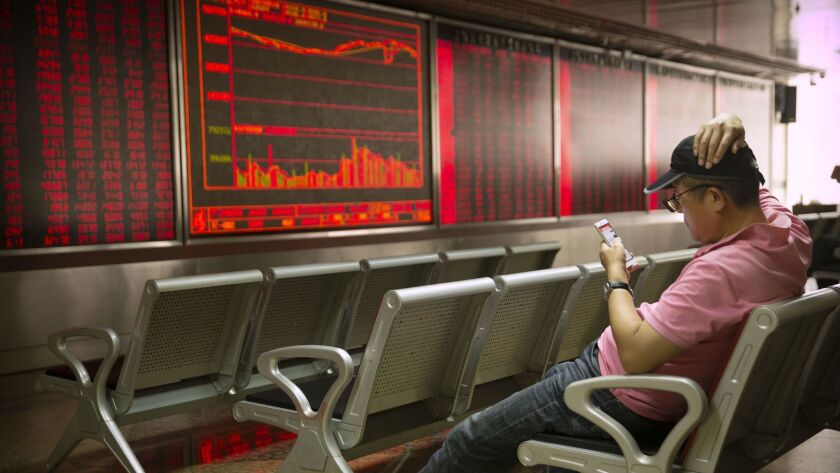 Reporting from Beijing —
Minutes after the United States raised tariffs on $200 billion of Chinese exports, authorities in Beijing announced that China would retaliate.
"China deeply regrets that it will have to take necessary countermeasures," read a statement released by the Chinese Ministry of Commerce.
No specifics were given on what those measures would be.
Trade discussions between the U.S. and China had been going well until Monday, when President Trump suddenly tweeted that an existing 10% tariff on $200 billion of Chinese goods would be raised to 25%.
Stock markets were immediately jolted, with the S&P Index falling 1.5% and the Shanghai Composite dropping 5.6%, though both have since bounced back.
The increased tariffs apply to Chinese goods including furniture, telecommunications equipment, computer parts, clothing and car parts.
Trump also has a standing threat to impose 25% tariffs on an additional $325 billion of currently untaxed Chinese imports.
Chinese official media has been careful to avoid the term "trade war," using the terms "trade discussions" or "trade friction" instead.
"A healthy, stable development Sino-American relationship is aligned with both countries' interests, and is the shared expectation of the international community," said China's Ministry of Foreign Affairs spokesperson Geng Shuang at a news conference Friday.
"We hope America can work together with China toward cooperation, collaboration and a stability-based Sino-American relationship."
U.S. Trade Representative Robert Lighthizer has said that Trump's new tariffs were in response to an "erosion in commitments by China," with no further details.
China's negotiators reportedly submitted a draft trade agreement Friday night that excluded all previously discussed sections on amending Chinese laws to meet U.S. core demands such as intellectual property protection and access to financial services, according to Reuters.
One reason for China's sudden revision could be that top leaders reviewing the final draft didn't want an agreement that seems to give the United States authority over Chinese law, said Wang Yong, director of the Center for International Political Economy at Peking University.
"The agreement seems to dictate [to] China: you should do this, do that, modify your laws," Wang said. "People will see this deal as an unfair treaty. It will remind people, this government is weak, it surrenders to foreigners. … Politically, it will undermine the reputation and authority of the Chinese leadership."
Instead of spelling out the laws in which China's concessions must be enshrined, the deal could allow Chinese authorities to save face by giving the State Council space to implement trade concessions as it likes, Wang said.
But that would require a level of trust between U.S. and Chinese officials that doesn't appear to exist.
As U.S. tariffs increased Friday, some social media users on the state-censored platform Weibo posted nationalistic comments.
"Fight! Let their crops rot in the field. I will never take any soybeans from the U.S. even if I die of hunger," one user wrote.
"Don't forget how our ancestors bled and fought the enemies to establish the new China. It must be so painful for them to see so many traitors kissing Americans' asses," another wrote.
Others were skeptical of how much room China had to maneuver.
"Hopefully our 'countermeasures' will not be empty promises," one user wrote.
The Global Times, a Chinese tabloid, ran a story about boycotting U.S. products and choosing to buy more domestic Chinese brands.
As the Chinese stock market rose through the end of Friday, the Global Times editor Hu Xijin tweeted: "China's market has largely withstood the initial wave of psychological impact of Trump's tariff stick. It's U.S. market's turn next."
China currently has tariffs in place on $110 billion of U.S. goods. Retaliation could mean raising tariffs, broadening tariffs to different kinds of imports or using administrative means to suspend or delay projects and purchase contracts already underway.
Chinese officials are still in Washington, where negotiations will continue Friday.
---
Must-read stories from the L.A. Times
Get all the day's most vital news with our Today's Headlines newsletter, sent every weekday morning.
You may occasionally receive promotional content from the Los Angeles Times.