Pro-democracy marchers fill streets in Hong Kong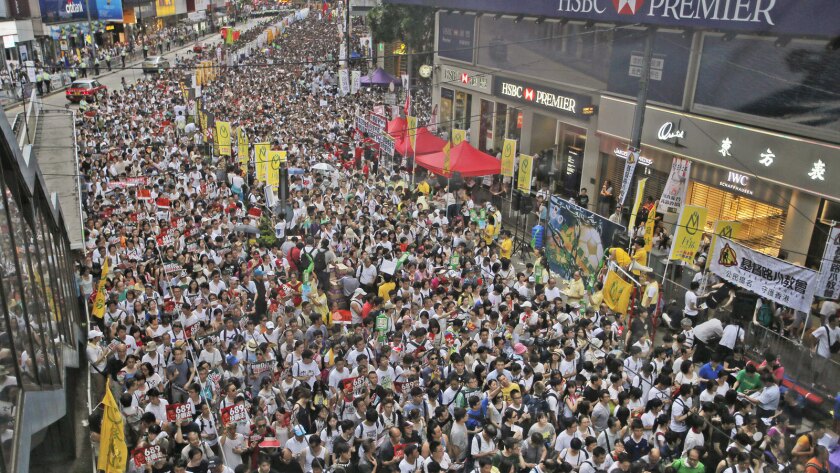 Reporting from Beijing —
Braving heat and rain showers, and hoisting signs with slogans such as "Universal suffrage!" marchers filled the streets of Hong Kong on Tuesday to press for greater democracy in the semi-autonomous Chinese territory.
Demonstrators packed Victoria Park in the early afternoon, then marched along a predetermined route toward the city's financial district. As night fell, some crowds were still in the streets, and a group primarily composed of students was beginning a sit-in on Chater Road. Others were headed to protest in front of the office of the city's unpopular chief executive.
The march was orderly, though tensions between police and demonstrators rose and fell throughout the afternoon as officers accused the protesters of moving too slowly, and participants said authorities were causing bottlenecks by refusing to open up more routes of passage.
Hong Kong, a former British territory, returned to Chinese rule on July 1, 1997; under rules governing the handover, the region of more than 7 million is supposed to enjoy significant civil liberties, as well as the latitude to largely manage its own affairs for decades to come. In 2017, residents are to be allowed to vote directly for the city's chief executive.
Beijing authorities have pledged that a direct vote will occur, but many locals fear that only candidates acceptable to China's Communist rulers will be allowed onto the ballot. In a 10-day nonbinding referendum that ended Sunday in the city, nearly 800,000 people cast ballots indicating their desire for a system that would allow for open nominations.
Officials in Beijing have condemned the referendum as illegal, issuing a white paper in June that emphasized Hong Kong was firmly under the control of the central government.
The document landed with a thud in Hong Kong, with some political analysts saying it backfired and drove people to polling stations last week. On Tuesday, a number of marchers carried signs saying, "We don't need a White Paper, return my right to vote."
In an allusion to the French revolution, others periodically broke out into renditions of the song, "Do You Hear the People Sing?" from the musical "Les Miserables."
Since the handover, July 1 has been an annual day for rallies in Hong Kong, and estimating the crowds has long been a contentious affair. Police put the turnout at 92,000, but organizers said the crowds numbered more than 500,000.
Organizers of the day's rally and march sought to keep crowds pumped up late into the night. Johnson Yeung Ching-yin of the Civil Human Rights Front, told a crowd after 9 p.m. that Hong Kong did not need to take orders from the "dictatorship thousands of miles away," the South China Morning Post reported.
China's state-run media did not devote attention to the demonstrations. The official New China news agency instead ran an article noting that officials in Hong Kong had held a ceremony commemorating the 17th anniversary of the July 1, 1997, handover.
The article quoted a man, identified only as Mr. Wang, a local resident, as saying, "Today is a good day in Hong Kong. I hope Hong Kong continues to get better and better."
Tommy Yang in The Times' Beijing bureau contributed to this report.
For news from Asia, follow @JulieMakLAT on Twitter
---
Must-read stories from the L.A. Times
Get the day's top news with our Today's Headlines newsletter, sent every weekday morning.
You may occasionally receive promotional content from the Los Angeles Times.