Hong Kong's leader ignores call to retract extradition bill. More protests may come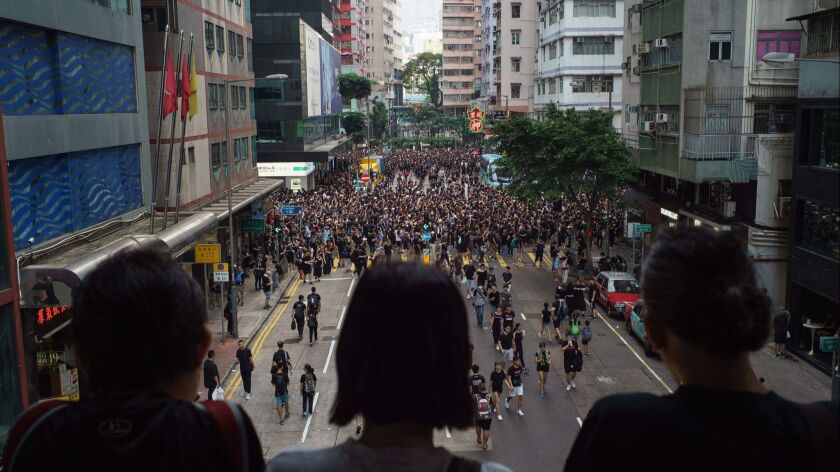 Reporting from Hong Kong —
Hong Kong's leader ignored a deadline imposed by student groups to retract an unpopular extradition bill Thursday, raising the specter of more demonstrations and civil unrest nearly a week after 2 million people took to the streets to repudiate her leadership.
Student unions from various universities, including the Chinese University of Hong Kong and the University of Science and Technology, issued a 5 p.m. deadline for Chief Executive Carrie Lam to fully retract a bill that would have allowed Hong Kong to send people to China to face trial. Lam suspended the legislation Saturday under massive public pressure.
The student groups also demanded that Lam open an investigation of police conduct during violent clashes with demonstrators June 12, release protesters from jail and drop charges against them, and refrain from calling the actions of demonstrators a "riot" — a term that imposes harsher criminal penalties.
With the demands not met, Hong Kongers could wake up Friday morning to find subways delayed and roads blocked. The students encouraged supporters to ramp up protests and engage in acts of civil disobedience if Lam ignored the deadline.
Lam and her ministers did not respond to a request for comment.
Opponents of Lam and her government said the leaderless protest movement was trying to determine the best strategy to maintain momentum.
More confrontational methods, such as storming government buildings or occupying public spaces, risks alienating the broad coalition that defined Sunday's march, which was attended by more than a quarter of Hong Kong's population.
But student groups fear complacency will signal to the government that any opposition will dissipate over time.
"The youngsters are afraid the movement will die down," said Wu Chi-wai, chairman of the opposition Democratic Party. "But they also have to consider the other way around. If they make a move that doesn't get the support of the general public, that will hurt the movement immediately."
Once known as 'Asia's finest,' Hong Kong police now stand accused of brutality »
Bonnie Leung, a leader of the Civil Human Rights Front, one of the organizers behind Sunday's march, said calls to storm the police headquarters were being shared on social media Thursday.
"If anything like that happens, it will give the police an excuse to strike back," she said. "I'm very worried."
Leung and Wu said opposition legislators and church leaders would patrol the protest site outside government headquarters Thursday night into Friday morning to attempt to defuse any confrontation with officers.
Hong Kong police have reduced their presence across the city since they were accused of excessive force June 12. Riot police were seen that day beating unarmed demonstrators and firing tear gas directly at reporters and peaceful protesters. Police say they were attacked with bricks and steel bars.
The protests, which began with a march June 9 that involved 1 million people, marks the most serious political crisis in Hong Kong since Britain's return of the former colony to China in 1997. It also harks back to the civil unrest of the 2014 pro-democracy Umbrella Movement protests.
The conflict underscores Hong Kong's desire to hold onto democratic freedoms that aren't recognized in mainland China. Hong Kong is governed under a "one country, two systems" policy that guarantees such rights as freedom of speech and freedom of assembly.
Lam is under growing pressure from her critics to resign, but has received public support from China's central government and pro-Beijing legislators in Hong Kong. She issued her first in-person apology for the crisis Tuesday at a news conference.
david.pierson@latimes.com | Follow me @dhpierson
---
Must-read stories from the L.A. Times
Get the day's top news with our Today's Headlines newsletter, sent every weekday morning.
You may occasionally receive promotional content from the Los Angeles Times.