Hong Kong's leader faces pressure to resign. Will her replacement be any better?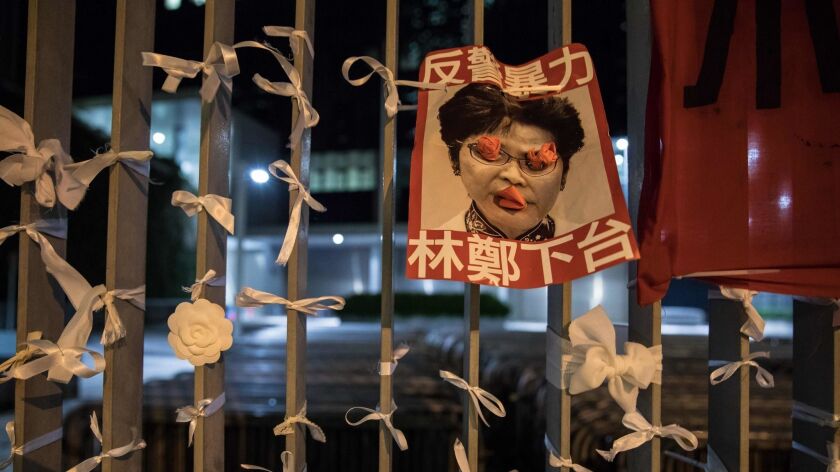 Reporting from Hong Kong —
It seemed impossible to conceive Hong Kong could produce a more unpopular leader than Leung Chun-ying, the hapless one-term chief executive who was despised for refusing to negotiate with activists during the 2014 pro-democracy Umbrella Movement protests.
Enter Carrie Lam, the career civil servant who's now at the center of Hong Kong's biggest political crisis since Britain returned the former colony to China in 1997.
On Sunday, 2 million people — more than one-quarter of the territory's population — crowded the city's streets and demanded her resignation for championing a now-suspended extradition bill seen as an affront to Hong Kong's autonomy. A written apology by Lam that evening was widely panned as insincere — a classic case of too little, too late.
On Monday, pro-democracy leader Joshua Wong used his first public appearance after being released from a month in prison to call for Lam to resign.
"It's time for her to step down," said Wong, the 22-year-old face of the Umbrella Movement, who served time for contempt of court.
It's unclear whether Lam's critics will get their wish. But if they do, her removal could amount to a Pyrrhic victory. Lam's replacement could be even more unpopular.
Hong Kong's next leader will almost certainly take a tougher line on democracy and push harder to integrate the city of 7 million with mainland China.
"The next one will be worse," said Mary Koo, a 26-year-old protester attending a rally outside the government's offices Monday. "The Chinese government will make sure."
It's the nature of a job that has the auspices of serving the popular demands of Hong Kongers but ultimately answers to an authoritarian behemoth that's been steadily quashing dissent and expanding control under President Xi Jinping. Beijing screens candidates for chief executive, ensuring Hong Kong's leaders are always loyal.
"The chief executive is an impossible job," said Willy Lam (no relation to Carrie Lam), a political analyst at the Chinese University of Hong Kong.
"You have to please two masters, and these masters have very different demands," he said. "Beijing wants absolute obedience and the eventual economic and political integration of Hong Kong with the mainland. Hong Kong wants a kind of firewall to exist between the two systems. That's why the extradition bill touched such a raw nerve. It threatened to bury the firewall."
Hong Kong's leader apologizes as crowds demand her resignation »
Hong Kong is currently governed under a "one country, two systems" policy that gives its citizens rights such as freedom of speech and freedom of assembly that aren't guaranteed on the mainland.
The policy is supposed to remain until 2047, but Hong Kong residents fear those rights are slipping away. The extradition bill, which would allow Hong Kong to send people to stand trial in China, was just the latest in a string of attempts by successive chief executives to give Beijing greater authority.
Hong Kong's first post-colonial leader, Tung Chee-hwa, tried to pass a state security law but was met with mass street protests that forced him to back down.
Tung's sucessors, Donald Tsang and then Leung, the chief executive during the Umbrella Movement, were criticized for pushing Chinese patriotic curriculum in public schools that was seen as "brainwashing."
(Leung was already unpopular before the Umbrella Movement. At one point, his critics began collecting a wolf stuffed toy sold at Ikea. Leung's name sounds like wolf in Cantonese, and Ikea inexplicably gave the toy a name that sounded like a widely used Cantonese profanity. One of the stuffed wolves was thrown at Leung during a public meeting.)
Lam, however, has garnered the most vitriol from those concerned about Hong Kong's sliding autonomy. Since she took office in 2017, her government has suppressed pro-independence party members, approved a plan to give mainland customs officers jurisdiction in Hong Kong and expelled a Financial Times journalist by denying him a visa after he chaired a forum with a pro-independence activist.
The 62-year-old with a reputation for working long hours was thought to be in Beijing's favor because of her toughness. She was seemingly treated as an equal when she strode in with Xi last year at the opening ceremony of the Hong Kong-Zhuhai-Macau Bridge, the 34-mile span that has come to symbolize the mainland's growing tentacles in the region.
"People notice these little things," said Charles Mok, an opposition member of Hong Kong's Legislative Council. "That normally doesn't happen. She would normally be following the national leader."
All that goodwill has come crashing down with the failure of the extradition bill, which Lam suspended on Saturday after days of widespread protests that threatened to bring parts of Hong Kong to a standstill. The reversal has put China's communist rulers in the unfamiliar position of having to back down — a worst-case scenario for them because it could embolden pro-independence forces in Taiwan.
Whether the bill was Lam's or Beijing's is open to fierce debate (Lam could not be reached for comment). Regardless, the chief executive is taking the blame.
"Carrie Lam has already lost the confidence of Beijing," Willy Lam said. "They're very mad at the way she handled this. She has become a scapegoat."
Lam's ineffectiveness could create a power vacuum that could be filled by members of Hong Kong's Communist Party, Willy Lam said, undermining democracy and entrenching Beijing's authority.
That's sparked fears that the unlikely retreat by the government on the extradition legislation will only inspire hard-liners in China to push back harder.
"On one hand, people feel there has been a victory" with the bill's suspension, Mok said. "But on the other hand, I've seen a lot of people getting very worried because they think the hawks in Beijing feel like they're losing control. In the worst case, what if 3 million people come out to protest and they send in the [People's Liberation Army]?"
Special correspondent Tang Wai Yin contributed to this report.
david.pierson@latimes.com | Follow me @dhpierson
---
Must-read stories from the L.A. Times
Get all the day's most vital news with our Today's Headlines newsletter, sent every weekday morning.
You may occasionally receive promotional content from the Los Angeles Times.