Hong Kong student leaders on charges: We'll 'use trial to spread our message'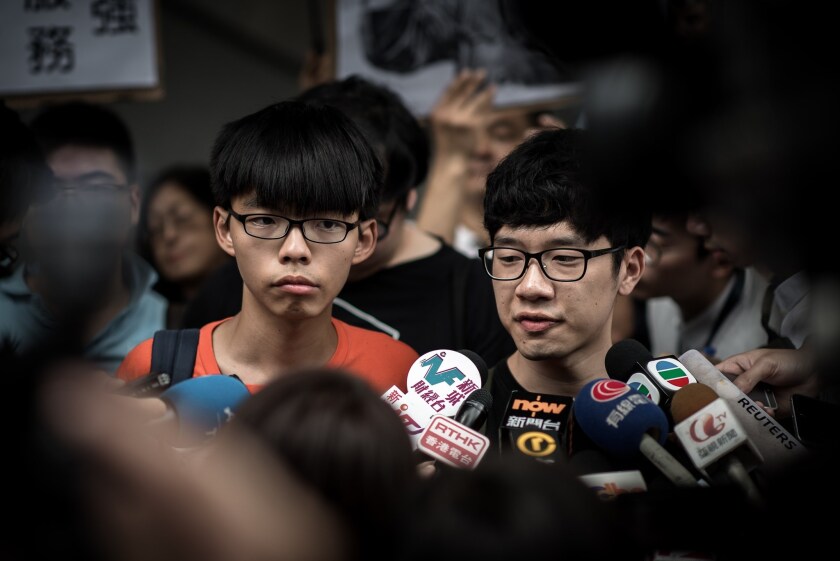 Reporting from Hong Kong —
Three student leaders who were instrumental in spearheading Hong Kong's pro-democracy demonstrations last fall were charged Thursday with participating in an unlawful assembly and other counts.
Joshua Wong, founder of high-school activist group Scholarism and the best-known face of the movement, was charged with participating in an unlawful assembly and inciting others to join. Nathan Law, head of the college group Hong Kong Federation of Students, also was charged with one count of inciting, while his predecessor, Alex Chow, faces one count of participating in an unlawful assembly.
The three are due in court Wednesday to enter a plea.
Since March, more than 20 people have been charged with legal violations stemming from their participation in the 10-week sit-in, but Thursday's charges were the first time the leadership of the student-led movement faced legal proceedings for the act of civil disobedience that touched off the pro-democracy demonstrations last September.
"We'll continue to carry on with our civil disobedience inside the courtroom and use the trial to spread our message for a just and democratic society," said Chow. "The last thing we'll do is kowtow to the regime."
------------
For the Record
Aug. 27, 10:50 a.m.: An earlier version of this article incorrectly quoted Chow as referring to "civil obedience." He said "civil disobedience."
------------
Wong and Law already face charges stemming from a protest in June 2014 that preceded the umbrella movement demonstrations.
The charges filed Thursday stemmed from the storming of a public plaza at the semi-autonomous territory's main government compound by nearly 200 people, mostly university and high school students, at the end of a class boycott in September.
The boycott was staged in protest of the decision by the standing committee of China's National People's Congress to limit the choice of candidates for Hong Kong's highest office; under the rules drafted by Beijing, voter choice would be limited to two or three candidates handpicked by a pro-Beijing committee.
Immediately after the storming of the plaza, police arrested Chow, Wong and at least 70 others. During the student leaders' daylong detention, demonstrators amassed and confronted police in riot gear, who tried to disperse the crowd with force.
The defiant demonstrators then took over major thoroughfares and later erected tents in roadways. After 10 weeks, the encampments were demolished on court orders, with little political change.
But in June, Hong Kong's Legislative Council rejected Beijing's framework for the election rules, a somewhat Pyrrhic victory for protesters because it left the status quo in place.
Hong Kong, a former British colony, reverted to Chinese rule 18 years ago under a framework known as "one country, two systems," under which the territory maintains its own independent judiciary and a variety of other freedoms.
Dozens of demonstrators who gathered outside police headquarters to protest the prosecution of the student leaders brandished caricatures of the city's police chief and secretary for justice in Mao-style caps, lampooning them as stooges of the Chinese Communist Party.
Secretary for Justice Rimsky Yuen rejected any speculation that Thursday's prosecution was politically motivated.
University of Hong Kong principal law lecturer Eric Cheung said even though the storming may constitute an act of unlawful assembly, he said "the bar [of conviction] is quite high." That's because the prosecution must prove that the person is engaged in disorderly conduct likely to cause immediate injury to others or damage to property, or both, he said.
For each of the charges the student leaders face, the maximum sentence is five years.
Some Hong Kongers have questioned why it took nearly a year for charges to be filed.
This is "an abuse of the process," said Michael Vidler, an attorney who presents Wong. "Why didn't the police charge him straightaway? They've got some answering to do.
"The only rationale for charging him, to me, can only be political, not legal."
Law is a special correspondent.
---
Must-read stories from the L.A. Times
Get all the day's most vital news with our Today's Headlines newsletter, sent every weekday morning.
You may occasionally receive promotional content from the Los Angeles Times.