Indian court decides adultery is no longer a criminal offense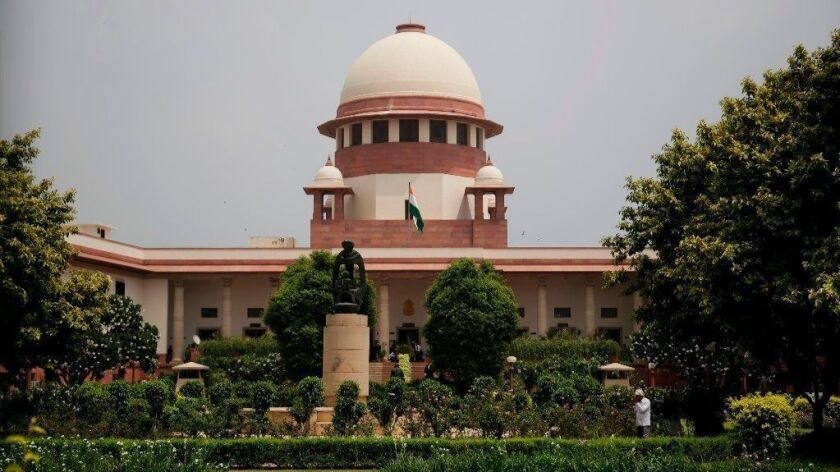 Reporting from New Delhi —
The Indian Supreme Court on Thursday struck down a 158-year-old law that criminalized adultery, ruling that the statute drafted by British colonizers was archaic and discriminated against women.
The law criminalized sexual relationships between men and married women whose husbands hadn't consented, with men liable to serve up to five years in prison. Women could not be punished under the law, which regarded them as the property of men, the five-judge panel ruled.
"The wife can't be treated as chattel and it's time to say that [the] husband is not the master of woman," Chief Justice Dipak Misra said.
The lone female judge on the panel, Justice Indu Malhotra, called the law "a clear violation of fundamental rights."
While adultery could still be grounds for civil cases, such as divorce, the court ruled it should no longer be a criminal offense. The Indian government doesn't maintain statistics on the numbers of adultery prosecutions, but they were rare.
It was the second colonial-era law to be struck down by the top Indian court in a month, following a ruling that decriminalized gay sex. The court is deciding a clutch of cases involving civil liberties and minority rights in the weeks before Misra is due to retire next month.
On Friday, the court is expected to rule in a case challenging a ban on menstruating women entering a famed Hindu temple in the southern state of Kerala.
Many commentators hailed Thursday's decision for removing one of the more blatant vestiges of Victorian-era morality laws in India, more than 70 years after independence from Britain.
"It was an outdated law which should have been removed long back," said Rekha Sharma, chair of India's National Commission for Women.
"This is a law from the British era. Although the British had done away with it long back, we were still stuck with it."
But the case also revealed a chasm within Indian society, large portions of which place a premium on the institution of marriage.
The Indian government had argued in court that the statute should remain, saying that decriminalizing adultery would harm "the sanctity of marriage and sexual fidelity encompassed in marriage, which forms the backbone of the Indian society."
Swati Maliwal, chair of the Delhi Commission for Women, said the court should have amended the law to make adultery punishable for both men and women, instead of scrapping it entirely.
"They've given license to married couples [for] adulterous relationships," Maliwal tweeted. "What's sanctity of marriage then?"
Adultery is still illegal in 21 U.S. states, although it is rarely prosecuted.
It is not considered a criminal offense in European countries or in Australia.
Masih is a special correspondent. Times staff writer Shashank Bengali contributed to this report from Kochi, India.
---
Must-read stories from the L.A. Times
Get the day's top news with our Today's Headlines newsletter, sent every weekday morning.
You may occasionally receive promotional content from the Los Angeles Times.