A new film tells the story of the Sikh boy ruler who was ripped from his kingdom and transformed into an English aristocrat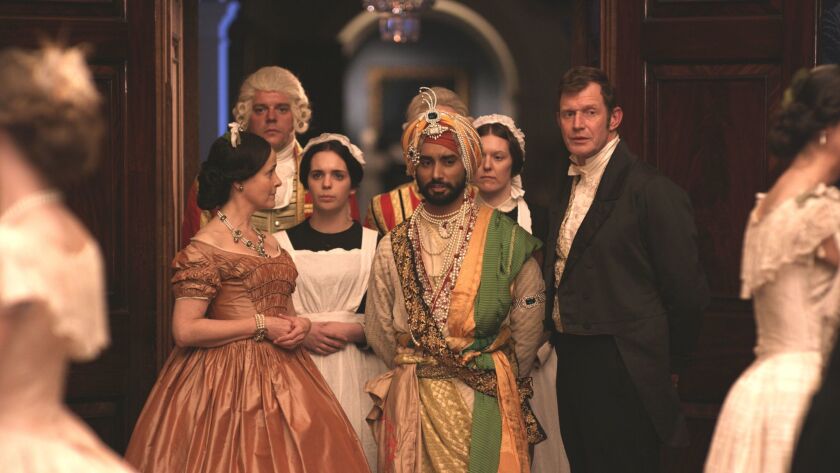 Reporting from Mumbai, India —
He became the ruler of the Sikh kingdom, had the throne stolen from him, was separated from his mother, had his face spattered with the blood of a slain uncle and was carted off to become an aristocrat in Queen Victoria's Britain — all before his 16th birthday.
The life of Maharajah Duleep Singh never lacked for drama. Now a feature film brings to life this little-known chapter of Indian colonial history.
"The Black Prince," which opens Friday in Los Angeles, tells the story of Singh, the last king and a tragic hero of the once-prosperous Sikh kingdom that spread across the fertile northern plains of India's Punjab until British soldiers annexed the territory following two wars in the mid-19th century.
Singh — like the famed Koh-i-noor diamond that the British also seized from the kingdom — became a spoil of war. He was molded into a proper English gentleman, made to renounce his Sikh faith and baptized a Christian, and taught to shoot a hunting rifle — although he always wore a turban.
He became an exotic favorite in the court of Victoria, who nicknamed him "the black prince."
But as he attempted to recapture his identity, he reconverted to Sikhism and struggled to return to India before dying in poverty in Paris in 1893 at age 55.
Jasjeet Singh, who was born in Punjab in the 1960s and wrote his master's thesis on the king before moving to the United States, had long been fascinated by the story of the former maharajah's deeply conflicted life.
"This is a missing chapter of Indian history," said Singh, who is no relation. "It's not in the textbooks, even in Punjab."
Singh had put the story in the back of his mind when he immigrated to the Bay Area, where he taught swimming and started a string of small businesses. One day in 2011, Singh was driving south to Los Angeles with Satinder Sartaaj, a Punjabi singer and poet who had traveled to California to give a concert.
They had stopped on the beach in Santa Barbara and were talking about Punjabi history when Singh recalled catching a look of Sartaaj in the sun. He was struck by how much the young singer's eyes resembled those in the paintings Victoria had commissioned of the maharajah, resplendent in jewels and embroidered clothes.
"How tall are you?" Singh asked.
At 5 feet, 7 inches, Sartaaj was the same height as the king. Singh decided he was the perfect man to play him in a film, even though he had never acted before. Which was fine, because Singh had never been involved in a movie before.
Luckily, through the Sikh community of California, Singh knew Kavi Raz, a Punjabi-born actor who had appeared in "St. Elsewhere," the first South Asian to be cast as a regular in a major American TV series. Raz wrote the script based largely on Singh's research and directed the film, which was shot in Britain and India. The film was produced by Brillstein Entertainment Partners.
"I think the story resonates as well today as it did 150 years ago," Raz said. "It's basically one man's struggle to reconnect with himself and who he is."
"The Black Prince" also features Shabana Azmi, a well-known Indian actress, in the role of the exiled king's mother, who was reunited with him in Britain after 13 years. In the film, her brief, fiery encounters with Victoria (played by Amanda Root) emphasize the plunder that marked British colonial rule.
Raz said he hoped the film inspires interest in a kingdom and a man who have long been overlooked by contemporary Indian history, which has long marginalized the contributions of the Sikh community and leaves out the maharajah's role as an early voice favoring Indian independence.
"It was one of the most powerful and secular kingdoms in the world," Raz said. "Women's literacy was almost 100%. The ministries and army were filled with all religions and faiths. One couldn't hope to find a place like this today. It is a period in history that needs to be talked about and studied."
Follow @SBengali on Twitter for more news from South Asia
---
Must-read stories from the L.A. Times
Get all the day's most vital news with our Today's Headlines newsletter, sent every weekday morning.
You may occasionally receive promotional content from the Los Angeles Times.