Indonesia set for rematch of bitter presidential election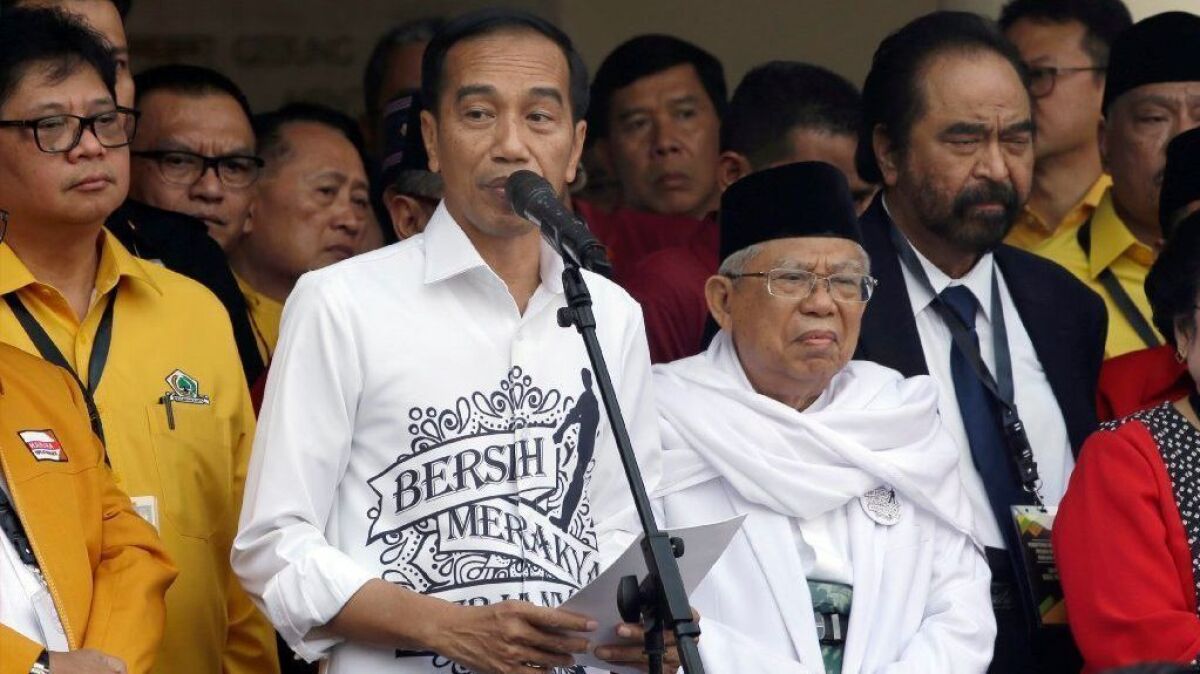 Reporting from Jakarta, Indonesia —
The presidential election in Indonesia next year may see a reprise of the testy 2014 contest between President Joko Widodo and retired general Prabowo Subianto after both men registered their candidacies Friday.
The incumbent, popularly known as Jokowi, selected a 75-year-old cleric as his running mate, a move designed to shore up his support from Islamists as he seeks a second five-year term leading the world's most populous Muslim country.
Jokowi is the early favorite to win the April election as a former political outsider who has spent his first term focusing on infrastructure projects. He is the first president from outside Indonesia's political and military elite since the dictator Suharto resigned in 1998.
Since then, Indonesia has emerged as one of a diminishing number of electoral democracies in Southeast Asia, where Thailand is run by a military junta, Vietnam and Laos are single-party communist states and Cambodia's authoritarian president recently won reelection after banning the main opposition party.
The 2014 election campaign, the closest since the end of the Suharto dictatorship, was tarnished by dirty campaigning and internet rumors falsely accusing Jokowi of being a communist of Chinese origin – labels that are used to discredit politicians in Indonesia.
Prabowo initially refused to accept Jokowi's six-point victory margin, and his supporters protested outside Jakarta's main court buildings for weeks after the result was announced.
In 2017, a Jokowi ally, the Christian governor of the Jakarta capital region, was unseated in an election and later jailed for two years on disputed charges of insulting Islam. The ugly campaign showed how Islamists could whip up ill feeling among the country's Muslim majority against minorities such as Christians, who represent about 10% of the population of 260 million.
Jokowi's announcement Thursday that he had chosen the 75-year-old cleric Ma'ruf Amin was aimed at staving off a similar smear campaign against him, analysts said. A secular Muslim, Jokowi has been accused by some critics of being too pro-minority. Ma'ruf is head of the Indonesian Ulema Council of religious scholars and supported the campaign against the former Jakarta governor, Basuki Tjahaja Purnama.
"I think we complete each other, nationalistic and religious," Jokowi, 57, told reporters after announcing his running mate.
Alexander Arifianto, research fellow with the Indonesia Program at the S. Rajaratnam School of International Studies in Singapore, said Jokowi's choice meant "he is clearly trying to win over" Islamist voters.
While the move was likely to disappoint younger, reform-minded voters who backed Jokowi's 2014 campaign – which had echoes of Barack Obama's "hope and change" message – those voters were seen as unlikely to support Prabowo, a populist who has been accused of presiding over human rights abuses by soldiers during his time in the army during the Suharto era.
"You know, he cannot make everybody happy," said Midian Sohitang, a Jokowi supporter who stood among a crowd awaiting the vice-presidential announcement Thursday. "But I have seen that he is the best choice for the next five years."
Prabowo, 66, chose as his running mate Sandiaga Uno, a wealthy businessman who has been serving as deputy governor of Jakarta. Sandiaga resigned the position early Friday before joining the retired general for lunchtime prayers at a Jakarta mosque.
Afterward, Sandiaga, 49, told The Times that Prabowo's allies had asked him to be the vice-presidential nominee "at the last minute" after another contender, Jakarta governor Anies Baswedan, withdrew from consideration.
In a country where vote buying has been widely documented – and where campaigning across a vast archipelago is difficult and expensive – Sandiaga's selection was "mostly for his fundraising capability," said Indonesian political analyst Wimar Witoelar.
The campaign will start next month, with voting scheduled for April 2019. The election is a mammoth undertaking in a country that comprises 17,000 islands – many of them prone to earthquakes – spread across 3,000 miles, involving more than 800,000 polling stations.
While Jokowi remains popular, he is vulnerable on the issue of the economy due to Indonesia's annual economic growth rate of slightly more than 5%, short of the 7% target he set upon taking office in 2014.
"We're going to focus on the economy, on jobs, on prices," Sandiaga said.
Jokowi's administration has made upgrading the nation's creaky infrastructure a priority, but many transport and communications projects have been beset by delays.
Siwage Dharma Negara, a researcher in economics at the ISEAS Yusof Ishak Institute in Singapore, said the government's record was mixed but that "in the long run, we expect there will be a productivity boost to the economy due to various infrastructure projects."
Special correspondent Roughneen reported from Jakarta and Times staff writer Bengali from Mumbai, India.
Must-read stories from the L.A. Times
Get the day's top news with our Today's Headlines newsletter, sent every weekday morning.
You may occasionally receive promotional content from the Los Angeles Times.