Here's why Indonesia remains on edge six weeks after elections were held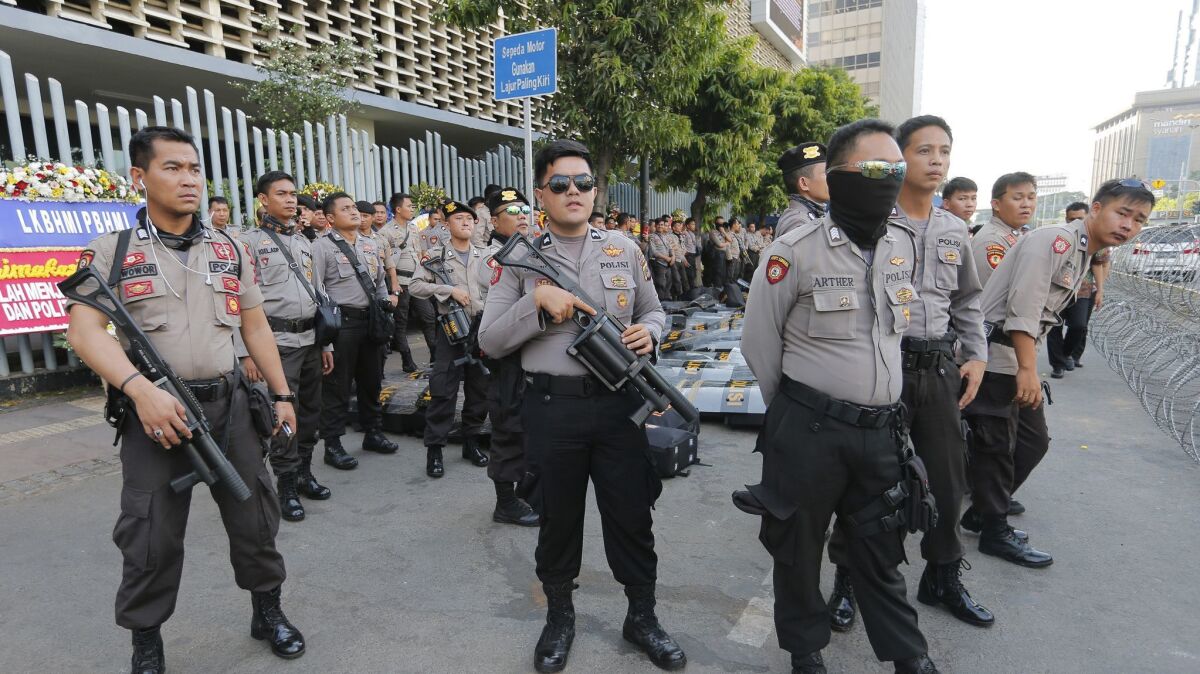 Reporting from Singapore —
It's been six weeks since Indonesian President Joko Widodo, better known as Jokowi, appeared to comfortably secure a second term against challenger Prabowo Subianto, a former special forces general.
But the aftermath of one of the world's largest democratic elections has been anything but stable.
Prabowo, who also lost to Jokowi in the last presidential election in 2014, has rejected the results of the April 17 contest, claiming rampant election fraud.
Blood flowed when several thousand of his supporters took to the streets of the Indonesian capital of Jakarta last week after the country's General Elections Commission officially declared Jokowi the winner with 55.5% of the 154 million ballots cast, a record turnout.
Two days of violent riots resulted in the deaths of eight demonstrators. Hundreds more were injured as police fired rubber bullets, tear gas and water cannons at protesters hurling rocks and Molotov cocktails. More than 400 people were arrested.
This week, police accused Prabowo supporters, including a retired two-star general, of plotting to assassinate four of the president's top security officials — his chief security minister, the head of the nation's intelligence agency, the presidential intelligence advisor and a minister for maritime affairs.
Authorities said the plot was aimed at sowing chaos to undermine Jokowi as he embarked on a second five-year term.
The president will preside over a country that's been divided over religious identity. Prabowo, who is not particularly religious himself, represents hardline Muslim conservatives. Jokowi, the former mayor of Jakarta, champions a more inclusive and progressive Indonesia — though he selected a conservative cleric as his running mate to boost his religious credentials.
Questions abound about how quickly the Southeast Asian nation of 250 million, the world's fourth most populous, will rebound. Here are four:
Indonesia's election focuses on: Who will be more Islamic? »
1. Why is Prabowo contesting?
Prabowo, the former son-in-law of Indonesian dictator Suharto, has accused the election commission of "fraudulent tabulations," alleging vote-rigging in favor of Jokowi. Prabowo filed a lawsuit with the Constitutional Court, which will decide the case in June.
Experts say Prabowo, 67, is contesting the election results largely because he can and has nothing to lose. He's also making a tradition of it. Prabowo rejected the outcome of the 2014 election when he lost to Jokowi by a slimmer official margin.
In putting up a fight, Prabowo can maintain his coalition of conservative Muslims, extract more concessions from Jokowi and maintain some semblance of face after losing an election by 17 million votes.
2. Is there evidence of voter fraud?
Yes, but nothing on a scale that could explain the lopsided election outcome. Analysts say there will always be isolated examples of vote-buying and voter roll chicanery in a developing country as large as Indonesia.
In one such case, thousands of ballot papers destined for Indonesians living in Malaysia were discovered to have already been checked in favor of Jokowi.
However, the claims by the Prabowo camp of massive irregularities that would have swayed the overall results appear to be unfounded. Indonesia's election watchdog dismissed complaints by Prabowo supporters of cheating, citing insufficient evidence.
"There was very, very little evidence in 2014 and there's very little evidence now," said Made Supriatma, a visiting fellow at the ISEAS – Yusof Ishak Institute in Singapore. "The claims are baseless."
3. Will Indonesia plunge further into violence?
The riots naturally sparked fears of a repeat of 1998 mass unrest that resulted in more than 1,000 deaths of mostly Chinese-heritage Indonesians and the toppling of President Suharto after three decades of rule.
But conditions were far different back then. Discontent in Indonesia at the time was widespread and hinged on deep-rooted economic problems. Jokowi remains a popular president stewarding an economy that's growing at a clip of 5% or more the last five years.
Analysts say the recent riots were contained to hardcore Prabowo supporters and didn't suggest a much wider popular movement against the president that could trigger further bloodshed.
"The Jakarta riots were driven by a few thousand determined troublemakers who do not reflect the views of most Prabowo supporters," said Ben Bland, director of the Southeast Asia project at Sydney-based think tank Lowy Institute. "Many may be disappointed with the outcome of the election, but only a tiny minority support the idea of mass protests, let alone violent action. Exit polling shows that more than 90% of voters thought the process was free and fair."
4. What can Jokowi do to ease tensions?
Jokowi, 57, will have to temper the growing influence of his security advisors, who, if given more power, could inflame tensions further with the Prabowo camp, experts say.
Jokowi doesn't have the mandate to completely dismiss his presidential challenger and will also probably have to offer some of his supporters positions in government or business opportunities to ensure a detente.
"Prabowo got 44% of the vote," Supriatma said. "He has influence. You can't just dismiss him."
To heal the national divide, Jokowi will need to summon skills he hasn't exhibited all that much in the past — namely an oratory flair that can inspire a broader coalition. Jokowi, analysts said, is more of a doer than a talker.
In lieu of that, Jokowi can inject more transparency into the country's police force to combat its reputation as a political tool for the ruling government.
"Democracy is under pressure in Indonesia because of the rise of a bitter form of identity politics and an increasingly intolerant approach to resolving political disputes, from the government and the opposition," Bland said. "But despite these problems, Indonesia has still done far better than most countries that have tried to transition from authoritarianism to democracy. Regional neighbors Thailand and Myanmar, for example, are case studies in how not to do it."
david.pierson@latimes.com | Follow me @dhpierson
ALSO
---
Must-read stories from the L.A. Times
Get the day's top news with our Today's Headlines newsletter, sent every weekday morning.
You may occasionally receive promotional content from the Los Angeles Times.