Indonesia vote's initial results show President Joko Widodo cruising to reelection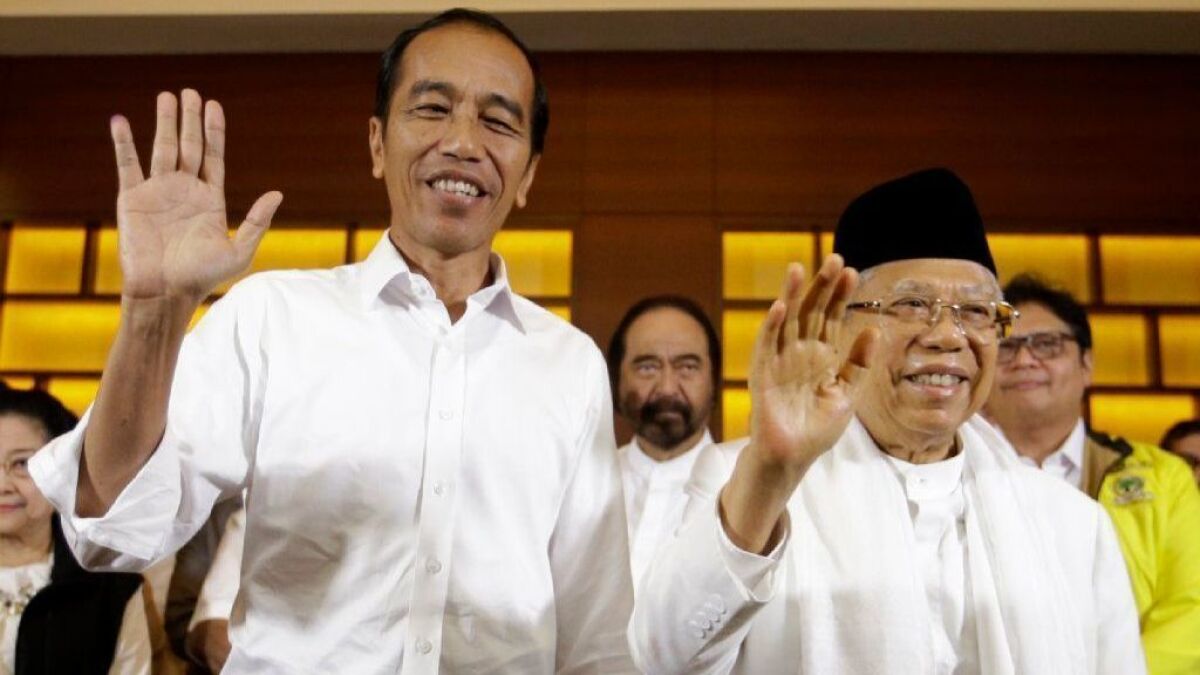 Reporting from Jakarta, Indonesia —
Indonesian President Joko Widodo was poised to win a second term Wednesday as leader of the world's most populous Muslim nation, with initial election results showing the moderate incumbent comfortably ahead of his rival, a nationalist former military general.
Samples of votes tallied by independent polling agencies showed the president, better known as Jokowi, winning about 55% of the vote in a rematch with Prabowo Subianto, whom he defeated in a bitter 2014 campaign.
The so-called quick count tallies, which have been reliable in past elections, indicated that Jokowi had improved on his six-point margin of five years ago. Prabowo initially refused to accept that result, sparking weeks of protests outside court buildings in Jakarta.
The capital city was quiet on Wednesday, with orderly and fast-moving lines outside polling stations mirroring peaceful images from across the vast archipelago, where 192 million voters were eligible to cast ballots in the largest direct presidential election ever held.
In the last two decades, Indonesia, the biggest economy in Southeast Asia, has emerged as a bright spot for democratic rule in the region, particularly as strongmen amass power in the Philippines and Cambodia and military figures dominate politics in Thailand and Myanmar.
Speaking to a cheering crowd at a Jakarta theater, Jokowi thanked the Indonesian army and police for maintaining security. He acknowledged the early results but urged his supporters to wait for official returns from election authorities, which aren't expected until next month.
"Let's reunite as brothers and sisters of the same country after the election," said the 57-year-old president, who ran on a record of delivering solid economic growth and big-ticket infrastructure projects, including expressways and Jakarta's first subway system.
Prabowo's campaign insisted that its own exit polling indicated it had won a majority. In brief remarks, he told his supporters to "guard our victory" by demanding transparency from polling stations where votes were being counted.
"I urge my supporters to remain calm and not be provoked to anarchic actions, while still focusing on guarding the ballot box, because that is proof of our victory," he said.
The most surprising development in the campaign was Jokowi's choice of running mate, 76-year-old cleric Ma'ruf Amin, who has alarmed human rights groups with intolerant remarks about gays and religious minorities.
Analysts said Jokowi had hoped to blunt allegations from hard-line Islamist groups, including some that backed Prabowo, that he wasn't "Muslim enough." Throughout the campaign Jokowi faced online rumors describing him as secular or ethnically Chinese — both political liabilities in a country that is growing more religiously conservative.
But many voters said they were swayed by economic issues more than religious ones. In Jakarta's working-class Tanah Abang neighborhood, Linda Rosliana, a 56-year-old homemaker, said she had voted for Jokowi in 2014 but believed his focus on infrastructure projects hadn't created enough jobs.
"Not enough people have work," said Rosliana, dressed in a full-length Islamic abaya outside her polling station, her finger stained with purple ink to show she had cast her ballot. "Prabowo will bring more development."
In the upscale Menteng district of central Jakarta, a neighborhood of bungalows shaded by leafy trees, Deayu Anugraha said she supported Prabowo in 2014 but voted for Jokowi this time.
"I saw progress in the city. Jakarta became more developed," she said. "I want my kids to have a good, modern Indonesia."
"The only thing is I was surprised he chose Ma'ruf Amin," she added. "He's really old."
The role of Amin, a newcomer to politics who sometimes appeared uncomfortable discussing issues on the campaign trail, is one key question surrounding a second term for Jokowi, who would be barred by term limits from running again.
"The impact of Ma'ruf Amin remains to be seen if he becomes V.P.," said Ben Bland, director of the Southeast Asia Project at the Lowy Institute, an Australian think tank. "We don't have an idea of what he'd be like and how far he'd use the platform to advance his conservative views.
"But clearly it looks like Jokowi was able to win on his track record over the last five years as president."
Special correspondent Agoes Rudianto contributed to this report.
Must-read stories from the L.A. Times
Get the day's top news with our Today's Headlines newsletter, sent every weekday morning.
You may occasionally receive promotional content from the Los Angeles Times.