With a landslide win, Shinzo Abe could be ready to rewrite Japan's pacifist constitution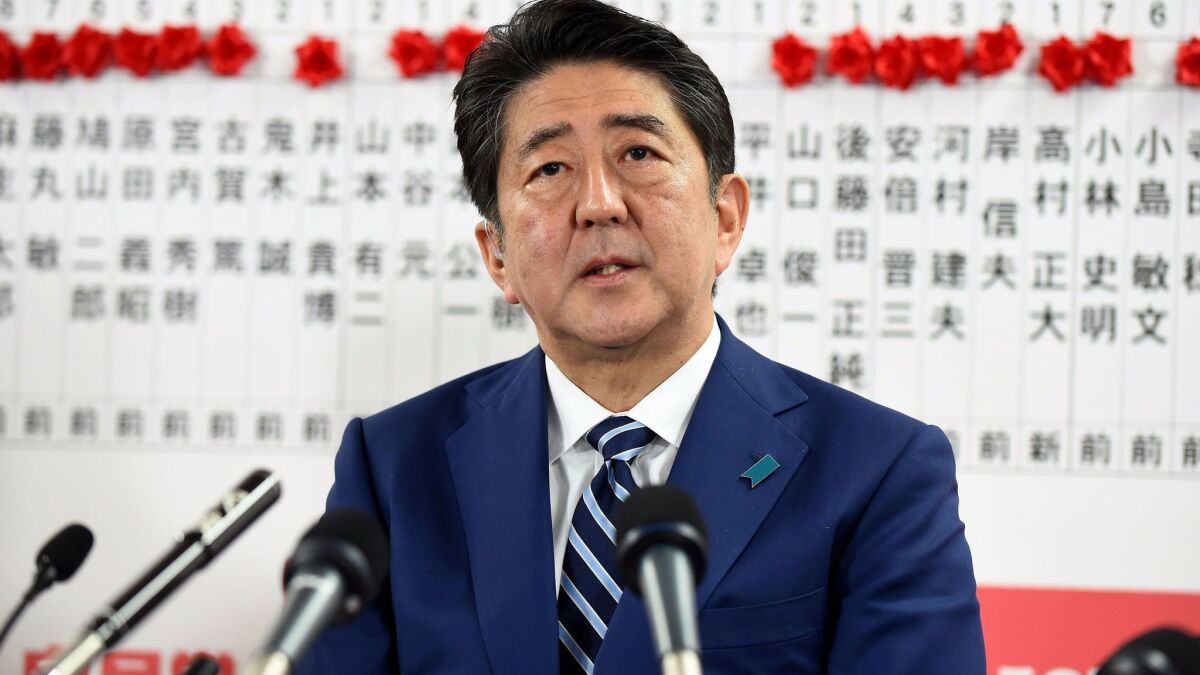 Reporting from Tokyo —
Japanese Prime Minister Shinzo Abe scored a landslide victory on Sunday as his conservative ruling party and a coalition partner secured a two-thirds majority in parliament that will allow him to push ahead unimpeded in his quest to change Japan's pacifist constitution.
Not even a typhoon battering Japan's Pacific coast could impede Abe — and may have helped by contributing to a turnout figure of just under 54%, the second lowest in the postwar period. Low turnout has traditionally benefited Abe's Liberal Democratic Party, which has been in power for most of the last 60 years.
The LDP and partner Komeito party needed 310 seats for a two-thirds majority in the 465-seat House of Representatives. By Monday morning, with four seats yet to be declared, the ruling coalition had claimed 312 seats.
"I think the results reflected the voters' preference for a solid political foundation and their expectations for us to push polices forward and achieve results," Abe told the Japanese broadcaster NHK.
The battle to become the official opposition party was a close race between the right-wing Party of Hope, with 50 seats, and the left-leaning Constitutional Democratic Party, with 54. Both parties have been in existence for less than a month.
The snap election was called late last month by Abe, who said he was seeking a mandate to divert revenue from a sales tax increase, allowing it to be spent on child care and education rather than paying down Japan's huge national debt. However, the increase, from 8% to 10%, won't happen until October 2019 and most analysts said Abe was taking advantage of opposition disarray and concerns about North Korea to strengthen his position.
The challenge from the new Party of Hope, formed in late September by Tokyo Gov. Yuriko Koike, faded fast. Meanwhile, the centrist opposition Democratic Party split, part of it joining Koike and the rest launching the Constitutional Democratic Party.
Koike acknowledged that her refusal to allow liberal former Democratic Party lawmakers to run on her party's ticket unless they backed policies such as constitutional reform had not gone down well with voters.
"My use of the term 'exclusion' was harsh. I hadn't intended to offend anybody," Koike told reporters in Paris, where she was attending an international conference on the environment.
Despite scant enthusiasm for many of Abe's policies, particularly his planned reform of the constitution's pacifist Article 9, his position rarely looked seriously threatened. On top of a weakened opposition, the economy has posted consecutive quarters of solid growth after decades of stagnation, the stock market is at a 20-year high and there are 1.5 vacancies for every job seeker.
In the suburb of Ikuta in Kawasaki, just outside Tokyo, a steady stream of voters were braving torrential rain Sunday evening to make it to the polling station before it closed at 8 p.m.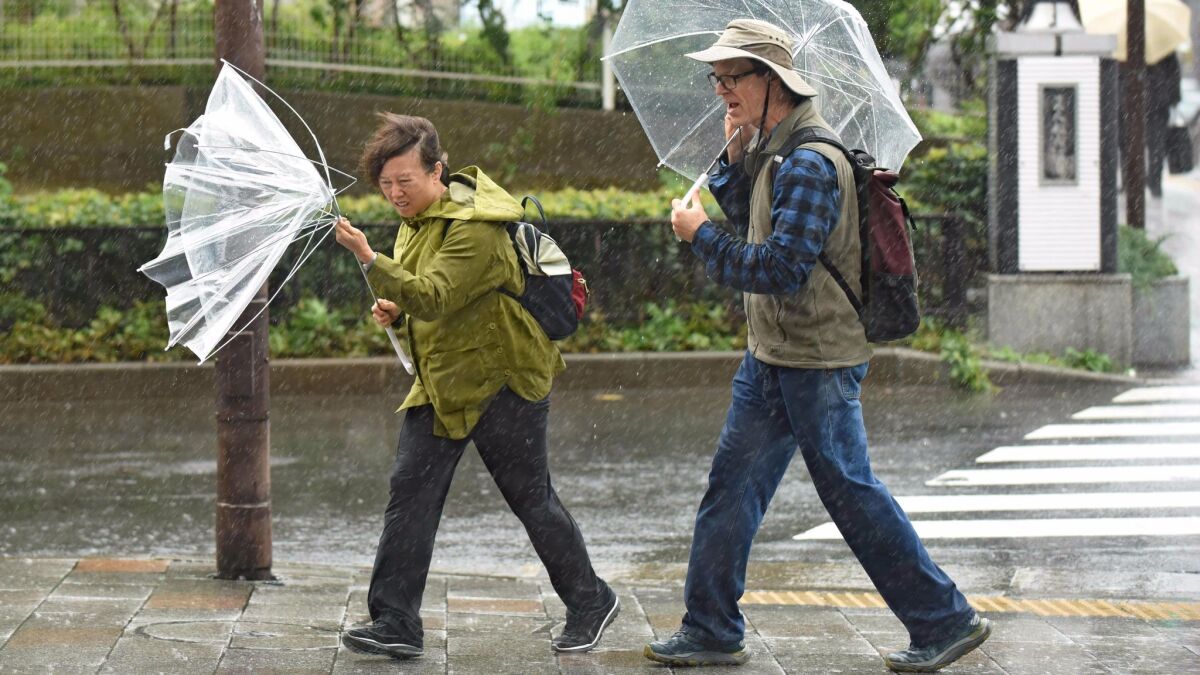 Most voters said they had cast their ballots for the status quo of the LDP, but some were looking for change.
"I was working in manufacturing, but business worsened and I got laid off. I want better conditions for workers, so I voted for the Japanese Communist Party," said Tomoka Kobayashi.
The Communists had been expected to pick up some seats after a strong showing in Tokyo Metropolitan Assembly elections in July and with the upheavals in the rest of the opposition. But Japan's oldest political party saw its seats drop from 21 to 12.
Typhoon Lan lashed Japan on election day, and caused a delay in counting votes from some remote districts. It also was probably a factor in the record 15.6 million people who cast early ballots by Friday.
This is the first House of Representatives election in which 18- and 19-year-olds were able to participate, after the voting age was lowered from 20. In the election for the less-powerful House of Councilors in July 2016, a higher proportion of 18- and 19-year-olds turned out for the LDP than their older counterparts, confounding conventional wisdom that younger voters lean liberal.
With a so-called super majority in both houses of parliament secured, Abe will probably press ahead with his reform of Article 9, widely seen as his true political mission.
"Reform of the constitution is not decided by the election or even parliament, but must be put to a national referendum. We must seek to gain the understanding of the public," said Abe when asked by NHK about Article 9.
A constitutional reform bill requires approval by two-thirds of both houses, and then a simple majority in a national referendum. The vote in the latter is all but guaranteed to be far tighter than Sunday's election.
ALSO
China's rising authoritarianism has a stark human cost
A global primal scream: #MeToo (#YoTambien #QuellaVoltaChe #גםאנחנו أنا_كمان#)
Cambodia, a nominal democracy, lurches toward full-blown dictatorship
Blair is a special correspondent.
---
UPDATES:
5:20 p.m.: This article has been updated with latest results, quotes from Koike, voter.
This article was originally published at 11:15 a.m.
Must-read stories from the L.A. Times
Get the day's top news with our Today's Headlines newsletter, sent every weekday morning.
You may occasionally receive promotional content from the Los Angeles Times.