Cambodia, a nominal democracy, lurches toward full-blown dictatorship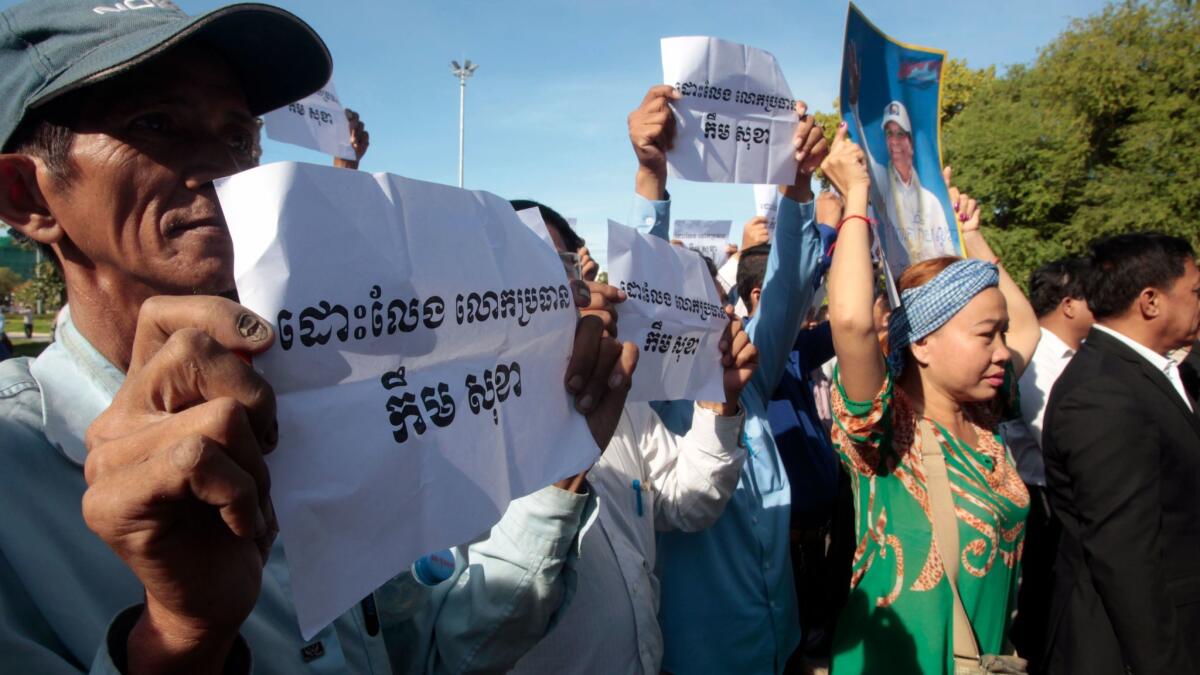 Reporting from PHNOM PENH, Cambodia —
Mu Sochua had never been deterred by the prospect of jail time. In her two decades as a bold voice in Cambodian politics, the deputy opposition leader has faced down her fair share of government intimidation. In 2014, she spent a week in prison.
But something about the latest government crackdown felt more sinister, she said last week, hours after fleeing to Bangkok, Thailand, to avoid being taken into custody.

For the record:
8:25 p.m. Oct. 10, 2017An earlier version of this article referred to Charles Santiago, a lawmaker from Malaysia, as the human rights chair of the Assn. of Southeast Asian Nations. He is the chair of ASEAN Parliamentarians for Human Rights,
"In the past, I never left my country," she said. But this time, "I couldn't speak freely or move freely. I thought that if my days were coming to an end, I wanted to be free."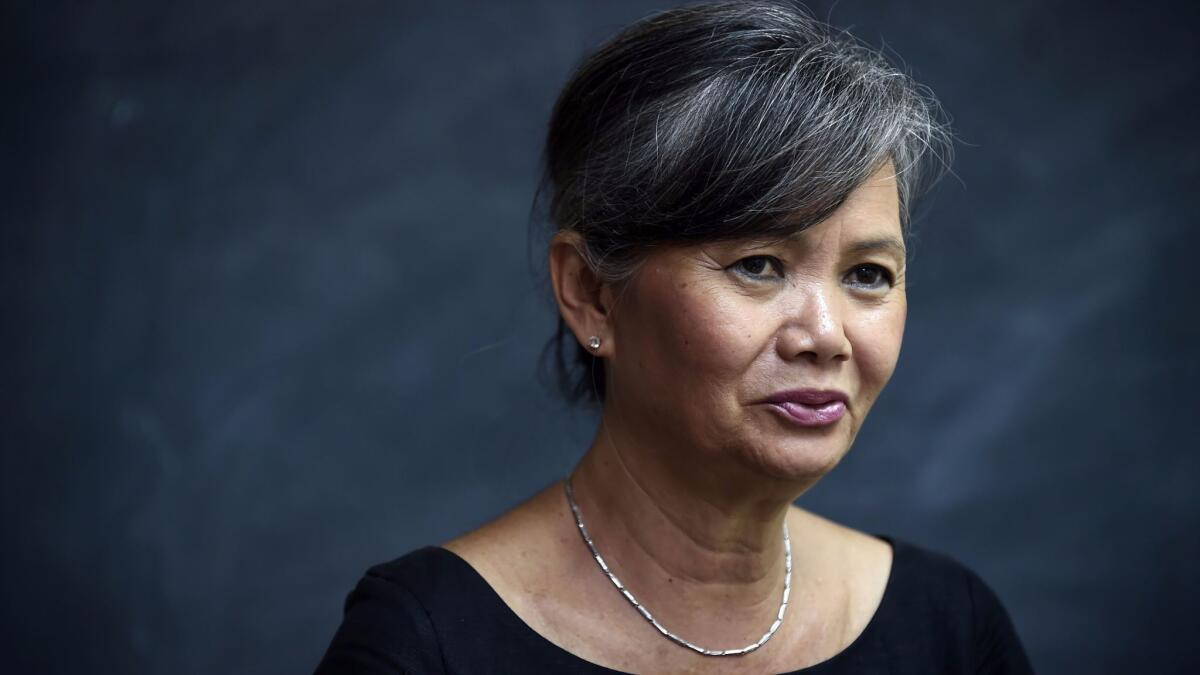 Cambodia, which emerged from the genocidal rule of the Khmer Rouge as a nominal democracy, is lurching toward full-blown dictatorship. Prime Minister Hun Sen, who has been in power since 1985 — and who will seek another term in elections next year — has forced the closure of an independent newspaper, deported American workers for nongovernmental organizations, and effectively crushed the opposition Cambodia National Rescue Party, or CNRP.
"With his total control over the military, police and the courts, this is a strongman's coup, with Hun Sen shaking off the last vestiges of democratic rule," said Phil Robertson, deputy director of the Asia division at Human Rights Watch.
Authorities arrested the leader of the opposition party, Kem Sokha, on Sept. 3, and are holding him in a remote prison near the Vietnamese border on treason charges. He stands accused of conspiring with the U.S. to overthrow the government.
"He's in a room by himself, and there's a 24-hour surveillance camera inside his room, and also a voice recorder," said Kem Monovithya, a CNRP spokeswoman and Kem Sokha's daughter, who is currently in Washington. "He's being watched 24/7."
If convicted, Kem Sokha, 64, faces a sentence of between 15 and 30 years.
In a speech Oct. 2, Hun Sen foreshadowed the arrest of "rebels in the city" who were plotting to instigate a "color revolution," a reference to the largely nonviolent movements to overthrow governments in places such as Ukraine (the Orange Revolution) and Georgia (the Rose Revolution). About half of the opposition's 55 lawmakers, fearing a similar fate, have fled the country.
Mu Sochua, 63, said a high-ranking official sent her a warning that she would be arrested next. She packed her bags and left for Thailand the next day. From there, she planned to go to her reported final destination of Morocco.
"It's the total destruction of democracy," she said. "The red line has been crossed so many times. I don't know what the international community is waiting for."
On Friday, the government filed a lawsuit with the Supreme Court seeking to dissolve the CNRP under controversial legislation passed this year. Interior Ministry spokesman Khieu Sopheak said an investigation, ostensibly launched at the behest of two minor political parties last week, had amassed 21 pieces of evidence proving the opposition had "conspired with foreign powers to topple the government."
The court will almost certainly act as a rubber stamp in the case, said Sebastian Strangio, a journalist and the author of "Hun Sen's Cambodia." The opposition would have little recourse to appeal.
"We know the courts are controlled mostly by [Hun Sen's] Cambodian People's Party; they take their orders from on high," he said.
The opposition has roundly denied any conspiracy, saying the accusations are politically motivated. In an Oct. 3 letter from jail, Kem Sokha insisted his goal was "nonviolent and positive change," according to an unofficial translation.
Hun Sen, a former Khmer Rouge commander, has ruled Cambodia for 32 years, regularly outmaneuvering challenges to his control of a country that is rapidly developing but has also been plagued by corruption, poverty and environmental destruction. Widely regarded as a tough and cunning leader, his record has been marred by human rights abuses, including several suspected political killings.
Cambodia held its first free elections in 1993 under United Nations supervision, but most analysts agree the country has never been a true multiparty democracy. Strangio said the latest crackdown represents "an end to the international democratic experiment in this country."
The opposition party emerged as a surprise political force in 2013, when it nearly won a national election soon after forming in a merger of two smaller parties. But by the end of 2015, the government had imprisoned several of its officials, and then-opposition leader Sam Rainsy had fled into exile to avoid jail time. The latest crackdown has been intensifying since June, when the opposition performed well in local elections nationwide. In a contest traditionally dominated by Hun Sen's party, the CNRP received about 40% of the vote.
The government has also targeted media and civil society in recent months, with U.S.-backed broadcasters Radio Free Asia and Voice of America taken off air, the Cambodia Daily newspaper closed and nongovernmental organizations such as the U.S.-funded National Democratic Institute shuttered.
It's not just the opposition's leadership team that is under pressure — the party said the crackdown extends all the way down to grass-roots activists. "We are being watched, investigated, and our meetings are being recorded by plainclothes security forces," said San Soeurng, a CNRP provincial council member in Hun Sen's home province of Kampong Cham.
The European Union and governments including the U.S. have issued statements condemning the crackdown, and Sens. John McCain (R-Ariz.) and Richard J. Durbin (D-Ill.) last week introduced a resolution urging the State Department to consider placing all senior Cambodian officials on the Specially Designated Nationals list, which could prevent them from visiting the U.S.
But Charles Santiago, a lawmaker from Malaysia who is the chair of ASEAN Parliamentarians for Human Rights, said the international response — particularly from the Trump administration — so far has been "quite lame and weak."
"If the Americans do not say something decisive about the state of democracy in the region, including Cambodia, the role of the U.S. in the region is going to be completely weakened," he said. "It's already in a bad shape, but it's going to deteriorate further."
Cambodian government spokesman Phay Siphan dismissed international criticism, saying that foreigners "do not understand Cambodian law, and they don't have any understanding of Cambodian interests at all." Interior Ministry spokesman Khieu Sopheak said the victims of any sanctions would be "the citizens, not the leaders."
Strangio, the author, said a strong international response is improbable and would be unlikely to have much sway over Hun Sen, who can now rely on unwavering backing from Beijing. China is Cambodia's largest investor — in recent years, it has launched major infrastructure projects such as dams and highways, and driven a property boom in the capital, Phnom Penh. Beijing, unlike the U.S., does not make its development aid contingent on addressing human rights abuses.
"The government no longer feels the need to wind back these escalations in order to preserve Western support," Strangio said. "They really couldn't care less what foreign governments think."
Robertson is a special correspondent.
ALSO
In Mekong Delta backwaters, Vietnam vets find peace in a town that war destroyed
The secret behind Ri Yong Ho, North Korea's fire-breathing spokesman
Aung San Suu Kyi treats Rohingya crisis as a mystery: 'We want to find out why this exodus is happening'
Sign up for Essential California for the L.A. Times biggest news, features and recommendations in your inbox six days a week.
You may occasionally receive promotional content from the Los Angeles Times.