Bombing at Afghanistan protest kills 81; Islamic State claims responsibility
People transport victims' bodies after a suicide bomb attack in Kabul.
(Hedayatullah Amid / EPA)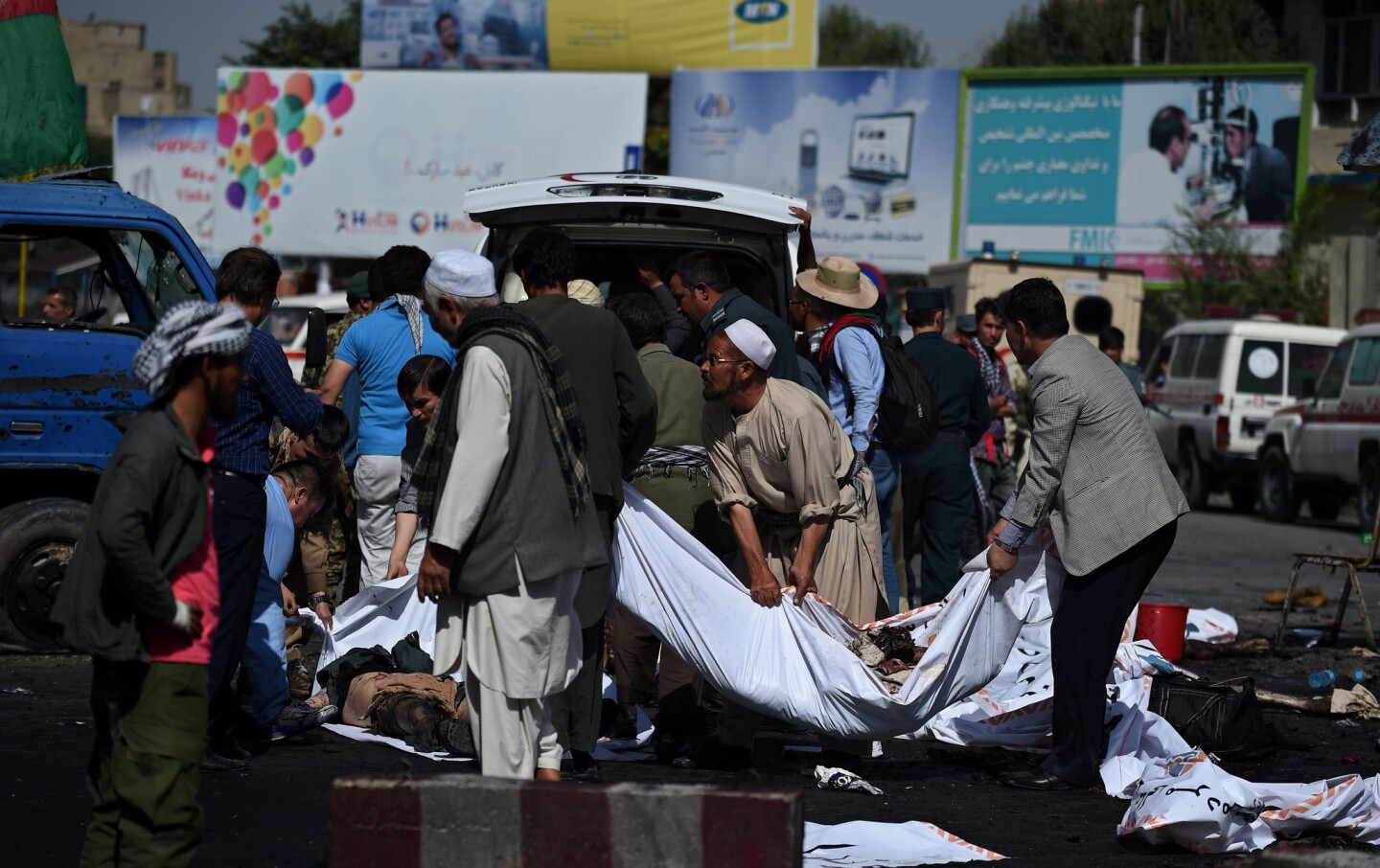 Afghan volunteers carry bodies after a suicide attack targeting minority Hazara demonstrators.
(Wakil Kohsar / AFP/Getty Images)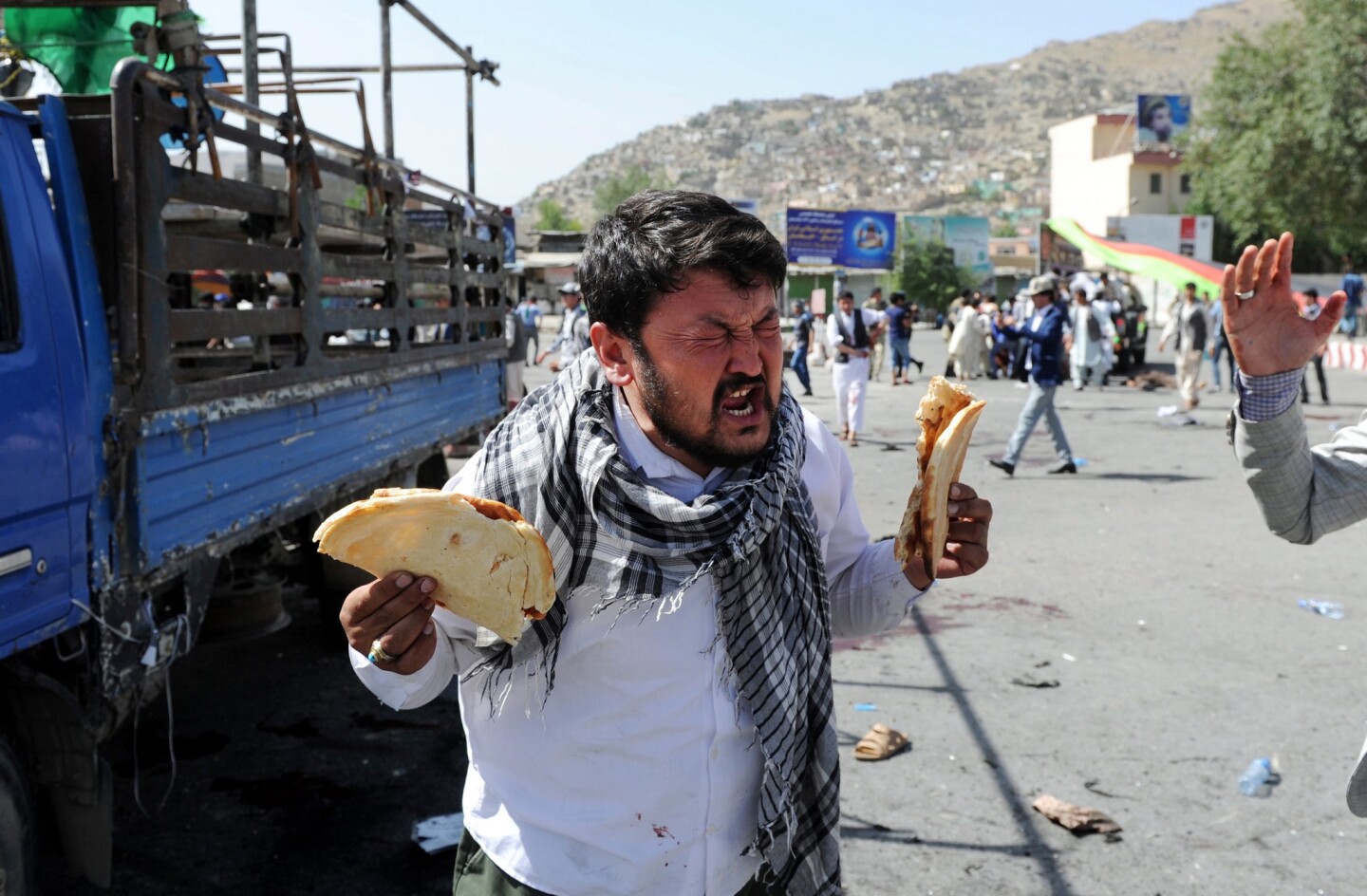 A man reacts after a suicide bomb attack that targeted Hazara demonstrators in Kabul.
(Hedayatullah Amid / EPA)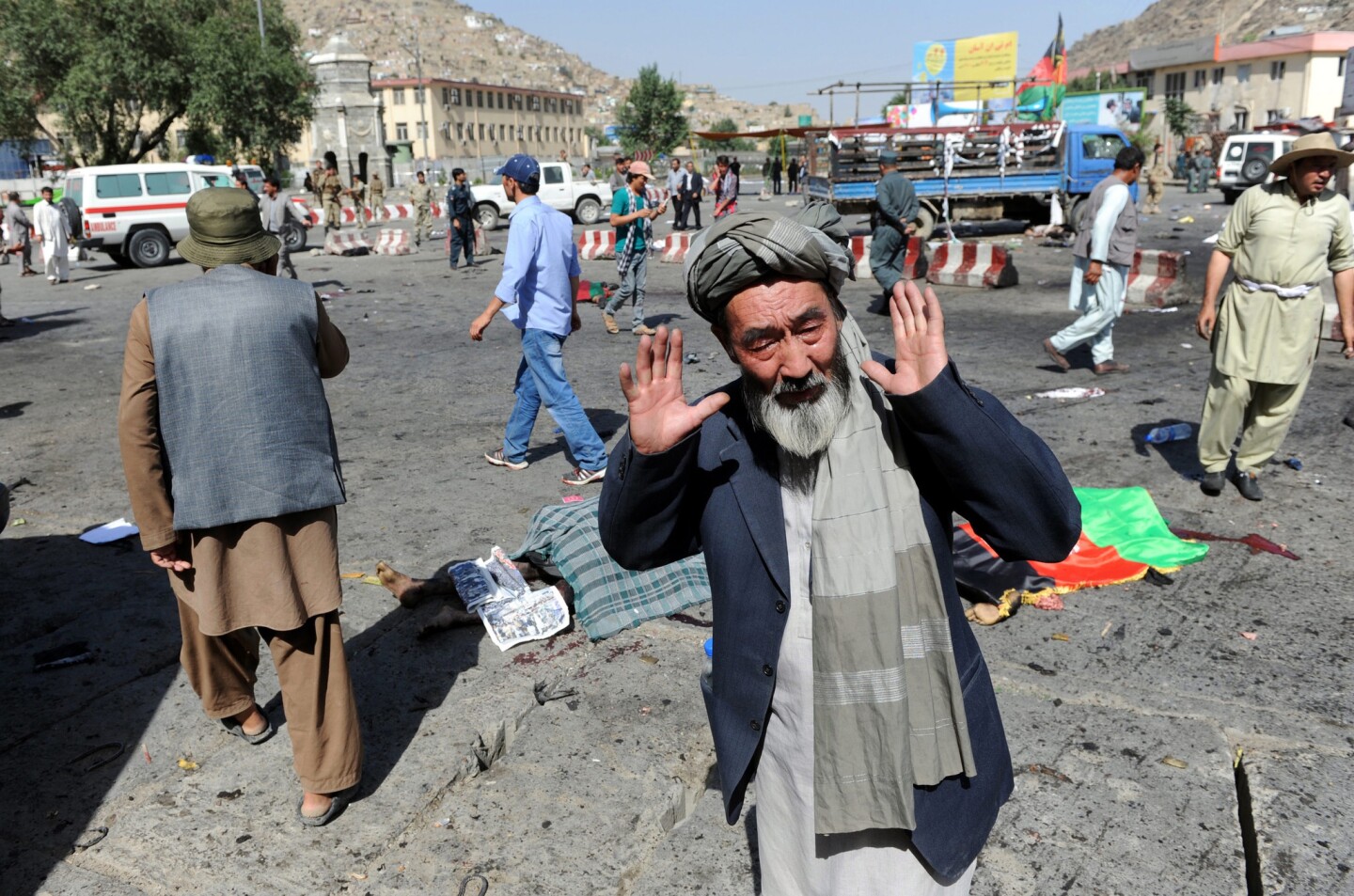 A man from the Hazara minority reacts after a suicide bomb attack that targeted demonstrators in Kabul, Afghanistan.
(Hedayatullah Amid / EPA)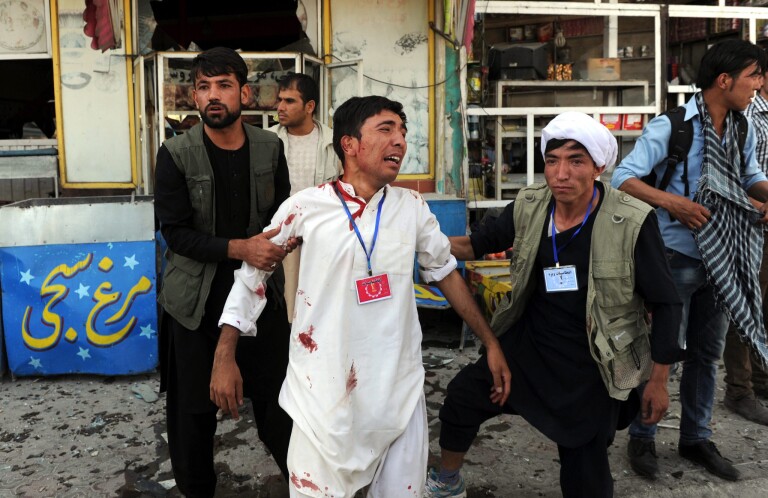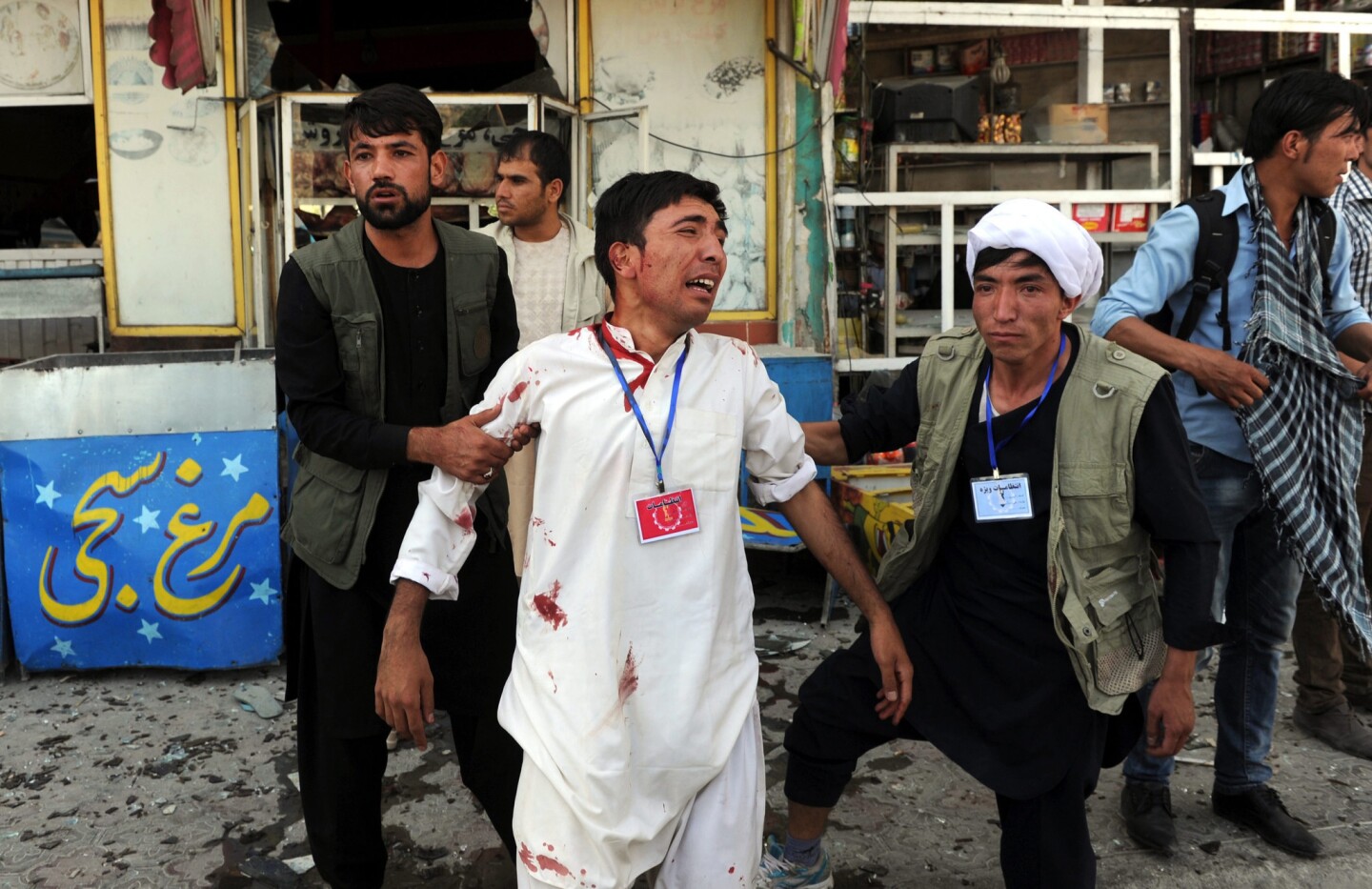 People help an injured man after the suicide bomb attack in Kabul, Afghanistan.
(Hedayatullah Amid / EPA)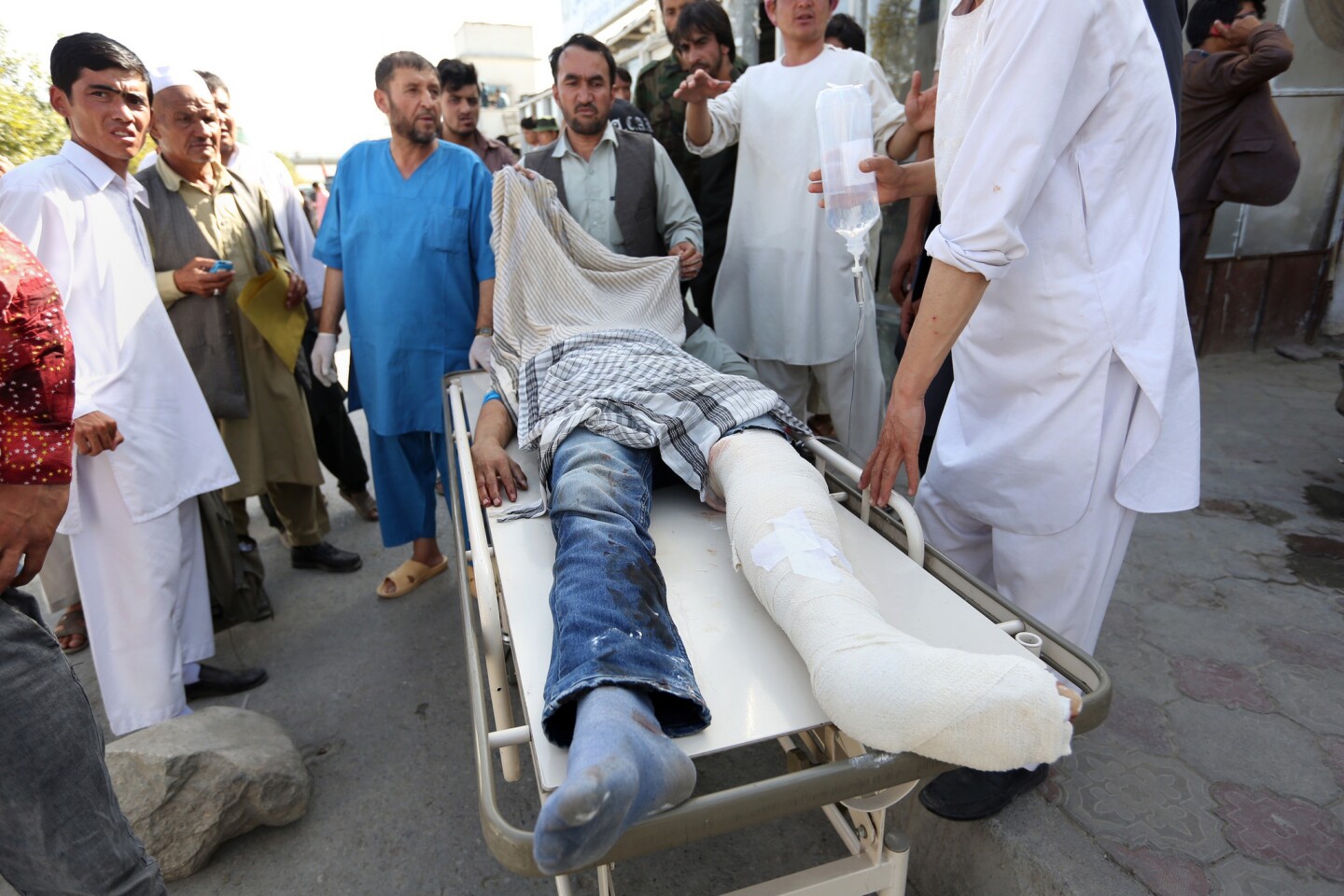 Afghans help an injured man after an explosion struck a protest in Kabul, Afghanistan.
(Rahmat Gul / Associated Press)
Reporting from Kabul, Afghanistan —
The extremist group Islamic State claimed responsibility for a suicide bombing Saturday at a protest by members of the country's Hazara ethnic minority that killed at least 81 people, injured more than 230 others and turned a square in the Afghan capital into a tableau of carnage.
If verified, the claim from the Islamic State-affiliated Amaq News Agency would represent an ominous widening of the group's reach, which up until now had been mainly confined to a province bordering Pakistan. The Taliban issued a statement saying it was not involved.
The attack, among the most lethal since the 2001 U.S.-led invasion of Afghanistan, drew condemnation from the Obama administration, the United Nations mission in Afghanistan and the commander of U.S. and NATO forces in the country.
President Ashraf Ghani, in a televised address, declared a day of mourning on Sunday. He vowed to seek revenge on those responsible, saying in a statement that "peaceful protest is the right of every citizen."
The Hazara community is mainly made up of Shiite Muslims, considered apostates by the Sunni Muslim extremists of Islamic State.
The demonstrators who gathered Saturday were renewing calls for a major electricity line to be routed through Bamiyan province, the Hazara heartland, in order to generate jobs and revenue.
Thousands marched through the streets of Kabul, carrying banners decrying discrimination against Hazaras and waving Afghan flags. The protesters had just started setting up tents in Kabul's Deh Mazang Square when an explosion ripped through the crowd.
According to an Interior Ministry statement cited by local news reports, three suicide bombers targeted the rally. One failed to successfully detonate his explosives, and another was shot dead by security forces before he could do so.
Images circulating on social media showed dozens of bodies and debris strewn across the area and people running frantically to escape.
The terror attacks you haven't heard about »
Roadblocks set up to keep the protesters away from the presidential palace and other sensitive sites got in the way of ambulances that were attempting to reach the square, delaying the transfer of some of the injured to the hospital, witnesses said.
Kabul residents turned to Facebook to organize blood drives, posting updates about which hospitals were in need of donations.
Islamic State has been active in Afghanistan since 2014 and is estimated to have between 2,000 and 3,000 fighters there, many of them disaffected members of the Taliban and Pakistani insurgent groups.
Although the group has claimed responsibility for horrific attacks before, many of them directed against rival Taliban forces, it has until now largely confined its operations to parts of Nangarhar province.
This would mark the militants' first attack in the Afghan capital. The fear is that it could further inflame sectarian divisions and fuel discontent with the country's unity government.
See the most-read stories in World News this hour »
"This incident is an outrage that cannot be justified," United Nations envoy Tadamichi Yamamoto said, calling it a war crime. "It is an attempt to spread terror amongst civilians and stifle the freedoms that Afghans have sacrificed so much to obtain."
The commander of U.S. and NATO forces in Afghanistan, U.S. Army Gen. John Nicholson, also denounced the attack, saying international forces "remain firmly committed to supporting our Afghan partners and the national unity government."
In Washington, State Department spokesman John Kirby said, "The killers responsible for this bloodshed do not represent the future for Afghanistan and will not prevail."
He said the Obama administration had offered assistance to the Afghan government in its investigation of the attack and prosecution of the culprits.
Cesaretti is a special correspondent. Times staff writers Laura King and Tracy Wilkinson in Washington contributed to this report.
ALSO
More than 130 dead in China flooding, many still missing
Gunman in Munich mall shooting identified as an 18-year-old German-Iranian
How a stockpile of America's nuclear weapons got tangled up in a Middle East crisis
---
UPDATES:
7:30 p.m.: This article has been updated with Times reporting.
1:27 p.m.: This article has been updated with the fact that the Islamic State has claimed responsibility for the attack, as well as additional background and a statement from the Taliban.
9:35 a.m.: This article has been updated with a death toll of 80 and additional details about the attack and its aftermath.
7:25 a.m.: This article has been updated with a death toll of 61 and with statements from a U.S. military commander and the U.S. embassy
5:25 a.m.: Updated with a death toll of 31 and Islamic State claiming responsibility.
4:45 a.m.: Updated with quotes.
This article was first posted at 3:55 a.m.
---
Must-read stories from the L.A. Times
Get all the day's most vital news with our Today's Headlines newsletter, sent every weekday morning.
You may occasionally receive promotional content from the Los Angeles Times.