Putin and Kim Jong Un meet in summit heavy on pleasantries but light on specifics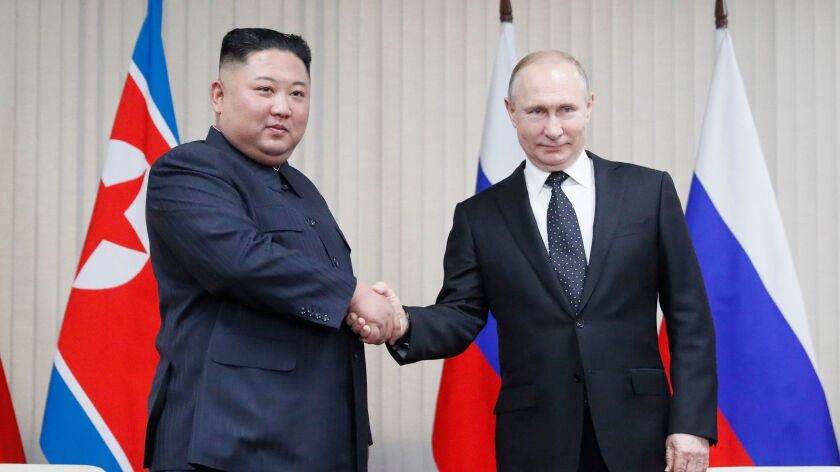 Reporting from Seoul —
North Korean leader Kim Jong Un met with Russian President Vladimir Putin for the first time Thursday in a summit filled with gifts, pleasantries and champagne but few specifics on how to achieve what both men have said they want — denuclearization of the Korean peninsula.
Kim and Putin met behind closed doors for about two hours in the port city of Vladivostok in eastern Russia after brief opening remarks broadcast on Russian state television in which the Cold War allies emphasized their historical ties.
Putin told reporters in a news conference following the talks that he believed North Korea was willing to denuclearize but needed security guarantees ensuring its sovereignty and confidence-building steps along the way.
"If we move step by step with respect for each other's interests, then this goal can be achieved in the final end," Putin said. Kim's "main interests are stability and safety of his country," he added.
Kim's visit to the Russian city less than 100 miles from North Korea's northeast border is his first foray out of his country since his second summit with President Trump, held in Vietnam in February, was abruptly cut short without an agreement. Working-level talks between the U.S. and North Korea have also come to a screeching halt after a year of whirlwind diplomacy over the North's nuclear program.
A Kremlin spokesman had said even before Kim and Putin met that there would be no deal or agreement from the summit, the first meeting between North Korean and Russian heads of state since Kim's father, Kim Jong Il, met with then-President Dmitry Medvedev in 2011.
Analysts said Russia has little to offer by way of direct investment or aid, given the international sanctions placed on North Korea in retaliation for its nuclear and ballistic missile programs. Russia, along with China, has made the case before the United Nations Security Council that those sanctions should be eased in exchange for incremental steps by North Korea to denuclearize.
U.N. reports have accused both Russia and China of helping North Korea dodge sanctions, which severely limit oil imports and block many of the country's key exports, including textiles and seafood.
Trump and his advisors said at the Hanoi summit and in the weeks since that the U.S. will only agree to lift the sanctions after North Korea has fully denuclearized.
Russia's influence and importance for North Korea is a shadow of what it once was before the Soviet Union's collapse — Russia now trades far more with South Korea, and China is by far North Korea's largest trading partner. Russia is also under international sanctions for its seizure of the Crimean peninsula from Ukraine.
On Thursday, Kim appeared to nevertheless make a strong appeal to Putin for his support in the stalled nuclear talks, saying Russians had shed blood for the "liberation of the Korean people."
"Pyongyang and Moscow are far apart but [North Korea] and Russia are friendly nations separated only by a river," he said, referring to the 11-mile border shared by the countries in North Korea's northeastern edge.
Putin also emphasized the nations' long history, repeatedly mentioning their 70-year diplomatic relationship. He told reporters he found Kim to be "a rather open person."
At the same time, Putin said he supported Kim's effort to improve relations with the U.S. He said Kim asked him to explain North Korea's position to American leaders.
Putin said at the outset of the talks they would discuss humanitarian matters, but gave no specifics. Russia has already pledged 50,000 tons in food aid in response to pleas North Korea has made saying it faces a massive shortage after poor harvests last year.
At an evening banquet following their talks, Kim and Putin dined on venison dumplings, borsch and Khabarovsk beef, according to Russian media reports. The two men exchanged gifts — a sword from Kim, and a saber and tea set from Putin.
Times staff writer Kim reported from Seoul and special correspondent Ayres from Moscow.
---
Must-read stories from the L.A. Times
Get all the day's most vital news with our Today's Headlines newsletter, sent every weekday morning.
You may occasionally receive promotional content from the Los Angeles Times.