South Korea's president was matchmaker for the nuclear summit — but could take the blame if it fails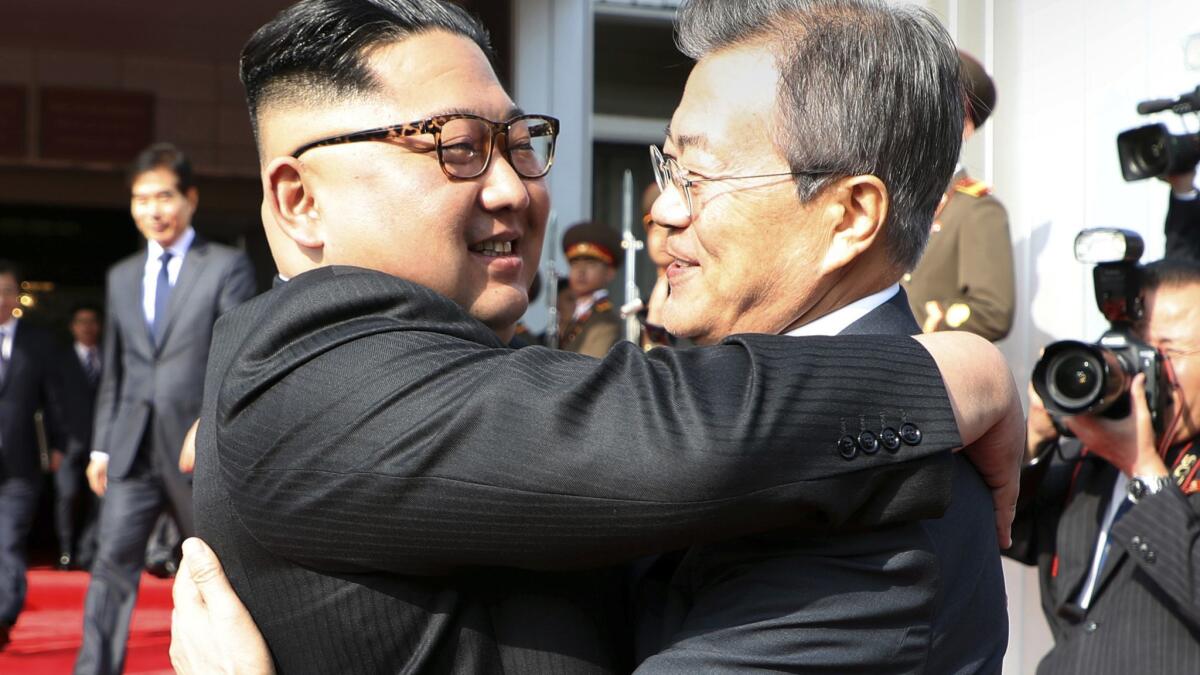 Reporting from Seoul —
North Korean leader Kim Jong Un famously called President Trump a "frightened dog" and a "dotard" last summer, but the leader of the free world got off fairly easy by Korean standards.
State media in Pyongyang recently slammed South Korea's disgraced former president, Park Geun-hye, as a "traitor" and "insane," going further than the guilty verdict from the court that sentenced her to 24 years in prison in a bribery scandal.
Thus the North Korean dictator's brotherly hugs and clasped hands with South Korea's current president, Moon Jae-in, were almost as unimaginable here as the unlikely spectacle of the Trump-Kim summit scheduled for Tuesday in Singapore.
Moon played the role of matchmaker who helped bring the odd couple together for a summit. He brokered talks at the outset, delivered private messages and rushed into the breach with a frenzied bout of personal diplomacy that helped resuscitate the sit-down after Trump had pulled out.
Moon, who took office last year, ultimately could share credit if the high-stakes parley leads to an easing of military tensions in one of the world's hottest hot spots, or at least to a resumption of long-stalled talks about what both sides call denuclearization on the Korean peninsula.
"Without Moon, we would not be where we are," said Loretta Napoleoni, author of "North Korea: the Country We Love to Hate," a recent book about the Kim dynasty and how it still perplexes the West. "That is a certainty."
But Moon also faces clear political risks, both at home and in Washington, Seoul's most important ally — even if the summit succeeds.
A moderately productive summit, for example, could lead to a formal end of the fratricidal 1950-53 Korean War, which left the peninsula bitterly divided along the world's most heavily armed border.
That could give Trump reason to draw down or remove the 28,000 or so American troops stationed in South Korea, as he has sometimes suggested he would like to do, undermining U.S. security guarantees in the region.
Moon also could play the role of peacemaker if the Singapore summit doesn't meet expectations of some sort of nuclear deal, said Timothy Rich, an associate professor at Western Kentucky University whose research focuses on East Asian issues.
"Moon's role of a fixer here also potentially provides for alternative dialogues in case the Trump-Kim talks fail to meet increasingly lofty expectations of some sort of grand agreement," he said.
A summit collapse, of course, could produce calamity, sparking a quick return to crude taunts, bellicose threats and escalating tensions in Northeast Asia.
Before Moon and Kim began their diplomacy in January, the Trump administration had begun preparing options for potential military strikes on North Korea's nuclear and missile sites, a scenario that could lead to mass casualties on both sides of the border.
For now, Moon's diplomatic efforts have paid off at home, where his recent approval ratings are around 80%. His campaign to improve inter-Korean relations predates Trump and is consistent with center-left parties in South Korea over the years.
Over the last year, Moon, the affable 65-year-old son of war refugees from North Korea, has stood firm with Trump rhetorically, flattering him wildly at times.
After Moon said Trump's tough talk had helped bring North Korea to the table, the U.S. president was quick to boast, without evidence, that he had saved South Korea's successful Pyeongchang 2018 Olympic Winter Games from disaster.
"President Moon of South Korea said without Donald Trump the Olympics would have been a total failure," Trump told a rally in Pennsylvania in March. "It's true, true. You know. Might as well say it."
He added, "It's a little hard to sell tickets when you think you're going to be nuked."
Moon's administration had invited Pyongyang to participate in the Olympics last summer, just as Trump and Kim were setting off global alarms by trading nuclear threats. Kim's sports minister promptly rejected the overture, but Moon persisted.
In September, North Korea tested its first hydrogen bomb, vastly more powerful than its previous tests, and quickly followed up by testing its first intercontinental ballistic missiles capable of reaching the U.S. mainland.
On New Year's Day, Kim bragged in a speech about his growing nuclear arsenal. But he also signaled an openness, for the first time since he took power in 2011, to discuss peace.
What followed was a flurry of unexpected diplomacy and a sudden thaw in relations with one of the world's most isolated and repressive nations.
Moon's administration quickly negotiated for Pyongyang to send a delegation to the Olympics, paying most of the North Koreans' expenses. The estranged neighbors, which share an ethnic identity and language, marched together in the opening ceremonies under a neutral flag, and formed a joint team for women's ice hockey.
The breakthrough initially hurt Moon politically at home, but it led to more dialogue with Pyongyang. Then, in March, Moon's national security team flew to the White House to deliver a personal message: Kim wanted a summit. Trump accepted on the spot.
The following month, Moon and Kim met for the first time, embracing and each stepping across the border at Panmunjom, a diplomatic outpost in the demilitarized zone that separates the two nations. It led to a declaration that the two Koreas might soon sign a peace deal, and offered hope that North Korea might be willing to compromise with the United States.
In Washington, the White House saw the meeting as providing the kind of optics to show Kim was sincere about negotiating on nuclear arms control, even if he still mostly spoke in generalities. They stepped up efforts to arrange the logistics, security and agenda for their own summit with Kim.
When Trump abruptly pulled out on May 24, citing what he called "open hostility" in comments from Pyongyang, Moon rushed to help salvage the talks.
He arranged a surprise second border meeting with Kim — only the fourth time in history that the leaders of North and South Korea had met — to help jump-start the stalled dialogue with Washington. It worked, and summit planning quickly resumed.
Analysts credit Moon and his aides for maintaining strong relations with the White House during the roller-coaster diplomacy, whatever the Singapore summit ultimately produces.
"Moon is experienced and smart and has serious and experienced advisors," said William Overholt, an Asia expert and senior research fellow at Harvard University. "It's a very sophisticated, thoughtful operation, and they're not letting their guard down. They are not soft."
Stiles is a special correspondent.
Sign up for Essential California for news, features and recommendations from the L.A. Times and beyond in your inbox six days a week.
You may occasionally receive promotional content from the Los Angeles Times.