Nepal's overseas migrant workers face tough decisions after quake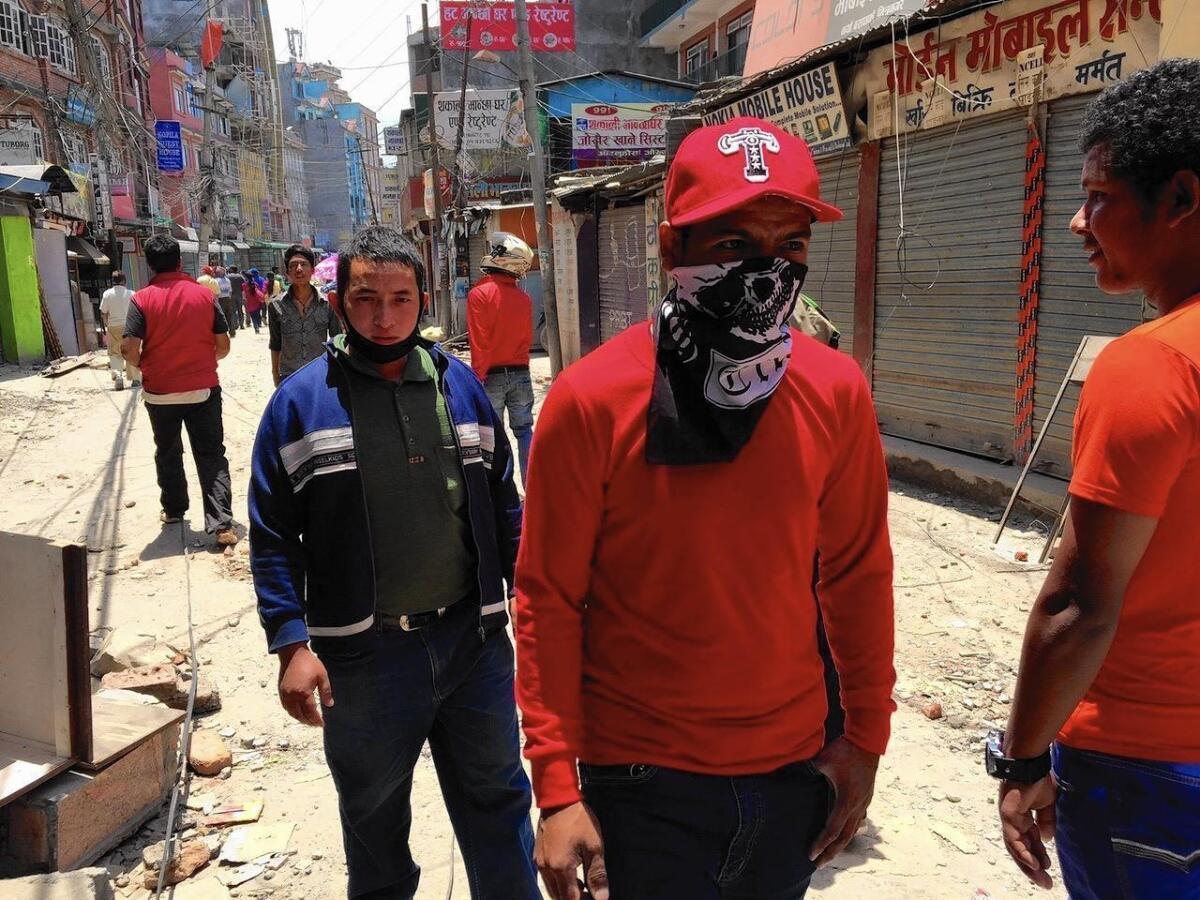 Reporting from Katmandu, Nepal —
The destruction on television and his family's despondent voices on the other end of the phone overpowered Shivaram Pariyar.
The 31-year-old construction worker summoned the courage to approach his supervisor at their office in Riyadh, Saudi Arabia, and told him he had to return home to Nepal immediately.
The man, an Indian national, was unsympathetic. "The TV always exaggerates," he said.
Pariyar pleaded with him, "Look how bad it is!"
It was not a simple case of a worker requesting unscheduled time off. The Saudi construction company was holding Pariyar's passport, and he was not entitled to a holiday until he had completed two years of service. He had been there only six months, and if he left early he could lose a job that he had struggled to get and that others coveted.
Hundreds of thousands of Nepalese migrant workers accede to such conditions as terms of their employment in the oil-rich nations of the Persian Gulf and elsewhere. It is a price that a growing number are willing to pay for jobs that bring in more than they could ever make in their impoverished home country.
Nepal is one of the world's leading sources of cheap, low-skilled labor, with more than half a million workers going abroad every year to places such as Saudi Arabia, Qatar, Kuwait and Malaysia. The Nepalese government says that more than 7% of the country's 28 million people work overseas; however, because so many migrate illegally, the actual figure is believed to be higher.
These distant laborers are a pillar of the economy: The money they send home accounts for a quarter of Nepal's gross domestic product, according to official statistics.
Since the April 25 earthquake that authorities say has left 7,611 people dead across the country as of Tuesday, many Nepalese overseas have faced the wrenching decision of whether to return home to their families if it means risking the very jobs that provide for them.
"I was under so much stress, I couldn't work for the last week," Pariyar said. "My family was overwhelmed, my child is traumatized, my father is elderly — I had to get home."
His boss eventually agreed to let him take a 45-day emergency leave. After signing a letter saying he promised to return and shelling out $500 for a last-minute plane ticket — more than twice his monthly paycheck — Pariyar landed in Katmandu early Tuesday, dragging a frayed suitcase behind him.
He tied a black handkerchief over his nose and mouth to guard against the thick fog of post-quake dust enveloping the capital. Near the long-distance bus depot, he bought a ticket for the next morning to his family village in eastern Nepal's Lamjung district.
The worst images he'd seen on television were confirmed in the neighborhood surrounding the bus terminal, where several blocks of shabby guesthouses were pancaked into mounds of concrete chunks and twisted steel, the air redolent with the odor of rotting flesh. The guesthouses are a frequent stopover point for migrant workers, several of whom were reported killed in the quake.
Pariyar entered the lobby of one surviving guesthouse to find a crack about two fingers wide snaking across the concrete wall. He stepped back out into the street, looking nervous.
"I'm scared to stay here," he said, though his options were limited.
The phone conversations with his wife and parents had been brief and tortured. They were reluctant to tell him how bad things were in Lamjung, lest he panic, and he was too nervous to probe. All they said was the house was damaged and they were sleeping outside a school, but his 3-year-old son was unharmed.
He felt slightly less anxious than his friend, 29-year-old Kim Shreshta, who works at the same Saudi company and traveled back with him. Shreshta's uncle, who owns a shop near the bus depot, had not been heard from since the quake.
Nirmal Kumar Upreti, an activist who is in touch with overseas Nepalese laborers, said dozens have contacted him via Facebook, asking for help returning home.
"They see all this devastation in the newspaper and TV channels, they hear from their relatives, and they think the worst," said Upreti, deputy program director for the Pravasi Nepali Coordination Committee, an advocacy group.
"From their heart they want to come home and support their families and their villages.... But it's a big risk for them because if they leave, it's not guaranteed that they will be able to go back."
To get the jobs, migrants must pay "manpower companies," middlemen that also arrange their visas and plane tickets. There are more applicants than jobs, and the fees can be steep; Pariyar had spent nearly $700 to get to Saudi Arabia, an investment that weighed on him as he suffered through his first few months in Riyadh.
He had never worked construction before and found the job — and the desert heat — grueling. Still, he was able to send home about $200 a month, not bad for a seventh-grade dropout.
"If I had more skills, I could have better opportunities there," he said.
So many Nepalese men in their 20s and 30s have left the country that entire families and villages seem to be missing a generation. Jay Prakash Shreshta, who is unrelated to Pariyar's colleague, works as a driver for a company in Qatar while his wife lives with their five children and several other female relatives in an east Katmandu neighborhood known as Pepsi-Cola, after a nearby bottling plant.
Shreshta's father and younger brother are drivers in Bahrain. It was almost time for his semi-annual leave, which made it easier for him to rush back to Katmandu after the quake.
His wife had given birth barely a week earlier, and the constant aftershocks left his mother paralyzed with fear. A few cracks had appeared in their ground-floor apartment and the women had taken the children outdoors to sleep. They took turns running into the house to grab supplies because no one wanted to be alone in there for more than a few seconds.
"I'm calmer now that he's here," said his mother, Uma Maya.
The aftershocks subsided and the family moved back into the house. Shreshta, 29, took his wife, Rubi, to the doctor to treat postnatal swelling. The condition subsided, but Shreshta has decided to extend his stay to two months, even it if means his supervisor will dock his pay.
His father and brother have called from Bahrain, offering to return to Katmandu to help out.
"I told them there's no need for them to come; I can manage everything," he said. "They should keep working. We will need the money."
Twitter: @SBengali
---
Must-read stories from the L.A. Times
Get the day's top news with our Today's Headlines newsletter, sent every weekday morning.
You may occasionally receive promotional content from the Los Angeles Times.