Nepal mountain village is spared death but not destruction in quake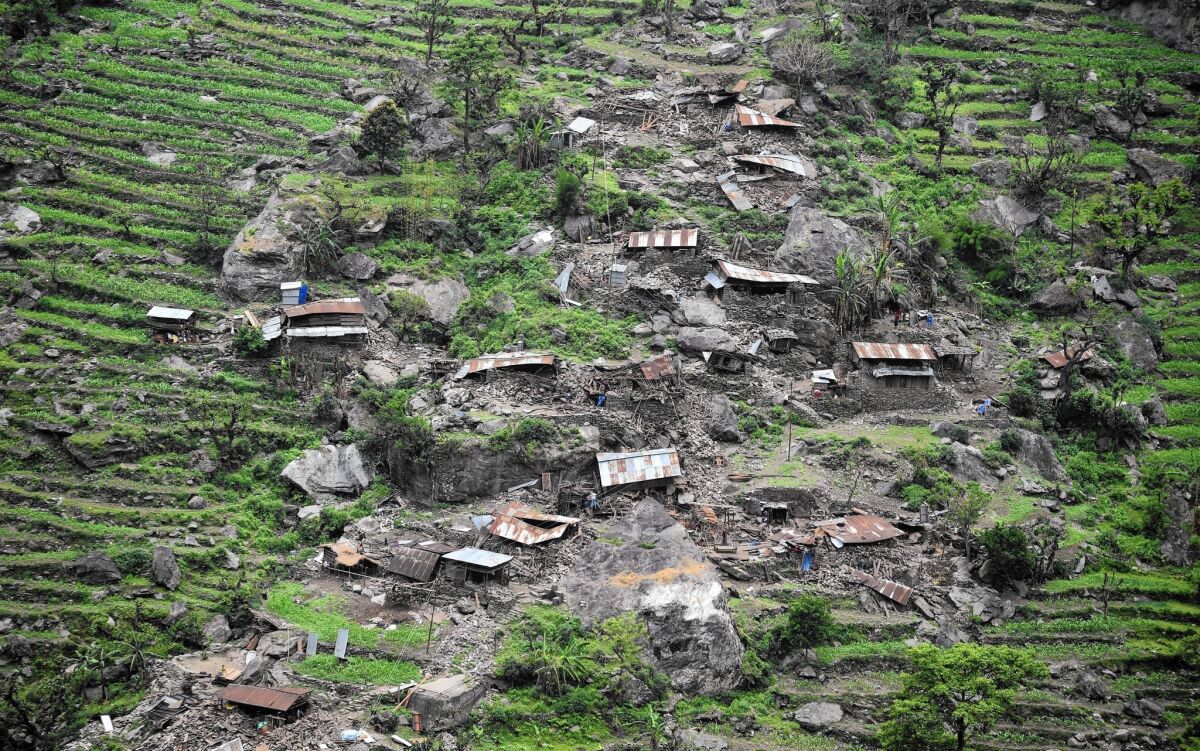 Reporting from Syadul, Nepal —
In many ways, Sanjay Silwal is a fortunate man.
The 300 people of his mountaintop village — including his parents, wife, infant son and 6-year-old daughter — escaped Saturday's earthquake with nary a scratch. But the massive temblor that killed more than 4,600 people and upended life in this Himalayan country may yet tear his family asunder.
When the earth beneath his remote settlement pitched and rolled at midday Saturday, many homes in this outpost, once famed for its sweet oranges, collapsed into heaps of rock and wood. Electricity was cut off, solar panels that provide supplemental power were broken, and the village's water supply was damaged. The back corner of Silwal's stone house fell down, leaving his bedroom open to rain, hail and wind.
As grim as Silwal's situation may be, the 31-year-old knows his predicament is hardly urgent compared with the circumstances many of his countrymen are facing. After all, in the Dhading district, which includes Syadul, the death toll stands at 305 and counting, and relief workers are still trying to reach and treat the injured and recover the dead.
But Silwal's relative luck now has him contemplating the harsh reality that little aid is likely to arrive anytime soon in this hamlet set atop terraced fields 50 miles west of Katmandu, the capital, and that what is ultimately provided almost certainly will not be enough to put his life back together.
"It will take at least $5,000 to rebuild this house; I need to tear it down completely and fix the foundation," said Silwal, standing on his narrow front porch Tuesday as a thunderous storm beat down. "That will take me a decade to save if I stay here and keep farming. I will probably have to go back overseas and work."
Two years ago, Silwal thought he had put the migrant life behind him. Shortly after his daughter was born, he had set off for Malaysia like thousands of other Nepalese men before him, working in a Unilever factory that made chicken bouillon cubes and tomato powder. Nearly 10% of Nepalese men work overseas, and residents of Syadul, where many people are related, say about 100 of their young sons are laboring in remote lands such as Qatar and the United Arab Emirates.
Silwal's factory job paid him about $450 a month, and he was able to send back two-thirds of that to his wife and daughter. But after nearly five years away, he returned to his family, scraping out a meager living growing vegetables, including tomatoes, beans, bitter gourd, radish, cabbage and cauliflower. Six months ago, his wife, Sumitra, 21, gave birth to a son, Sirjan.
"I can send home from Malaysia in one month what I can save here in one year," Silwal calculated as Sumitra bounced Sirjan on her lap. "I don't want to go, but it's my obligation to support, educate and feed my children."
Silwal's spirit of self-reliance probably stems in part from Syadul's remoteness. Even in the best of times, the village is a four-hour drive from Katmandu: three hours over a two-lane highway, followed by an hour's climb on a muddy, switchback track.
But since the earthquake, the last mile or so of the track has been blocked by a landslide, adding a steep, hourlong hike to the end of the journey. Besides a few motorcycles, no vehicles have arrived in Syadul since the quake. With no electricity, residents' cellphone batteries have worn down and, in any case, reception has been intermittent at best.
"The principal of our local school has promised to help bring some aid here, but we don't know what he can bring or when," said another villager, Sabrita Silwal, 35, whose two-story house is now a mountain of stones and twisted metal.
When the quake hit, her five children were inside napping after brunch. In three or four seconds, she said, the structure swayed several times, then collapsed. "At that moment, I thought all my children were dead," she said. Almost unbelievably, they all not only survived but also were unhurt.
Sabrita Silwal believes she can rebuild her home quickly, reusing the materials from her collapsed house. No one in Syadul seems to be contemplating reconstructing their homes with sturdier materials, such as concrete, that could withstand further quakes. A one-story concrete home would cost more than a three-story mud-and-stone structure, locals say, in part because of the difficulty of bringing the necessary equipment to Syadul's elevation.
Even finding the funds to rehabilitate the stone homes may be tough. Syadul was once known throughout the region for its oranges, and families could make $5,000 to $7,000 a year selling their citrus, residents say. But an insect infestation hit the village two years ago, rendering the fruit unsalable and forcing growers to concentrate on less-profitable vegetables.
"People will need loans from the bank, but I don't think the bank will give them; even individuals won't lend to people here because there's really no means of economic support, no way to pay them back," said villager Umesh Silwal, 27.
"Most people here, they grow enough to feed themselves for six months a year, and the rest of the year, they buy food from the market, often with money their relatives send home from overseas," he said.
As the sun began to set Tuesday afternoon, Thum-Prasad Silwal was trying to salvage some grain stocks from the attic of his collapsed home in the lower part of the village. The 62-year-old, wearing a traditional hat, directed a crew of young men climbing up the mangled mass of wood. "I have [1,500 pounds] of unhusked rice stored up there," he said. "We need it to eat."
Even if the government or relief agencies could send aid, residents of Syadul disagree about what the priorities should be. Some say residents primarily need safe places to sleep. Others say restoring electricity or cellphone service is more important. And still others say the water system needs urgent attention.
"It would be good if they would help us, but we don't expect it," said 81-year-old Lil Bahadur Shrestha, whose stone house lost most of its rear wall in the quake.
Residents now seem to be steeling themselves for the likely eventuality that they will have to find a way — largely, if not entirely, on their own — to pick up the pieces and carry on, even if it means leaving Syadul again.
"I was happy when he returned," Sumitra Silwal said of her husband's decision to come home from Malaysia two years ago. "And I don't want him to leave again. I don't feel safe here. But for the sake of the children's education and the house, he needs to go back."
Must-read stories from the L.A. Times
Get the day's top news with our Today's Headlines newsletter, sent every weekday morning.
You may occasionally receive promotional content from the Los Angeles Times.