North Korea is building mysterious artificial islands that would be perfect for missile launches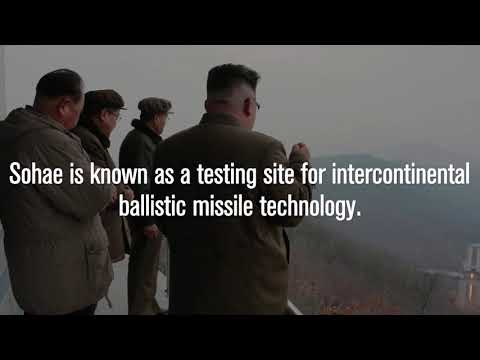 The islands are near the western city of Sohae, about 130 miles from Pyongyang, the capital.
Reporting from BEIJING —
North Korea is building artificial islands in the Yellow Sea and topping them with what appear to be military installations, satellite images reveal.
The development suggests that North Korea has taken a cue from China, which has been stoking regional tensions by building and militarizing several artificial islands in the South China Sea in recent years. The images show that North Korea has been working for at least five years on the islands near Sohae, about 70 miles northwest of Pyongyang, the capital. Sohae is known as a testing site for intercontinental ballistic missile technology.
As late as 2012, three of the islands, which are scattered around a small peninsula jutting into the Yellow Sea, were rocky, tree-studded specks; two were patches of sand. In Google Earth images from December 2016, all appear to contain features consistent with military installations, such as wide roads and paved, rectangular lots. All are in North Korea's waters, close to the country's shoreline.
Their purpose remains unclear. North Korea could use the islands for ballistic missile launches, anti-aircraft weapons, anti-ship weapons — or even for agriculture, with no military purpose in mind.
"We can't make definitive statements as to what these islands are being used for," said Ryan Barenklau, chief executive of Strategic Sentinel, a Washington-based intelligence firm that has analyzed the images and wrote about them in the Diplomat, an online magazine.
Military use is likely, he continued. Roads on the islands feature wide turns, indicating that they could be used for transporter erector launchers: massive, missile-bearing trucks. Light patches on the rectangular lots could be heat-resistant cement, a sign that they may have been designed as launch pads.
"And they have observation areas, for someone like [the country's leader] Kim Jong Un to observe a missile launch," he continued. "Every time we see VIP buildings, that tells us there's most likely a military application, because Kim Jong Un likes to view the operations of whatever they're building.
Every time we see VIP buildings, that tells us there's most likely a military application, because Kim Jong Un likes to view the operations. ...
— Ryan Barenklau, chief executive of Strategic Sentinel
"At first we were really concerned about what the initial purpose of those islands are — whether they're for military or agriculture purposes — but when we saw the observation decks, we thought, those are military."
Tensions on the Korean peninsula are at their highest point in years. North Korea possesses nuclear weapons, and has tested several ballistic missiles in recent months; analysts say it could soon be able to launch a nuclear strike on the U.S. President Trump has responded by diverting a naval strike group toward the Korean peninsula. North Korean media have warned that the country "is being driven to a point close to nuclear war."
(Rhetoric on both sides has cooled slightly; on Monday, Trump said that he would be "honored" to meet with Kim "under the right circumstances.")
North Korea's man-made islands are nowhere near as numerous, nor as elaborate, as China's. Beijing has built and militarized several islands in the South China Sea to shore up its territorial claims over most of the resource-rich, 1.35-million-square-mile body of water, parts of which are also claimed by Brunei, Malaysia, the Philippines, Taiwan and Vietnam. (Chinese authorities say the projects are for civilian, not military use, despite ample evidence to the contrary.)
Some of North Korea's new islands appear to be a part of the Taegyedo Tideland Reclamation Project, which its government began decades ago and finished in 2012. North Korean state media said that the area, once part of the Yellow Sea, now contains a fish farm, a duck farm, and an oyster farm. The project is "equal to an area of a county," wrote the official Korean Central News Agency.
Yet "the North Koreans build just about everything for dual purpose," said Steve Sin, a researcher on unconventional weapons and technology at the University of Maryland. "So, building something that is of military use on an agricultural project is certainly within its usual pattern."
North Korea has been known to test-launch missiles from airports that it ostensibly built for civilian use.
Sin said that if the islands are used for missile launches, they're probably not intended for long-range ballistic missiles. "North Korea still has to stack and fuel those at the launch site itself," he said. It's more likely that they are intended for shorter-range missiles such as KN-02 and Scuds, which are more portable, he said.
He added the islands themselves aren't particularly surprising. "All countries with coastlines have been reclaiming coastal land for various purposes for hundreds if not thousands of years, and North Korea is no exception," he said.
Yet, if they're actually for missile launches, they could demonstrate North Korea's "unwavering commitment to the continued development of its missile and space technology" — and by extension, its nuclear program.
"So, that would be the relevance of these developments," he continued. "If, and only if, the original assessment is correct."
ALSO
Here's what's driving North Korea's nuclear program — and it might be more than self-defense
We went to North Korea. You asked hundreds of questions. Here's what we found
North Korea puts its long-range missiles on parade in massive military show
For more news from Asia, follow @JRKaiman on Twitter
Sign up for Essential California for the L.A. Times biggest news, features and recommendations in your inbox six days a week.
You may occasionally receive promotional content from the Los Angeles Times.