North Korea working on rocket launch site, an ominous signal after summit breakdown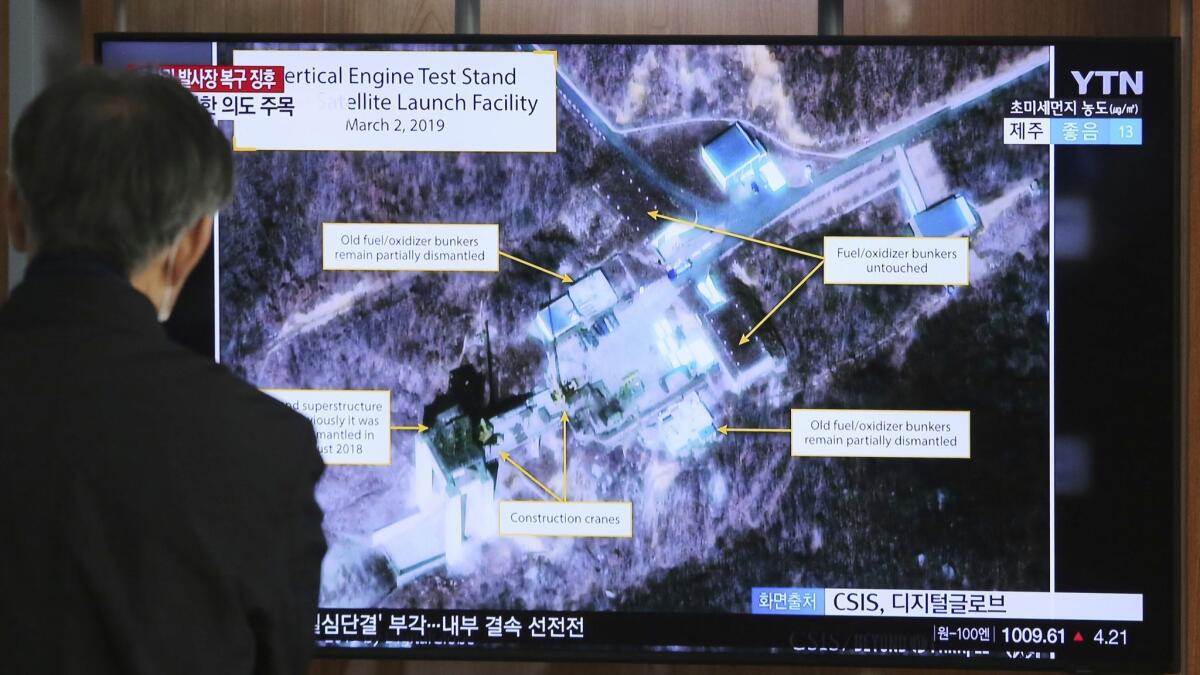 Reporting from SEOUL —
In a move that experts said is meant to assert its power and independence, North Korea has reneged on a concession it made last year and begun rebuilding a testing site for long-range rockets.
Commercial satellite images released this week by two Washington think tanks show that workers at the Sohae Satellite Launching Station, also known as Tongchang-ri, have rebuilt walls and added a new roof to the rocket-engine test stand as well as a building on the launchpad, said Joseph Bermudez, a senior fellow of imagery analysis at the Center for Strategic and International Studies.
The images also showed two cranes and construction materials that experts said were probably used in the renovation.
The discovery came two days after the Feb. 28 breakdown of a high-profile summit in Vietnam between President Trump and North Korean leader Kim Jong Un.
The U.S. had hoped that North Korea would agree to dismantle its main nuclear complex and at least one additional site. But North Korea wanted the vast majority of international sanctions lifted in exchange for giving up the main site at Yongbyon — and that was more than the U.S. was willing to offer.
Satellite imagery suggests construction work at the long-range-rocket test site began sometime between Feb. 16 and March 2, meaning that it could have started before or after the summit.
On Tuesday, South Korean intelligence officials told local lawmakers they'd also detected signs of restorations at the site, according to news reports.
Bermudez said that North Korea probably has no immediate plans to launch rockets but wants to demonstrate that it could.
"They are sending a message to the U.S. and the United Nations that they still have capability to do this and in their mind they are a strong and powerful nation that needs to be respected," he said.
The site, located on the country's northwestern coast, was first used to conduct test launches of rockets in 2012 and then again in 2016.
At the first summit between the U.S. and North Korean leaders — held in Singapore in June — Trump said Kim pledged to dismantle a "missile engine test stand," which officials later identified as Sohae.
After the summit, North Korea began taking steps to dismantle the transfer building and the engine test stand, according to 38 North, a website devoted to analysis of North Korea.
In September, during a summit with South Korean President Moon Jae-in, Kim announced that he'd be closing Sohae and said he'd allow international inspectors to monitor that process.
The launchpad and engine test stand remained in relatively the same condition — until recently.
"They rebuilt it very quickly and now we're back to where we were before they dismantled it," Bermudez said.
Most of North Korea's missile and space-related actions are in violation of U.N. Security Council resolutions, but there is no written agreement between the U.S. and North Korea about Sohae.
David Wright, co-director of the Global Security Program at the Union of Concerned Scientists, said that North Korea is using the site to gain leverage in its negotiations with the U.S. by demonstrating that it has the power to walk back any concessions it makes.
"North Korea likes to take advantage of the fact that they know they're being watched by satellite," he said.
Kim had announced in April that North Korea no longer needed to conduct nuclear tests, after a flurry of missile launches and underground tests in 2017. In a news conference after the abrupt end of the Vietnam summit, Trump said that Kim had pledged that North Korea's moratorium on missile tests would continue.
Trump and Kim left their summit empty-handed, but there was one clear winner: Vietnam »
Etehad reported from Los Angeles and Kim from Seoul.
Sign up for Essential California for the L.A. Times biggest news, features and recommendations in your inbox six days a week.
You may occasionally receive promotional content from the Los Angeles Times.