In New Year's Day speech, North Korean leader proudly declares his country a nuclear power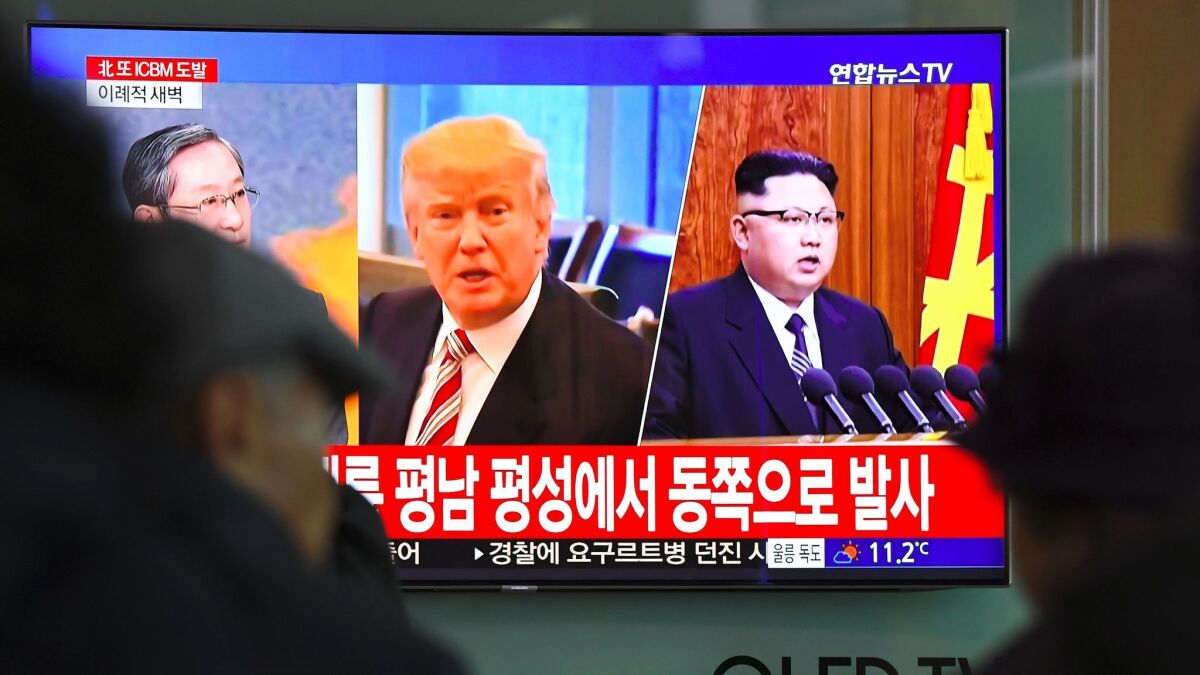 Reporting from sydney —
For North Korea watchers, a key question ahead of Monday's much-anticipated New Year's speech from Kim Jong Un was how the young leader would frame the nation's advances on nuclear weapons and ballistic missiles.
Did last year's tests of intercontinental missiles capable of reaching the United States — and a powerful underground hydrogen bomb detonation — accomplish his goal of establishing a modern nuclear state?
Or would Kim proclaim that more effort would be necessary in 2018?
Kim's message seemed clear: The North had achieved its longtime goal of becoming a nuclear power — a defense capability he said would protect him and the nation from armed conflict with the United States.
"The extraordinary achievement our party, our nation and our people made last year is accomplishing the great historic work of completing national nuclear power," he said.
"The U.S. cannot start a war against me or our country. The entire United States is within range of our nuclear weapons, and a nuclear button is always on my desk."
Speaking for about 30 minutes, Kim proclaimed equilibrium in nuclear terms with the United States, which has struggled in the last year to maintain a consistent position on confronting Kim's nuclear ambitions.
"This is reality, not a threat," Kim said.
Kim also made some conciliatory statements toward South Korea, with whom his nation technically remains at war. The North and South are parties to a 1953 armistice that halted the Korean War, but the truce has been uneasy over the years, especially since Kim took power after the death of his father, Kim Jong Il.
Kim noted that the North would celebrate the 70th anniversary of its founding, and that South Korea will be hosting the Winter Olympics in Pyeongchang, east of Seoul, in February.
"It is a meaningful year for both the North and the South," he said. "The Pyeongchang Olympic Games will be a good opportunity to show off the status of the nation, and we sincerely wish the Games to be successful."
A potential threat from North Korea has hung over the Games, worrying athletes and potential tourists and leading to questions about depressed ticket sales. The 1988 Olympics also faced similar concerns, though at the time the North's threats were more terrorism-related.
Kim then said he hoped to "improve the currently frozen inter-Korean relationship and make of this meaningful year a notable year in the history of our nation."
John Delury, an associate professor at Yonsei University in Seoul, said Kim's comments stood out as unexpectedly conciliatory.
"He just eliminated a lot of panicked feeling around the world," he said. "Just saying it is positive for Seoul."
In his speech last year, Kim made international headlines — and prompted a strong tweet from then President-elect Trump — for announcing that the North was in the final stages of deploying an intercontinental missile of the type that could be a threat to the United States mainland.
He made good on the pledge by July 4, test launching the nation's first long-range ballistic device into space.
His scientists successfully test launched two more such missiles later in the year, including one that in theory could reach Washington, causing alarm and another round of economic sanctions by the United Nations.
The missile tests were among more than a dozen launches by the nation in 2017. Those, coupled with a powerful underground nuclear test in the fall, heightened alarm that the North was close to declaring itself a modern nuclear state.
It appears that's exactly what Kim did Monday, raising questions about how the United States would respond and whether fewer provocations in pursuit of a nuclear program might lower the temperature.
"Our republic is finally in possession of a strong and reliable war deterrent that cannot be reversed by any power, anything," Kim said. "Our nation's nuclear power can destroy and respond to any nuclear threat from the U.S. and acts as a strong deterring power that suppress the U.S. from playing with fire."
The North has said that it wants a nuclear-armed, long-range missile as a deterrent to what it sees as an existential threat from the United States, which has 28,000 troops in South Korea.
The younger Kim has made military force a key component of the national ideology and devoted enormous resources to building up its missile and nuclear technology while also trying to jump-start the economy amid crippling international sanctions.
The New Year's speech is an annual tradition forged under Kim's grandfather, Kim II Sung, the nation's communist founder. The addresses are typically filled with cryptic phrases and patriotic references to the nation, its people and its founders. They are watched closely by security experts for clues about the leader's plans and often judged by what's left out of the remarks.
Monday's speech was Kim's sixth New Year's address since he took power in late 2011. His first was in 2013.
In past years, the younger Kim has called for improving the standard of living for his 25 million residents, many of whom live in poverty. He has also issued threats to enemies and even extended overtures of peace, with conditions, to South Korea.
Over time, his speeches have focused less on ideology and reverence to his relatives, a sign to some analysts that he had consolidated power and could spend more effort pursuing his own ideas.
Last year's speech, which ran about 4,700 words, also contained passages in which Kim showed humility, confessing to anxiety about the work he completed in 2016. He also showed a populist streak and a resolve to bolster his nation's military forces.
The theme of this year's speech, however, was clear in statements that seemed on their face to reject any notion that the United States or other countries could force the nation to drop its nuclear ambitions.
Those seeking a diplomatic solution might do well to focus first on freezing the North's capability in place, rather than expecting the nation to disarm after so much investment in a nuclear program.
"It's still a long-term goal, but to shoot for it or to make it a litmus test, you're not interested in any kind of near-term solution," Delury said. "It will be years and years before they give them up. It's not a basis for any practical diplomacy."
Stiles is a special correspondent.
Must-read stories from the L.A. Times
Get the day's top news with our Today's Headlines newsletter, sent every weekday morning.
You may occasionally receive promotional content from the Los Angeles Times.