There's a dark underbelly to these Winter Olympics (but not much of one)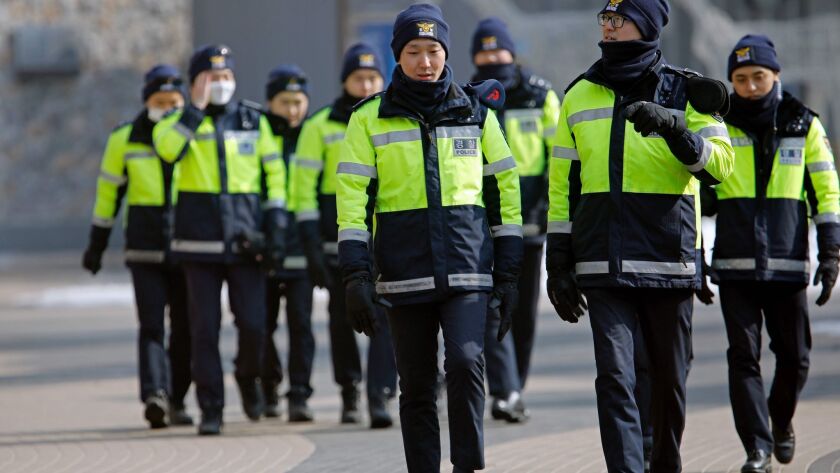 Reporting from PYEONGCHANG, South Korea —
Stolen hockey sticks, crashed ceremonies, scalped tickets.
For some, the Winter Olympics in South Korea haven't been all fun and Games.
While the quadrennial sports gathering has been notably free of major incidents, authorities here have questioned and detained numerous people for various infractions — from the relatively silly to the potentially serious.
The incidents are perhaps inevitable, and negligible, given the event's size. They include petty theft, but also people trying to sneak into the festivities, or getting a little too friendly with Olympic athletes, or disrupting the spectators. Among them: a man impersonating North Korean leader Kim Jong Un, who tried to disrupt that nation's invited cheerleading squad.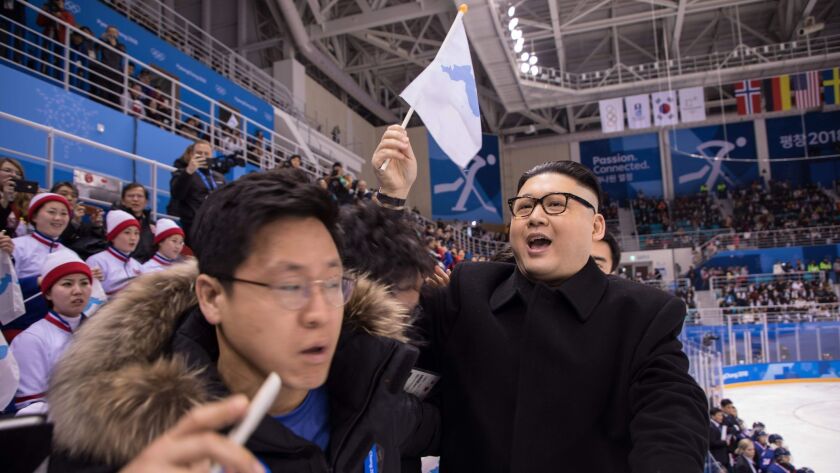 The details, which aren't always covered by local media, come from U.S. State Department security dispatches shared each day among government officials. The documents, obtained by the Los Angeles Times, offer a glimpse into the unfortunate underbelly of an otherwise safe sporting event.
"Local authorities have been effective in responding to and mitigating any potential security breaches," one digest reads.
That effort includes, as one example, a person caught improperly selling ice hockey tickets on Sunday outside the Olympics park in Gangneung, a coastal city hosting several events. When confronted, the scalper punched an employee in the stomach. The employee declined to press charges.
While perhaps minor, such incidents are notable in that crime is relatively rare in South Korea, a prosperous and developed democracy regulated in part by millions of closed-circuit cameras installed by the government and private citizens.
They also occur amid a heightened security awareness, given the Games' proximity to North Korea, a foe that sought to disrupt the last Olympics on South Korean soil, in 1988.
An international deal securing North Korea's participation this time — struck in January — helped allay those fears. The totalitarian nation, which hadn't participated in a Winter Olympics since 2010, sent nearly two dozen athletes and a large cheering squad to the Games.
Meanwhile, as expected, host nation South Korea has worked with Olympics organizers to deploy thousands of police and other security personnel to the Olympics, where venues are secured by fencing and electronic ticketing that allows in only people with official passes.
At the same time, authorities here have reported thousands of cyberattacks against the Games, including one that brought down the official website after the opening ceremony.
Olympics officials also struggled initially to maintain the spread of norovirus, which has sickened scores of security guards and others who came in contact with contaminated areas during the run-up to the events.
The security precautions have nabbed numerous people seeking improper access to the Games or the athletes — or otherwise just behaving badly.
The incident dispatches began on Feb. 9, when spectators started attending events at venues sprinkled in the mountains and coastal areas in eastern South Korea.
Among the highlights (or lowlights), according to the digests:
♦ Authorities detained a drunken spectator on Feb. 11 trying to steal multiple hockey sticks from a storage container inside a venue. Several other people have been caught trying to enter sports and private housing areas improperly, some with forged credentials or even by crawling under security fences.
♦ During the opening ceremony, two men impersonating North Korean leader Kim Jong Un and President Trump had to be escorted from the stadium after trying to enter a reserved area. (A Kim impersonator, perhaps the same man, was removed from a hockey event a few days later for disrupting the North Korean cheerleading squad). During the same opening ceremony, police arrested an American man who disrupted the festivities by sliding on a stage.
♦ On the first day of the Games, two people stole a pricey smartphone from a promotional display table setup by Samsung Electronics, the tech arm of South Korea's largest conglomerate.
♦ One athlete reported social media threats, leading to increased security at a medal ceremony, and another complained that an Olympics employee had repeatedly sought an autograph, prompting additional staff training.
There have also been fights, thefts and other incidents, according to the digests.
Olympics officials noted that they thoroughly prepared for the Games, focusing also on new threats, such as drones.
South Korea's national police force, which has deployed thousands of officers to the area, said the total number of investigations or arrests since the Games began wasn't immediately available.
A regional police official helping with the Games said officers were keeping the events safe overall, despite a few bad actors, adding that protests have been orderly and that few weapons have been confiscated. Despite more than 1 million tickets sold, the security breaches read like the police blotter of a small American town.
"On the whole, serious threats to the safety of the Games have not arisen," said Lee Im-ho, a senior police inspector in Gangwon Province, the area playing host to the Games. "We haven't had any violent incidents."
American officials agreed that spectators have been safe, despite occasional incidents, which have also included property thefts.
In advance of the Games, U.S. diplomats praised South Korea's security preparation while also noting its track record of protecting other major competitions, including the 1988 Summer Olympics and the 2002 World Cup. The nation also hosted the 2014 Asian Games in Incheon, a city near the capital.
That hasn't changed since the current competition began. "The Republic of Korea has a long history of successfully hosting major events," said Daniel Turnbull, a spokesman for the U.S. Embassy in Seoul. "We are confident in South Korea's ability to host a safe and successful Olympic Winter Games."
Stiles is a special correspondent.
---
Must-read stories from the L.A. Times
Get the day's top news with our Today's Headlines newsletter, sent every weekday morning.
You may occasionally receive promotional content from the Los Angeles Times.