Former Pakistani leader Nawaz Sharif sentenced to prison in corruption case that could tilt coming election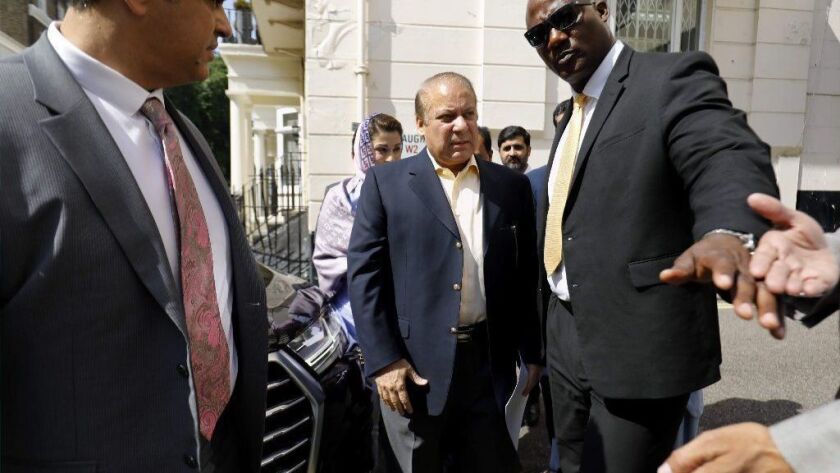 Reporting from Islamabad, Pakistan —
An anti-corruption court on Friday sentenced former Prime Minister Nawaz Sharif and his daughter Maryam to prison in a corruption case, dealing their political party a major blow less than three weeks before national elections.
The Sharifs were convicted in absentia in a case involving ownership of four expensive apartments in London — undeclared assets that were revealed in the 2016 Panama Papers leaks — and fined more than $13 million.
Sharif served as prime minister three times since 1990, his most recent term ending in 2017 when the Supreme Court ousted him over corruption allegations that he has denied. The family's supporters have accused Pakistan's judiciary and security establishment of using the courts to tilt the July 25 elections against his party.
Sharif's party, the Pakistan Muslim League-Nawaz, won a strong majority in the last elections in 2013 but immediately clashed with the military when it attempted to assert authority over foreign policy and hold former army leaders accountable for alleged abuses.
"This is a very small punishment for firmly standing in front of unseen forces active in Pakistan in the last 70 years," Maryam Nawaz said on Twitter after the verdict. "The morale to fight against oppression has increased today."
Sharif and his daughter heard the news in London, where his wife, Kulsum, is undergoing medical treatment and reportedly connected to a ventilator. Pakistani news media said the family watched the verdict from the property at the center of the case – Avenfield House, next to Hyde Park. Sharif maintains the apartments were purchased with legally acquired income.
The 68-year-old Sharif remains banned from politics, but Friday's verdict also disqualifies his daughter, who had emerged as a possible prime ministerial candidate. It was not clear if they would file an appeal, which would require them to return to Pakistan and face almost certain arrest.
Opposition leader Imran Khan, a staunch opponent of the Sharifs who is campaigning on an anti-corruption platform, hailed the decision as the beginning of a new Pakistan.
"This is the first time in the country's history that the powerful have been held accountable," Khan told a rally in Khyber Pakhtunkhwa province.
Khan is widely seen to be gaining the most from Sharif's legal troubles, leading many analysts to conclude that he's the security establishment's preferred candidate.
The timing of the verdict — following a case that had already lasted nine months — also raised concerns that it was politically motivated.
"No one, other than Sharif loyalists, doubts that [he] was corrupt," said Madiha Afzal, a nonresident fellow at the Brookings Institution in Washington, D.C. "The question is whether he would be facing this had he appeased the military rather than taken it on, and the answer is probably not."
Special correspondent Sahi reported from Islamabad and Times staff writer Bengali from Lahore, Pakistan.
Shashank Bengali is South Asia correspondent for The Times. Follow him on Twitter at @SBengali
---
Must-read stories from the L.A. Times
Get the day's top news with our Today's Headlines newsletter, sent every weekday morning.
You may occasionally receive promotional content from the Los Angeles Times.