Pence calls North Korea's failed missile test a 'provocation,' but White House sees no need for a response
Reporting from Seoul —
Vice President Mike Pence on Sunday described North's Korea's latest missile launch as the type of "provocation" that the Trump administration is resolved to confront. But the White House said it did not see a need for a U.S. response because the test was a failure.
"This morning's provocation from the North is just the latest reminder of the risks each one of you face each and every day in the defense of the freedom of the people of South Korea and the defense of America in this part of the world," Pence told U.S. troops at a dinner in Seoul at the start of a long-planned visit aimed in part at reassuring a nervous ally.
"Our commitment to this historic alliance with the courageous people of South Korea has never been stronger, and with your help and God's help, freedom will ever prevail on this peninsula."
Pence's first official trip to Asia as vice president, part of a 10-day regional tour, gained new significance over the weekend as North Korea attempted to project its military might.
Tension between North Korea and the United States had already reached levels not seen in years. Both countries exchanged heated rhetoric in recent days about Pyongyang's advancing nuclear and missile programs, and an American aircraft supercarrier group was diverted to waters off the peninsula in a show of force.
The vice president landed in Seoul on Sunday just hours after North Korea launched what security officials believe was a medium-range ballistic missile near the seaside city of Sinpo — a violation of United Nations Security Council resolutions.
The missile test apparently failed, but the intent still prompted concern among American officials and the South Korean government.
The previous day, North Korea paraded dozens of missiles and other military hardware through the streets of its capital in a massive, choreographed display of its advancing military capability — and its defiance of other nations' desire to contain it.
The vice president, his aides said, learned about the missile test en route to South Korea, about an hour after taking off from Anchorage. Pence then discussed the issue with President Trump, who in recent days has made several tough statements about North Korea on social media.
Speaking on ABC's "This Week," Trump's national security advisor, H.R. McMaster, said the president "will take action" if North Korea continues to threaten the U.S. But he did not offer specifics about what kind of action the administration is contemplating.
McMaster reiterated the administration's contention that China, North Korea's only big ally, should take a greater role in exerting economic pressure on Pyongyang to cease its nuclear ambitions.
On the plane, a White House foreign policy advisor who briefed a pool of reporters suggested that the U.S. knew about the launch before it happened, and said that it appeared to be a test of a medium-range missile, not an intercontinental ballistic missile.
"We had good intelligence before the launch and good intelligence after the launch," the advisor said, speaking on condition of anonymity. "It failed after about four to five seconds."
He said there was no point in the U.S. taking any action in response to the launch. "It's a failed test, it follows another failed test, so [there's] really no need to reinforce their failure."
However, he added: "We've got options; we've got a range of options both militarily, diplomatic and others, so we have a wide array of tools at [our] disposal for the president should he choose to use them."
Other Trump administration officials also downplayed the significance of the test, one of two dozen since the beginning of 2016. Defense Secretary James N. Mattis said officials were aware of the incident but that the "president has no further comment."
Trump did tweet about North Korea on Sunday, suggesting that China was working with his administration on a solution to the problem.
Some analysts who study North Korea have been anticipating a more provocative act: an underground nuclear test, which would be the rogue state's sixth in the last decade.
Such an action would be more alarming because it could signal continued advancement in the country's goal to arm missiles with powerful warheads that can be deployed by land or sea.
North Korea has carried out roughly 50 ballistic missile launches since Kim Jong Un took office.
Such launches violate United Nations Security Council resolutions calling on North Korea to dismantle its nuclear weapons program and refrain from ballistic missile tests.
Many such tests have been successful, with the devices traveling hundreds of miles before landing safely in adjacent seas. None has threatened the U.S. mainland, though Kim has said that remains a national goal.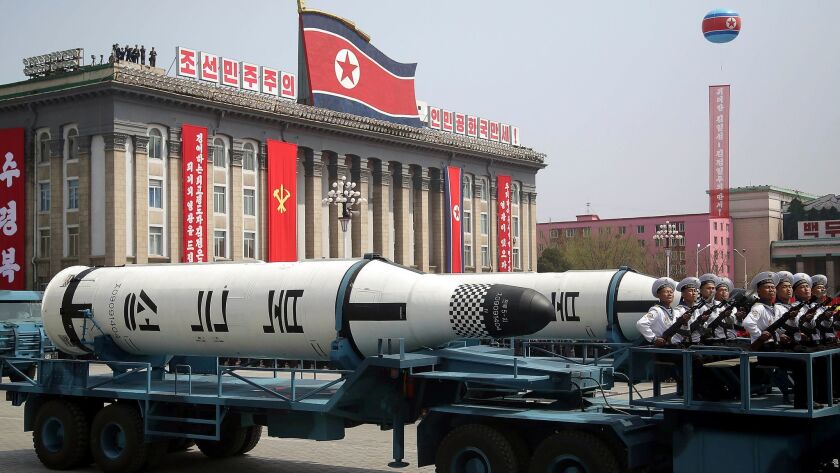 Many of the nation's missiles are, however, capable of striking targets in Seoul and Tokyo — strong American allies.
North Korea's last unsuccessful test was believed to have been in late March, when another missile failed at launch, preventing analysts from studying imagery that might have provided clues about the device's provenance and capability.
Regardless of the outcome, each attempt probably helps Pyongyang refine its capabilities.
"You can still learn things from failures," said David Schmerler, a research associate with the James Martin Center for Nonproliferation Studies in Monterey, Calif., who focuses on North Korea's missile and nuclear programs.
"The next time they launch," he said after the last attempt, "they might have a better chance of successfully doing so."
Despite this latest failure, concern from the South Korean military — still technically at war with the North and always on alert — was swift.
"The government condemns this clear threat to the peace and security of the Korean peninsula and the international community," the Defense Ministry said in a statement Sunday.
In Seoul, Pence spent Easter Sunday at a church service with some of the 28,000 U.S. forces stationed in South Korea. He also visited Seoul National Cemetery, placing a wreath at a memorial wall.
On Monday, he made an unannounced visit by helicopter to the demilitarized zone, a buffer area along the North-South border that he called the "frontier of freedom."
He also had meetings scheduled with South Korea's acting president, Hwang Kyo-ahn, Chung Sye-kyun, speaker of the national legislature, and business leaders here.
He next travels to Japan, Indonesia and Australia before returning to the United States.
Stiles is a special correspondent. Times staff writer Tracy Wilkinson in Washington contributed to this report.
Twitter: @stiles
ALSO
Trump administration faces few good military options in North Korea
Former Defense Secretary William Perry on why we didn't go to war with North Korea
Why a North Korean leader called a gleaming new neighborhood 'more powerful than 100 nuclear warheads'
---
UPDATES:
8:10 p.m.: This article was updated with Pence making an unannounced visit to the demilitarized zone.
4:43 p.m.: This article was updated with comments from President Trump's national security advisor, H.R. McMaster.
11:10 a.m.: This article was updated with further comment from a White House foreign policy advisor.
This article was originally posted at 9:30 a.m.
---
Must-read stories from the L.A. Times
Get the day's top news with our Today's Headlines newsletter, sent every weekday morning.
You may occasionally receive promotional content from the Los Angeles Times.