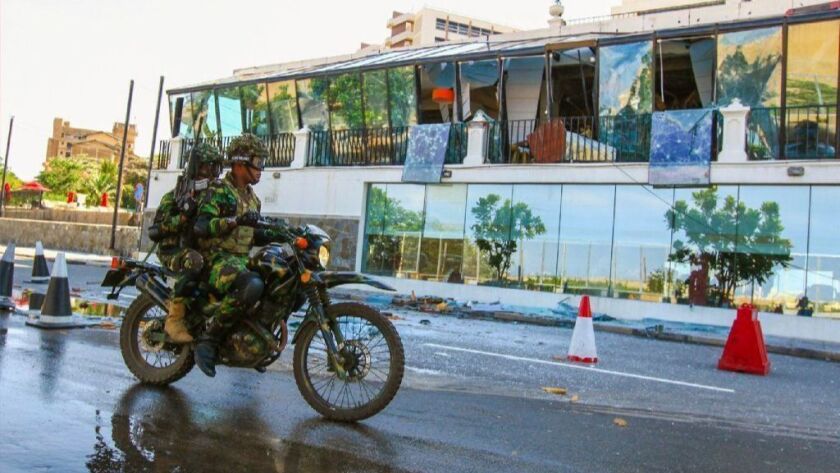 Reporting from Colombo, Sri Lanka —
Kithsiri De Silva, the head chef at Sri Lanka's venerable Kingsbury Hotel, walked through the main restaurant during breakfast Sunday, greeting diners and surveying the extravagant buffet.
He would have seen, he thinks now with dread, the guest who moments later detonated a suicide bomb in the middle of the dining room, one of a coordinated sequence of blasts against hotels and churches.
Sri Lanka on Thursday lowered the death toll in the attacks to 253, saying there were so many body parts in the aftermath of the eight blasts that authorities had committed a "miscalculation" when they said 359 had died.
The bombings claimed by Islamic State — still among the deadliest terrorist attacks in the world in recent years — have shattered Sri Lanka's fragile recovery from civil war and threaten to undo a decade-long effort to make its economy friendlier to tourists and foreign investment.
"It will affect us for a minimum of a year," said De Silva, who survived the blast without serious injuries. "We have to clear the entire country, make sure security is in place, then people might come back. It is a big blow to tourism, to be sure."
The country remained on edge Thursday as police released the names and photographs of six suspects — including three women — and asked for the public's help in apprehending them. But an already confused government response got even more muddled when one of the photos turned out to be of a Maryland Muslim women's activist, Amara Majeed. Officials withdrew the photo and said they regretted the error.
The U.S. Embassy warned that "terrorist groups continue plotting possible attacks in Sri Lanka" against tourist sites, transportation hubs, places of worship and other locations, as security forces conducted search operations across the capital, Colombo. Four days after the attacks, panic flared again as many hotels and businesses ordered staff members to remain indoors amid reports that suspects were at large and possibly armed.
Three people arrested in Colombo were found in possession of swords and a cache of locally made hand grenades, a police official said, bringing the number detained in connection with the attacks to more than 75.
"The whole country is a bit nervous, searching for these suspects," said Pushpakumara Ratnayake, a security officer at the Cinnamon Grand hotel, one of the three high-end hotels struck in the bombings.
In a sign that the government was worried about religious tensions spilling into more violence, the minister of Muslim religious affairs, Mohamed Hashim Abdul Haleem, appealed to Muslims not to gather at mosques for weekly prayers on Friday but to worship at home "as a sign of solidarity with the Catholic community and a show of protest against the barbaric act of the ruthless terrorists." Muslims account for about 10% of Sri Lanka's 21 million people and Christians slightly fewer; the majority of Sri Lankans are Buddhists.
A leading organization of Muslim clerics called on its faithful to cooperate with law enforcement agencies and asked women not to wear the Islamic face veil, or niqab, so they could more easily be identified by security forces.
Authorities have said there were nine bombers, all believed to be members of an offshoot of a small Sri Lankan Islamist group. They took aim at churches and luxury hotels, emblems of the diversity and hospitality that this island nation has successfully marketed to lure a growing number of overseas visitors.
At least 39 foreigners were killed in the attacks, police said.
Many Sri Lankans worry that their country — having replaced a wartime reputation for suicide blasts and curfews with images of beachfront villas, national parks and tea estates that shimmer in brochures — has once again become synonymous with terrorism.
The $4-billion tourism industry accounts for about 5% of Sri Lanka's total economy and is its third-biggest source of foreign exchange, after remittances from overseas workers and textile production. About 1 million people are employed in the industry, accounting for 12% of the total workforce, according to the World Travel and Tourism Council.
The country drew 2.3 million visitors last year, 10% more than in 2017. Before the start of 2019, the Lonely Planet travel guide christened Sri Lanka the year's No. 1 destination, gushing over "its mix of religions and cultures, its timeless temples, its rich and accessible wildlife, its growing surf scene and its people who defy all odds by their welcome and friendliness after decades of civil conflict."
Though the Kingsbury and Cinnamon Grand have reopened, the third central Colombo hotel to be attacked, the Shangri-La, remains closed indefinitely.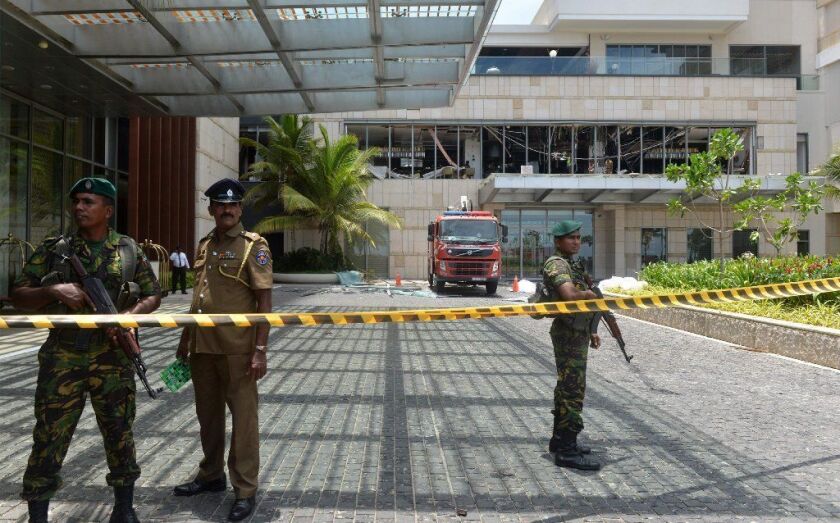 One industry leader predicted the tourism industry could lose as much as $1.5 billion as guests cancel bookings, tour companies search for alternative destinations, investors reassess business meetings and conferences are called off.
Kishu Gomes, chairman of the Sri Lankan Tourism Development Authority, said it was too soon to tell. But he acknowledged, "There are losses reported on a daily basis."
Hotels that were still operating had reintroduced "wartime security measures," according to the Daily Mirror newspaper, including X-ray baggage scanners at entrances and more extensive security checks for guests.
The Kingsbury bomber stayed at the hotel the night before the bombing, De Silva said.
"We found him on CCTV footage. He came down for breakfast," De Silva said. "He actually stood in the buffet line."
The U.S., Britain, Australia and Canada issued travel warnings to their citizens after the attacks. China, an increasingly influential investor in Sri Lanka that now accounts for 10% of its foreign visitors, warned its citizens not to travel here because of the "huge security risks" involved, the Chinese Embassy in Colombo said on its website.
Sri Lanka's government tourism authority said this week that security forces and tourism police were implementing measures to safeguard all visitors and important sites.
"Our world famous tourism sites, hotels, resorts and other tourist attractions will remain open as usual," the statement said.
Despite the growth in tourism, Sri Lanka's economy was struggling before the attacks because of political turmoil, a depreciating currency and high levels of debt. After former President Mahinda Rajapaksa took out big infrastructure loans from China at high interest rates, some estimates say Sri Lanka's total foreign debt now equals three-quarters of its entire economic output.
Economic growth slid to 3.2% in 2018, according to the World Bank, one of the lowest rates in southern Asia. The government sold a majority stake in a strategic port to Beijing and sought a $1.5-billion loan program from the International Monetary Fund to help cover its debt obligations.
"Things were already quite fragile for the Sri Lankan economy," said Muttukrishna Sarvananthan, an economist and founder of the Point Pedro Institute of Development. "Tourism has been one of the only successful industries during this government, and that is one of the setbacks that will be felt not just immediately, but for months and years."
Mushtaq is a special correspondent.
---