U.S. extends another large sale of military hardware, jet pilot training to Taiwan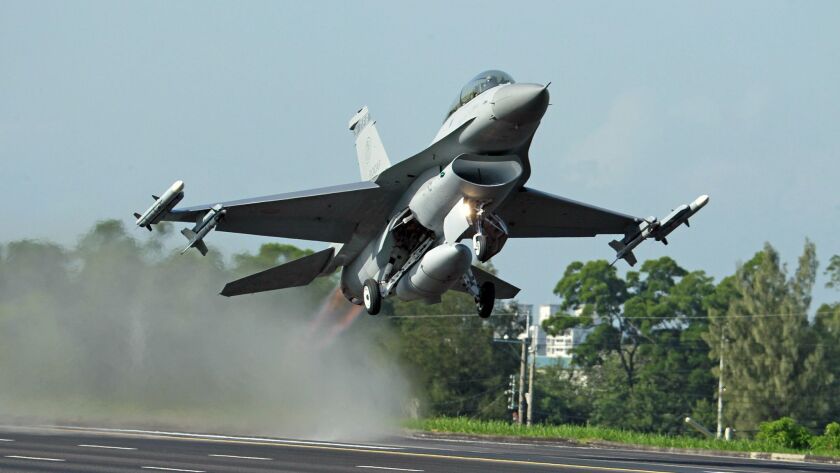 Reporting from TAIPEI, Taiwan —
The Trump administration has approved a $500-million package of services and parts for F-16 fighter jets for Taiwan in the latest sign of stronger bilateral relations.
If approved by the U.S. Congress, this package will enable Taiwan to upgrade older jets to fend off any attacks from the more militarily powerful China with a swift response, defense analysts say.
"There's a lot of discussion between Taiwan and the United States about how to reinforce or strengthen our asymmetric capability" with China, said Andrew Yang, secretary-general of the Chinese Council of Advanced Policy Studies think tank in Taipei, the Taiwanese capital. "I think that's sort of the consensus between the two sides, to find ways of enhancing our defense capabilities."
China claims self-ruled Taiwan, which is 100 miles away, as part of its territory and says it might take the island by force eventually if necessary.
Chinese jets have skirted Taiwanese airspace a dozen times since 2016, when Taiwanese President Tsai Ing-wen took office and declined to recognize Beijing's idea that both sides belong under one flag. More than 80% of Taiwanese oppose unification with China, the island government said in January.
The U.S. government sees Taiwan as one in a chain of Pacific Rim allies that can help contain China's military expansion into the seas off its eastern and southern coasts, a zone that covers Taiwan. And President Trump has been confrontational toward China during the more than year-old Sino-U.S. trade dispute.
The military package announced Monday would mark the third approved for Taiwan under Trump after a $1.42-billion sale in mid-2017 and a $330-million deal in October for military aircraft parts, among other weaponry.
Taiwan's government welcomed the sale Tuesday as a show of overall strong relations with the United States. The two governments had already decided last month to kick off annual, senior-level consultations on governance issues in Asia. Tsai visited Hawaii the same month, after special permission from the United States, to give a speech broadcast by video to an audience in Washington.
"This third successive military sale to Taiwan under Trump not only signals the high level of attention, it also proves the staunch Taiwan-U.S. security partnership under the Indo-Pacific," the Foreign Ministry in Taipei said in a statement.
The $500-million deal would cover pilot training and maintenance at Luke Air Force Base, located near Glendale, Ariz., along with repairs and spare parts, the trade promotion group US-Taiwan Business Council said in an analysis of the sale. Some of Taiwan's fighter jets are about 20 years old.
China usually protests the sale of arms by the United States to Taiwan, calling them a violation of U.S. diplomatic recognition of Beijing over Taiwan. After President Obama approved a $6.4-billion package in 2010, China briefly cut off some exchanges with the United States in response.
The U.S. government broke formal relations with Taiwan in 1979 to recognize the larger, fast-growing China, but it has maintained strong informal ties with the island since then. China's claim of sovereignty over Taiwan dates to the Chinese civil war of the 1940s, when the losing Nationalists retreated to the island.
Washington has not ruled on Taipei's request last month for new American-made weaponry, a list that domestic media say includes 66 new F-16 Viper jets.
The Department of Defense has until about the end of June to decide on the request. U.S. officials may rule on it only after trying their best for a trade deal with China to avoid making Beijing too upset, said Alexander Huang, strategic studies professor at Tamkang University in Taiwan.
Jennings is a special correspondent.
---
Must-read stories from the L.A. Times
Get the day's top news with our Today's Headlines newsletter, sent every weekday morning.
You may occasionally receive promotional content from the Los Angeles Times.