Beijing makes it easier for Taiwanese to work and study in China, and Taipei is freaking out over it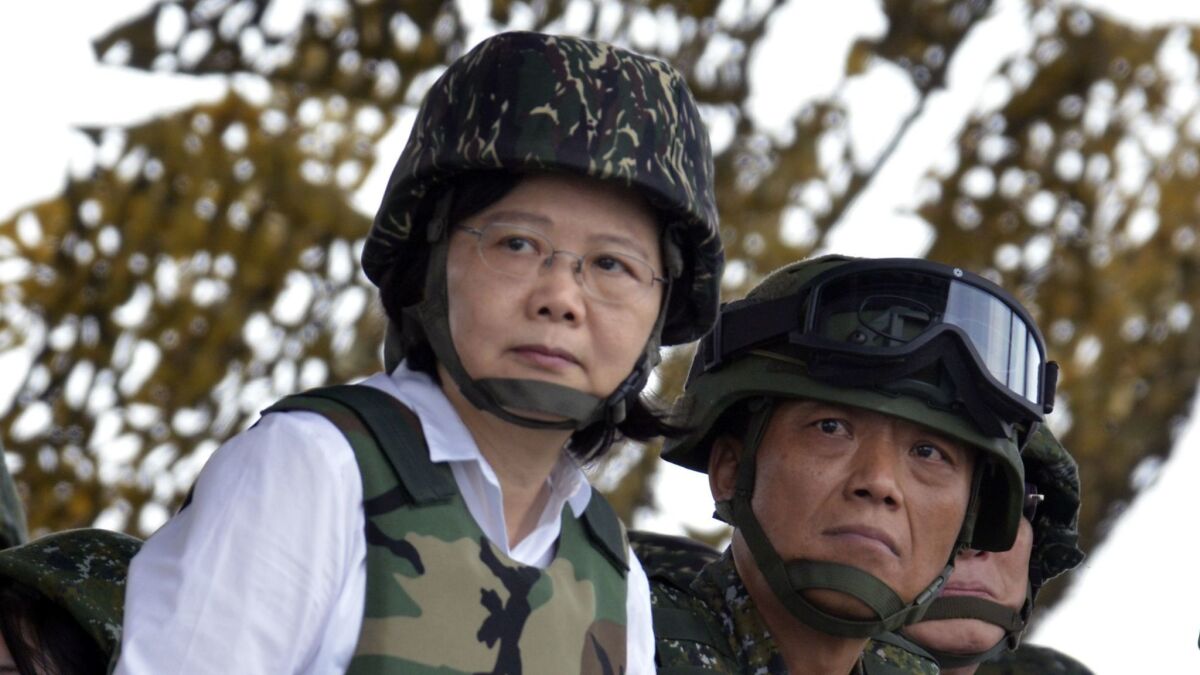 Reporting from TAIPEI, Taiwan —
Some Taiwanese have long feared that China would try to take back the island by force. This week China tried a far gentler approach: measures to make it easier for Taiwanese to invest, work and study on the mainland.
Still, the 31 measures unnerved the government in Taipei, which accused China of trying to lure away talent while undermining Taiwanese political identity.
Those reactions from Taipei come less than a week before China's legislature begins annual meetings that normally include a sweeping, high-level statement on the future of Beijing's ever thorny relations with Taiwan. They also follow nearly two years of diplomatic and economic pressure from Beijing against Taiwanese President Tsai Ing-wen.
China claims sovereignty over democratic and self-ruled Taiwan, viewing it as a rogue province. China insists on eventual unification, by force if needed, despite Taiwanese government polls showing that 70% to 80% of Taiwanese people prefer their autonomy.
China's Taiwan Affairs Office on Wednesday announced the measures aimed at attracting Taiwanese people to do business or study in China.
Twelve of the measures would give Taiwanese investors equal treatment with mainland counterparts. The office said the package overall would help Taiwanese factories cut manufacturing and operating costs and allow their goods to reach further into the massive Chinese market, a hallmark of the $11.2-trillion-plus Chinese economy that grows about 7% every year.
Nineteen measures make it easier to study, set up businesses and work in China.
"They are aimed at sharing the opportunities of the mainland's development with Taiwan compatriots," the Taiwan Affairs Office said on its website.
The Taiwanese government's Mainland Affairs Council dismissed the measures as an attempt by China to fulfill its goal of fusing the island and mainland together.
"Recently mainland China has tightened pressure on us, then it releases 'measures advantageous to Taiwan' to win over our public," the council said in a statement. "For mainland China to repeatedly launch numerous measures like that over the long term means it's accelerating its one-sided economic development goals by attracting Taiwanese resources as well as hoping [the measures] will help change Taiwan's political identity."
A day before China announced the measures, Taiwan's president appealed for foreign help in keeping her island autonomous. China has the world's third-strongest military, compared with Taiwan's at No. 19.
China and Taiwan have been separately ruled since the Chinese civil war of the 1940s, when Chiang Kai-shek's Nationalists lost the mainland to the Communists and moved their government to Taipei.
"Taiwan's stance of maintaining status quo will not change," Tsai said at a Foreign Ministry event Tuesday in Taipei, meaning no unification. "But I want to remind that this maintenance is not just one country's responsibility. Maintaining the status quo requires every country in the region to work hard together."
Beijing resents Tsai for declining to see both sides as parts of one country, a precondition for any dialogue. Tsai, who took office in 2016, is also backed by a political party with senior members who advocate more distance from China.
To pressure Tsai, a 61-year-old law scholar, China has flown military aircraft near the island and blocked Taiwan from joining United Nations organizations. The Taiwanese government said it canceled a February cultural event in the Indian Ocean nation of Mauritius after China forced a Taiwanese plane to turn back.
Beijing's 31 measures cut out any relations with the Taiwanese government, noted Alexander Huang, a strategic studies professor at Tamkang University in Taiwan.
"All these measures are targeting Taiwan people," Huang said. "They are communicating with the people. They bypass the government and say, 'We'll take care of you.' They're turning from de jure unification into a de facto one."
Tsai's plea Tuesday may bolster efforts in Tokyo and Washington to help Taiwan without jeopardizing their own relations with China, experts say. Both are staunch informal allies of Taiwan hoping to check China's influence in the Asia-Pacific region.
Japan might "tease" the idea of letting Taiwan join the Trans-Pacific Partnership trade agreement as leaders in Tokyo revive the 11-nation pact after U.S. withdrawal more than a year ago, said Sean King, vice president of the Park Strategies consulting firm in New York. China resents trade deals that cast Taiwan as a state rather than part of Chinese territory.
"Tokyo will continue to try to balance economic engagement with China while developing official and unofficial strategic partnerships in the region including …Taiwan," said Stephen Nagy, senior associate professor in politics and international studies at International Christian University in Tokyo.
Japan and Singapore sent experts to Taiwan after an earthquake in February killed 17 people in the eastern city of Hualien, Tsai noted Tuesday. Taiwan barred China from sending help.
Washington may be inspired to sell more advanced weaponry to Taiwan after the June 29 announcement of a $1.4-billion arms package, some analysts say. In January, the U.S. House of Representatives passed a bill calling for more high-level U.S.-Taiwan visits. The Senate passed the bill Wednesday.
Other countries also might "call for greater participation by Taiwan in the international community," said Bonnie Glaser, director of the China Power Project at the Washington-based Center for Strategic and International Studies.
But Chinese officials may believe it is pointless to pressure Tsai this year, said Lin Chong-pin, a retired strategic studies professor in Taiwan. Beijing's "soft prong" in a two-part approach to Taiwan will gain ground instead, he said. Beijing already made it easier last year for Taiwanese to work in China.
It might instead step up actions, such as the measures announced Wednesday, aimed at luring Taiwanese citizens to China, he said. Wednesday's measures also offer advantages to Taiwanese people in taxation, land use and healthcare, the Taiwan Affairs Office said.
Jennings is a special correspondent.
---
Must-read stories from the L.A. Times
Get the day's top news with our Today's Headlines newsletter, sent every weekday morning.
You may occasionally receive promotional content from the Los Angeles Times.