Beijing won't like it, but Congress may foster closer ties with Taiwan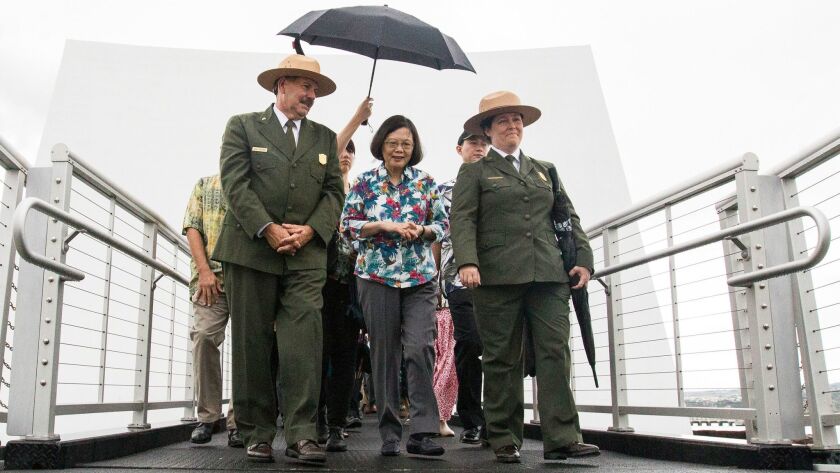 Reporting from TAIPEI, Taiwan —
Relations between the United States and Taiwan have long been based on a sort of diplomatic sleight of hand.
Officially, there is no U.S. ambassador to Taiwan, which mainland China considers a renegade province. Unofficially, the United States maintains a quasi-governmental entity called the American Institute in Taiwan — essentially, a shadow embassy whose head is a de facto ambassador.
Officially, the president of Taiwan is never invited to the United States. But the Taiwanese leader periodically schedules travel that requires her to change planes at U.S. airports, and uses the layover time to hold unofficial meetings with members of Congress and other U.S. officials.
That odd diplomatic dance isn't expected to change anytime soon, given the extreme sensitivity of the issue to China. But Congress is calling for relations between the U.S. and Taiwan to be a little cozier, and Beijing is not happy about it.
A bill that passed the U.S. House of Representatives this week called for an increase in the rare, low-key visits between senior officials in Washington and Taiwan.
The Taiwan Travel Act, which now moves to the Senate, was introduced last year by California Reps. Brad Sherman (D-Porter Ranch) and Ed Royce (R-Fullerton). It says Washington "should encourage visits between the United States and Taiwan at all levels," including military and administrative.
U.S. officials have made just six visits since the two sides cut formal ties in 1979 as Washington established diplomatic relations with Beijing.
"Taiwan is a strong friend and critical partner to the United States," Royce told the House floor this week. "Congress has been central to this long-standing bond — championing a strong relationship with Taiwan … and pressing successive administrations to fulfill their obligation to sell defensive arms to Taiwan."
In China, Foreign Ministry spokesman Lu Kang said Thursday that the act sends the "wrong signals" and warned against U.S. official contact with Taiwan.
If the bill passes the Senate and gets the signature of President Trump, it would open a new door for Washington to arrange visits in either direction, shoring up a strong informal strategic relationship with democratic Taiwan against an expanding China.
Visits are legal today for both sides but seldom arranged, in deference to Beijing. Washington values its links to the $11.2-trillion-plus Chinese economy and China's role in regional issues such as containing North Korea's missile development.
"That act is a signal to prove that Taiwan-U.S. relations [can] become better and better," said Wu Chung-li, a political science research fellow at Academia Sinica. But it will offend Beijing, he said. "No question about it."
China and Taiwan have been separately ruled since the Chinese civil war in the 1940s, when the Nationalists fled the mainland and based their government in Taiwan. China today considers Taiwan part of its territory and insists on eventual unification, by force if needed. It condemns overtures abroad that cast Taiwan as a state with the right to foreign diplomacy.
China protests whenever Taiwan's president stops over on U.S. soil and sometimes when American officials visit the island. An envoy to the Chinese Embassy in Washington warned last month of a military response if the U.S. Navy sent a ship to Taiwan, as was reportedly being discussed.
Any move in the United States to recognize Taiwanese officials is "taking a huge risk," China's Global Times, a nationalistic Communist Party tabloid, said in an editorial Thursday. "The mainland will surely act to make sure Taiwan and the U.S. pay the price for their 'high-level exchanges.'"
Taiwanese President Tsai Ing-wen has stopped on U.S. territory six times since taking office in May 2016, all in transit to other countries. Washington says it allows the transit stops for the comfort, safety and convenience of Taiwanese leaders.
On a stop in Los Angeles in July 2016, Tsai met House Speaker Paul D. Ryan and former President Clinton. She thanked Ryan for backing U.S. arms sales to Taiwan, the government's Taiwan Today news website said. Washington authorized major weapons sales to Taiwan in 2010, 2015 and in June.
In January 2017, Tsai transited in Houston and San Francisco at either end of a visit to Latin America. She saw Texas Sen. Ted Cruz and Gov. Greg Abbott during the Houston stop, over China's objections.
The head of the American Institute in Taiwan often stands in for regular government officials in meeting Taiwanese presidents on stopovers. The institute's unofficial status mutes protests from China.
The island's Foreign Ministry issued a statement Wednesday expressing "welcome and sincere thanks for the U.S. House of Representatives [for] taking specific measures to raise U.S.-Taiwan relations and support our country's international engagement."
Tsai has irritated China by rejecting Beijing's condition that both sides hold talks as parts of a single China.
In moves possibly aimed at sending Tsai a message, China last year blocked Taiwan's observer status at the World Health Organization's annual assembly. On Jan. 4, China opened four civilian flight paths in the shared Taiwan Strait without notifying Taipei. China sometimes leverages its more than 170 diplomatic allies, compared with just 20 nations that recognize Taiwan, to marginalize the island in foreign affairs.
The head of a Washington-based Taiwan advocacy group urged senior U.S. officials to visit Taiwan more often.
"If China does not let Taiwan join the annual WHO meeting in Geneva, the U.S. should send the secretary of Health and Human Services to Taipei to, for instance, observe Taiwan's first-rate healthcare system," said Coen Blaauw, executive director of the Formosan Assn. for Public Affairs.
One Taiwanese analyst, however, said the Taiwan Travel Act won't fundamentally change the relationship with the U.S. Liu Yih-jiun, public affairs professor at Fo Guang University in Taiwan, said the act would be little more than "a diplomatic courtesy."
"It's some kind of lip service, no more than that," Liu said.
Jennings is a special correspondent. Times staff writer Sarah D. Wire in Washington and special correspondent Jessica Meyers in Beijing contributed to this report.
---
Must-read stories from the L.A. Times
Get all the day's most vital news with our Today's Headlines newsletter, sent every weekday morning.
You may occasionally receive promotional content from the Los Angeles Times.