Taiwanese turn old shipping containers into sheds, offices, homes and more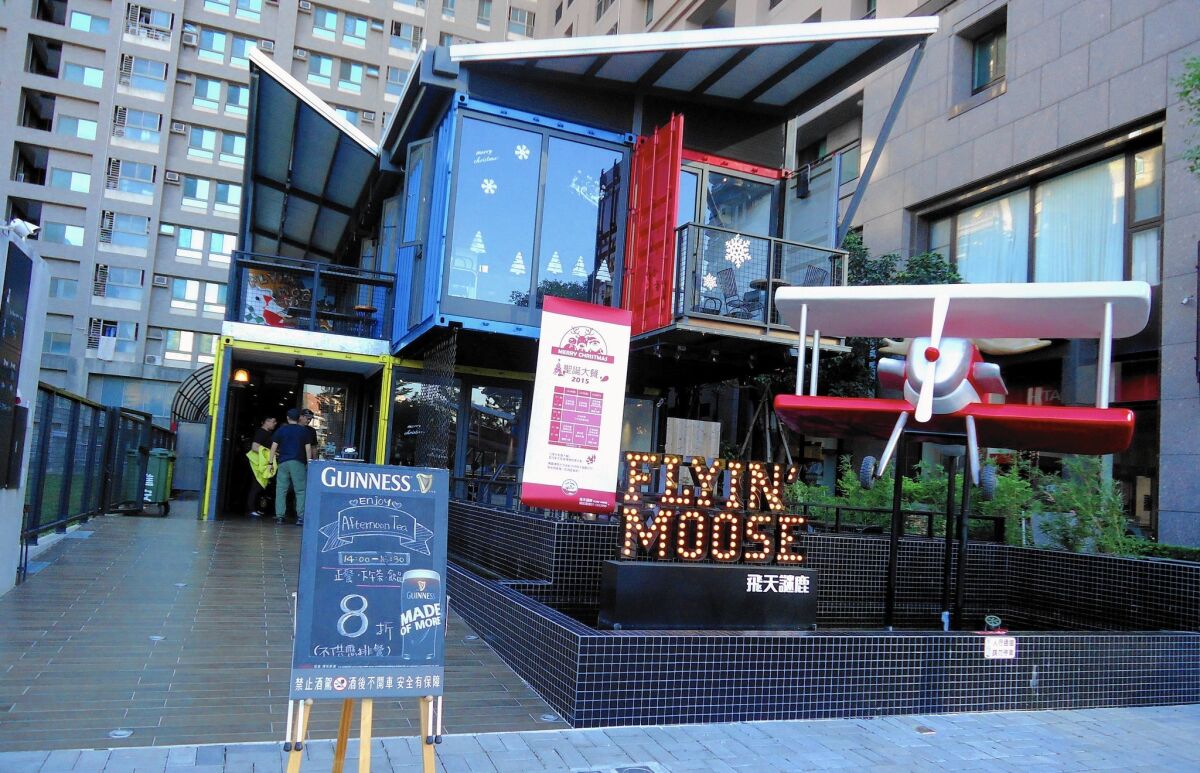 reporting from Kaohsiung, Taiwan —
They're used as roadside betel nut stands. Tool sheds for farms. And increasingly, as houses, offices, retail showrooms and restaurants.
They're the 40-foot steel containers too battered or rusted for continued use in shipping cargo from the western Pacific export powerhouse to markets around the world.
In Taiwan's chief port city of Kaohsiung, old containers have become so popular that the local government holds a container architecture festival every two years.
"We're just passersby on this planet," explains city councilor Wu Yi-chung. "These buildings won't cause long-term environmental damage."
One of Kaohsiung's best-known container constructions belongs to Wu.
The three-floor, castle-like structure is now being used as a presidential campaign office for candidate James Soong. It was built last year from seven separate containers. The tops of some have been converted to outdoor balconies, rare in Taiwan, and 32 solar panels in the center are used to provide power for the entire structure.
Elsewhere in Kaohsiung, a two-level house made from six containers will get its first owner this year. It's worth the equivalent of $180,000, roughly half the price of a traditional house.
Kaohsiung also boasts Jerry Wu's Flyin' Moose restaurant, a two-level structure made from seven containers.
Join the conversation on Facebook >>
"Customers will be surprised and ask 'what are you doing with containers?'" Wu, 35, said. He opened the restaurant as a hobby, picking containers to blend Kaohsiung with his previous hometown of Vancouver — both port cities. "Some people think it's a private club and won't come in."
The eatery's 120 seats were fully booked for the recent Christmas weekend. Beer and pasta had moved fast on a weekday afternoon days before.
"In truth containers are stuffy and don't ventilate," said customer Tsai Jung-qiao, a local newspaper reporter. "But you can get over those obstacles. There's air conditioning and decorations, so it's now comfortable."
Although no statistics are kept on the number of Taiwanese buildings fashioned from containers, new cases crop up frequently across the island.
Sixty colorful roadside stands and small offices are scattered along a highway in the southern city of Tainan. A restroom and a cafe have also been fashioned out of containers. Owners of farmland on the coastal plain of Yilan County south of Taipei use containers as weekend homes. The showroom for a luxury housing project in Taipei, the Taiwanese capital, was built from 35 containers.
Successful Taiwanese architects have added containers to their portfolios.
"What we do depends on people's needs, and we can design anything," said suburban Taipei container architect Chen Tien-lai.
Rust has turned to shine since the launch of the Kaohsiung festival in 2000 placed the used containers in the spotlight. Taiwanese favor them in part because of the low construction prices — a building's basic shell needs no new materials or work — and they are earthquake resistant and portable when it's time to move. A container takes just days to prepare for alternative use. Steel's natural ability to expel heat also adds value on an island that's hot much of the year.
Business operators around Kaohsiung still order the used crates for roadside stands as well, says Natasha Lee, who runs Yu-Fung Container Enterprise Co. Yu-Fung, which manages containers for other companies, nonetheless gets 30% of its business converting containers into structures.
In two days, her firm can weld window frames, add wooden interior walls and carve holes for air-conditioning units, all for a base fee of about $1,000. More extensive work takes three more days. Her office, fully wired for the staff's computers and a tearoom for guests, occupies six containers.
"The basic structure is already there, and even if you stick two together, the structure holds," Lee said. "Appliances are easy to install and can be done in a day. Whether it's comfortable depends on how much you add."
Container dwellers must fireproof their domiciles to receive building permits, somewhat offsetting otherwise relatively low construction costs. That's fine, said Kaohsiung architect Lin Chih-feng, who has designed five container structures since 2013. The total cost comes to only about 60% to 80% of that of a traditional dwelling, he said.
"Most people aren't doing it for lower prices," he said. "It's usually first for the novelty, then second, construction speed."
Jennings is a special correspondent.
ALSO
As China's economy slows, workers feel the sting
U.S. flies B-52 bomber near North Korea after nuclear test
South Korea to resume anti-North broadcasts in response to nuclear test
---
Must-read stories from the L.A. Times
Get the day's top news with our Today's Headlines newsletter, sent every weekday morning.
You may occasionally receive promotional content from the Los Angeles Times.