She's young, transgender and an anarchist, and is leading Taiwan's drive to become a digital powerhouse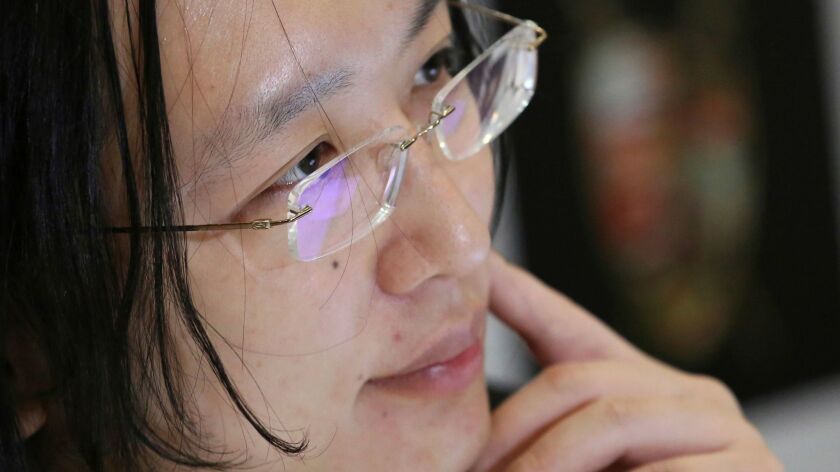 Reporting from Taipei, Taiwan —
At age 8, Audrey Tang wrote a computer game for her 4-year-old brother to help him learn fractions. At 14, she dropped out of school to start a search-engine company. At 19, she had left Taiwan to work as an entrepreneur in Silicon Valley.
Now, at 36, she is Taiwan's youngest government minister, charged with jump-starting the island's stagnating, $130-billion high-tech sector. She is also Taiwan's first transgender Cabinet minister and, perhaps most remarkable, the only one who describes herself as an anarchist.
This last attribute may seem at odds for someone who is near the top of the governmental food chain, but it gives Tang a perspective that, she contends, is in sync with the unchained ethos of the tech world.
"It's no longer the old way where the government predicts what happens over the next eight years and then subsidizes or reimburses the private sector to develop exactly that," Tang said. "We've stopped playing prophets and just said … everybody's in, we welcome everyone's input."
Under Tang's oversight, the government plans to deregulate the so-called sharing economy, raise the transparency of government work to unprecedented levels and offer a lot of free online resources to the public, especially to tech start-ups.
She envisions an Internet platform on which the island's 430,000 start-ups can exchange resources for free. Software should be free so that Taiwanese technology firms can follow the lead of Google, which grew to today's scale by using the open-source Linux operating system, she says.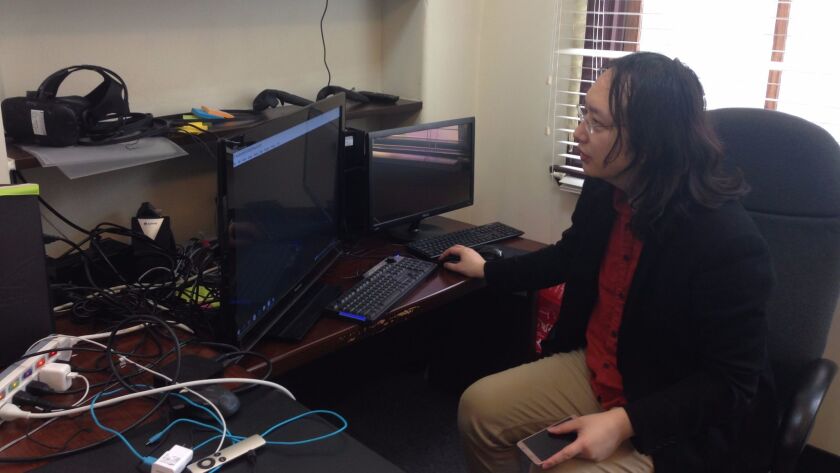 Taiwan, despite its decades of high-tech work, lacks a major Internet firm such as Google, China's Tencent or South Korea's Naver, vexing local policymakers.
"The whole idea of software freedom is an industry enabler," she said.
Tang was born Tang Tsung-han, the child of journalists turned educators. From an early age, she was drawn to math and computers, changing schools every year and studying largely at home until, at 14, she left school permanently "to start [my] education" — and her career.
"After I got a computer, I learned that it's really like any other musical instrument," Tang said in her Taipei government office cluttered with tablets, monitors, wires and virtual reality gear. "If you practice it every day and get good enough at it, you feel very good after playing it."
Tang came out as a woman in 2005 to match how she had long felt and changed her name to reflect the identity shift. Her status as the first transgender member of a Taiwanese Cabinet fits with President Tsai Ing-wen's focus on LGBTQ rights.
Her civil service began in 2015, when she was hired as a consultant to the Taiwanese government on cybersecurity and transparency initiatives. Tang said she was appointed to the Cabinet in October because she had "retired" from other work and had no political party alignment.
She's now eager to shift Taiwan's high-tech sector from one focused for decades on making hardware such as personal computers to one that fosters start-ups in emerging fields such as virtual reality and the Internet of things.
It is very comfortable to work with Audrey.... However, it is very challenging to keep up with her thinking speed.
— Zach Huang, event planner
The Internet of things — use of smart devices to control ordinary appliances — will expand by a fifth worldwide from 2015 to 2020, with spending of $267 billion that year, Boston Consulting Group forecasts. Global revenue from virtual and augmented reality will grow from less than $20 billion this year to $120 billion in 2020, Silicon Valley consulting company Digi-Capital says.
Tang's ministry has helped formulate Taiwan's eight-year Digital Nation Plan. Now in its first year, the plan will include the buildup of a "digitized licensed commons," a free storehouse of software and files available to anyone online. It is intended to include information that any person or company, especially high-tech start-ups, can use for its own development.
The Digital Nation Plan is expected to put Taiwan among the top 10 spots in the world for information technology by 2025, the Cabinet says on its website.
Tang's office is also shaping a way to work with telecommunications providers to extend broadband Internet to mountainous aboriginal villages, outlying islands and Taiwan's bullet train system.
As an anarchist, Tang advocates "no hierarchical or bureaucratic relationships among people." Her staff of 15 all volunteered to work with her. They're free to change government departments if they "get fed up with me," Tang said, though no one has. They produce weekly "road maps" as collaborators rather than as boss and employees.
"It is very comfortable to work with Audrey since she would not give orders against my will or beyond my ability," said her event planner, Zach Huang. "However, it is very challenging to keep up with her thinking speed."
Tang releases online the text of nearly all her government-related meetings as long as others involved give consent within 10 days. Younger Taiwanese had criticized the previous government for telling the public too little before making decisions.
Cabinet meetings live-streamed under Tang already get thousands of views as well as comments that she tries to answer in real time. Private companies know through these broadcasts what the government is planning before it's formal and can submit petitions for government review, she said.
The digital minister wants to retool Taiwan's sharing economy to emphasize a free exchange of resources across industries rather than just an expansion of app-enabled taxi and hotel services. The scheme should connect start-ups with investment funds that are "sitting on a lot of cash," she said.
"My concept for the economy is one of abundance," Tang said. "I'm aware of course there are scarce resources around the world, especially cognitive resources, but now that's changing."
The scheme could become a source of business-to-business connections that ultimately fuel tech sector growth, said Tracy Tsai, a research vice president at market research firm Gartner.
Tang's office is studying deregulation in financial technology and maybe other start-up-intensive sectors to let smaller companies experiment, minus today's legal risks, with projects such as bitcoin.
Longer term, Tang aims to let machines do more routine government work so that public servants can focus on tasks that require value judgments.
"In the future, what she's going to influence most won't be necessarily just a law or a series of laws," said Lin Ta-han, chief executive of Founder-Backer, a Taipei company that helps start-ups raise money. "From my view, Tang's biggest contribution is to use her knowledge of open-source communities to build communication channels in government."
Jennings is a special correspondent.
ALSO
China's detention of a human rights activist from Taiwan won't do relations any good
For mainland Chinese students, Taiwan's universities are 'like paradise.' But there's a catch
Taiwan demonstrates a newfound love of dogs with a law to stop killing them
---
Must-read stories from the L.A. Times
Get the day's top news with our Today's Headlines newsletter, sent every weekday morning.
You may occasionally receive promotional content from the Los Angeles Times.