What Taiwan hopes the Trump call could do for its international standing
Reporting from TAIPEI, Taiwan —
Suddenly, Taiwan sees an opening.
Having spent most of the last half a century in a diplomatic no man's land, in which it technically does not exist as far as most of the world is concerned, Taiwan is hoping to parlay President-elect Donald Trump's surprising response to its overture into enhanced relations with major countries in Asia.
The risk: an eventual backlash from China, which is both its archrival and its most important economic partner.
Taiwanese President Tsai Ing-wen is asking India and countries in Southeast Asia for stronger ties in investment and tourism, while seeking to enhance a loose alliance with Japan. The president, in office since May, has chafed against China's insistence that her island and Beijing unite under one flag.
China sees self-ruled Taiwan as part of its territory, to be unified by force if needed. Taiwan, at least nominally, agrees that there is only "one China," but sees itself as the legitimate government. It maintains its own military, Foreign Ministry and immigration rules.
Beijing, backed by the world's No. 2 economy, demands that its 170-plus allies — including all the countries Tsai is courting — not regard Taiwan as a state.
Taiwan got what may be a start to stronger relations with the United States when Trump and Tsai spoke by phone for 12 minutes on Dec. 2. The U.S. had not had such high-level contact with Taiwan since the 1970s, when Washington restored diplomatic relations with the mainland.
Now, Taiwan is hoping that the United States can help Taiwan make contact with other countries.
"We want Taiwan-U.S. relations to spread to countries in the region," said Douglas Hsu, deputy North American affairs director with Taiwan's Foreign Ministry. He said he hoped that Taiwan could "use some of America's existing connections in Asia or in Southeast Asia to do outreach to those countries and help us establish contact or interaction."
That synergy would lift Taiwan out of diplomatic isolation for the first time since China's rise in the 1970s. China has used its influence to keep most countries from signing free trade deals with Taiwan, holding summits with the island's leaders or letting it join the United Nations.
The United States conducts its affairs with the island through the American Institute in Taiwan, a nonprofit, nongovernmental organization largely funded by the State Department.
Taiwanese citizens have pushed their leaders since the 1990s to build stronger foreign relations in keeping with the island's growth into the world's 22nd largest economy. Taiwanese have been regular donors to overseas humanitarian causes, such as relief work after Hurricane Katrina in 2005.
Tsai has her sights on India and Southeast Asia because of their size and quick economic development. In her May 20 inauguration speech, she called for sharing "resources, talents and markets" with those countries.
Her government reiterated in September that it wanted Taiwanese to plant "deep roots" in India and Southeast Asia as investors, and to sell goods to those markets. Experts from India or Southeast Asia would be able to visit Taiwan and learn about issues such as public health and women's rights, where Taiwan sees itself as a leader. Taiwan expects other links in the high-tech, farming and tourism sectors.
Taiwan already has strong informal ties with Japan, whose colonial rule there in the first half of the 20th century was more benign than in, say, Korea. Tsai has proposed building on those ties with cooperation in maritime search-and-rescue work.
Other countries have not officially reacted to Taiwan's ideas and Hsu declined to say whether Trump agreed on the call to help.
"In principle, India looks like a particularly hopeful area in this respect, especially as the relationship is starting from a low base," said Alan Romberg, East Asia program director with the Stimson Center, a Washington-based think tank. "Japan is another area where Taiwan could expand its economic links, and [Prime Minister Shinzo Abe's] government seems more than willing to be helpful."
But Taiwan risks retaliation from China. Beijing has insisted on unifying with Taiwan since the Chinese civil war of the 1940s. Government opinion polls say 70% to 80% of Taiwanese oppose unification.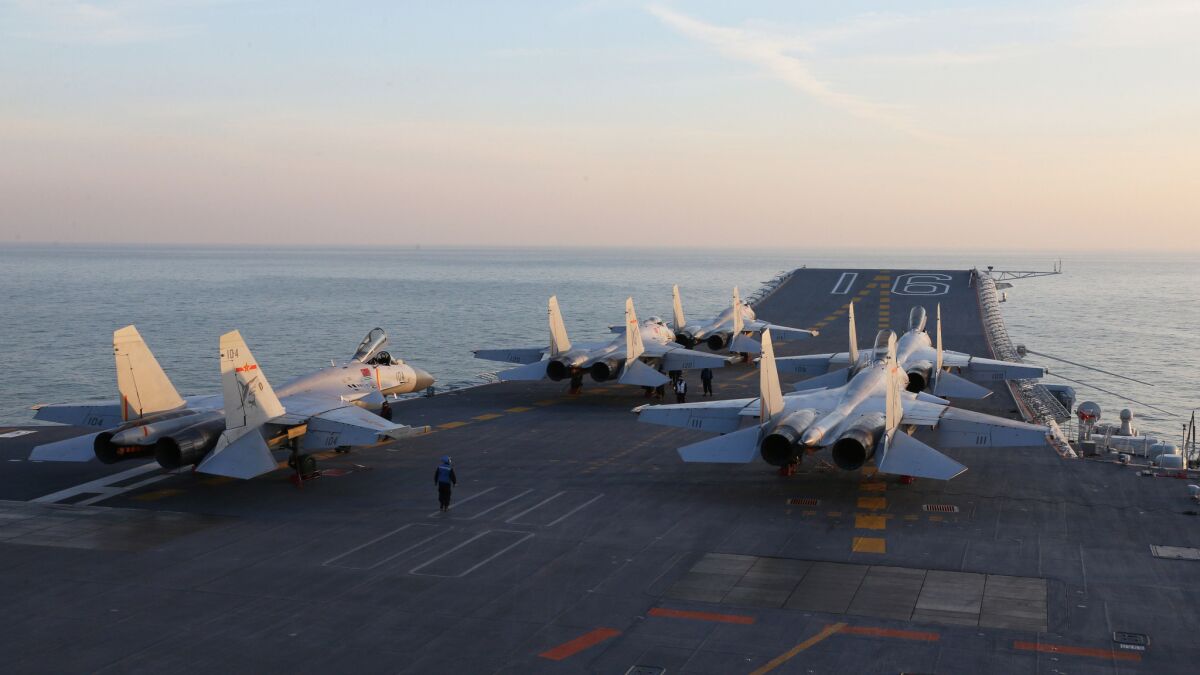 China is likely to bristle at Taiwan's new foreign relations but avoid moves that fan sentiment in favor of further independence from Beijing.
It has protested to the United States instead of Taiwan over Trump's phone call and his subsequent comments to "Fox News Sunday" that he sees no reason to continue the U.S. policy of observing just "one China," ruled by Beijing.
China may also put pressure on other countries to avoid ties with Taiwan, analysts say. Since April, for example, it has persuaded Cambodia and Malaysia to send Taiwanese nationals to China, not Taiwan, for fraud prosecution.
Southeast Asian countries, with a total of about 600 million people, are expected to cleave particularly close to China, though Singapore is testing Beijing by continuing a 40-year tradition of military training with the Taiwanese army.
"Most [countries] would prefer to build cooperation in a way that is not directly confrontational with Beijing," said Denny Roy, senior fellow at the East-West Center think tank in Honolulu.
China may vent at Taiwan by holding air force drills again near the island's airspace, as it did this month, said Alexander Huang, strategic studies professor at Tamkang University in Taiwan.
Eventually it could offer development aid to coax some of Taiwan's remaining 22 diplomatic allies into dropping those ties in favor of China, said Hsu Yung-ming, political scientist at Soochow University in Taipei, the Taiwanese capital. The allies give Taiwan a voice in the United Nations.
A decade ago, when Taiwan's leader was the anti-China firebrand Chen Shui-bian, Beijing used offers of aid to woo away Taiwanese allies such as Costa Rica, Chad and Malawi.
Taiwan and the United States are expected to work more closely on military ties and free trade while seeing an increase in high-level contact.
"If the Taiwan-U.S. relation is strong, that will enable Taiwan to have stronger confidence about itself and give it more flexibility in dealing with China, or at least not be oversensitive or over-reactive about China's behavior," said Lai I-chung, vice president of the Taiwan Thinktank, a research organization in Taipei aligned with the ruling party.
Jennings is a special correspondent.
ALSO
Dissident Chinese artist Ai Weiwei finds home too dangerous, but he may go to Syria
Trump's call with the Taiwanese president was his latest break from diplomatic norms
Iowa governor, who has long ties to Beijing, is selected as Trump's ambassador to China
---
Must-read stories from the L.A. Times
Get the day's top news with our Today's Headlines newsletter, sent every weekday morning.
You may occasionally receive promotional content from the Los Angeles Times.