Divers mount frantic search for boys' soccer team trapped in a flooded cave in Thailand
Reporting from Bangkok, Thailand —
Rescuers led by a team of elite navy divers pumped water out of a partially flooded cave in northern Thailand on Tuesday in a bid to rescue 12 members of a boys' soccer team and their coach who went missing four days earlier.
Battling darkness, poor ventilation and muddy waters that rose to almost 23 feet following heavy rains over the weekend, the rescuers were racing to create breathing space for divers to venture deeper into the labyrinthine cave complex in a search that has riveted the country.
Authorities were desperate to beat further downpours as the mission enters a crucial phase with the boys, ages 11 to 16, and their 25-year-old coach thought to be alive but hungry and weary.
"We hope" they are safe, the governor of Chiang Rai province, Narongsak Osotthanakon, told The Times.
"We have brought them some food and water but we don't know where they are yet," he said. "But we are trying every minute to save them."
Hand- and footprints found Sunday on dry ground gave rescuers hope that the missing party had reached an elevated path safe from the water, while abandoned shoes and bags suggested they had then ventured farther into the cave complex, which is roughly five miles deep and includes about 40 chambers.
Rescue crews early Tuesday threaded a power line about half a mile into the cave to add lighting and fans for ventilation. A remotely operated underwater vehicle has also been deployed to help divers assess the depths and condition of the water, along with two drones equipped with heat detectors.
Even if rescuers locate the missing, authorities said it would be challenging to get them out of the waterlogged caves considering they are not believed to have specialized diving skills. Narongsak said the boys and coach might need to wait for the waters to subside or learn basic scuba-diving techniques to get out.
Deputy Prime Minister Prawit Wongsuwan said local authorities would drill into the mountain if necessary to get the boys and their coach out.
"We are still optimistic they are all alive," Prawit said, according to news agencies.
The boys reportedly had soccer practice on Saturday and then went with their coach to explore the nearby Tham Luang Nang Non caves in Chiang Rai, near the Myanmar border. A park officer found their bicycles and a motorbike parked by the entrance to the cave.
While the lush forests of northern Thailand are home to hundreds of caves that attract visitors, Tham Luang Nang Non is deeper and more dangerous than those usually explored by tourists, said Nacha Putthakarn, owner of Golden Triangle Tours in Chiang Rai. During the rainy season, which runs roughly from May until October, tourism authorities don't supervise the cave, she said.
"It's not like a tourist attraction," Nacha said. "If you want to go, you really need a local guide who knows the trails in there."
Nacha said the boys' soccer field is near the cave and they are known to have ventured inside before, although she expressed surprise over their decision to enter at this time of year. She said even experienced locals would not venture more than about 600 yards into the cave complex.
Chertchoo Thungpanya, deputy chief of the Maesaiprasitsart school in Chiang Rai, where six of the boys were students, said the boys were thought to be inside the deepest hall of the cave, about four miles from the entrance. Speaking by phone from outside the cave, he said rescuers on Tuesday were better equipped with oxygen tanks and other equipment and were preparing to work throughout the night.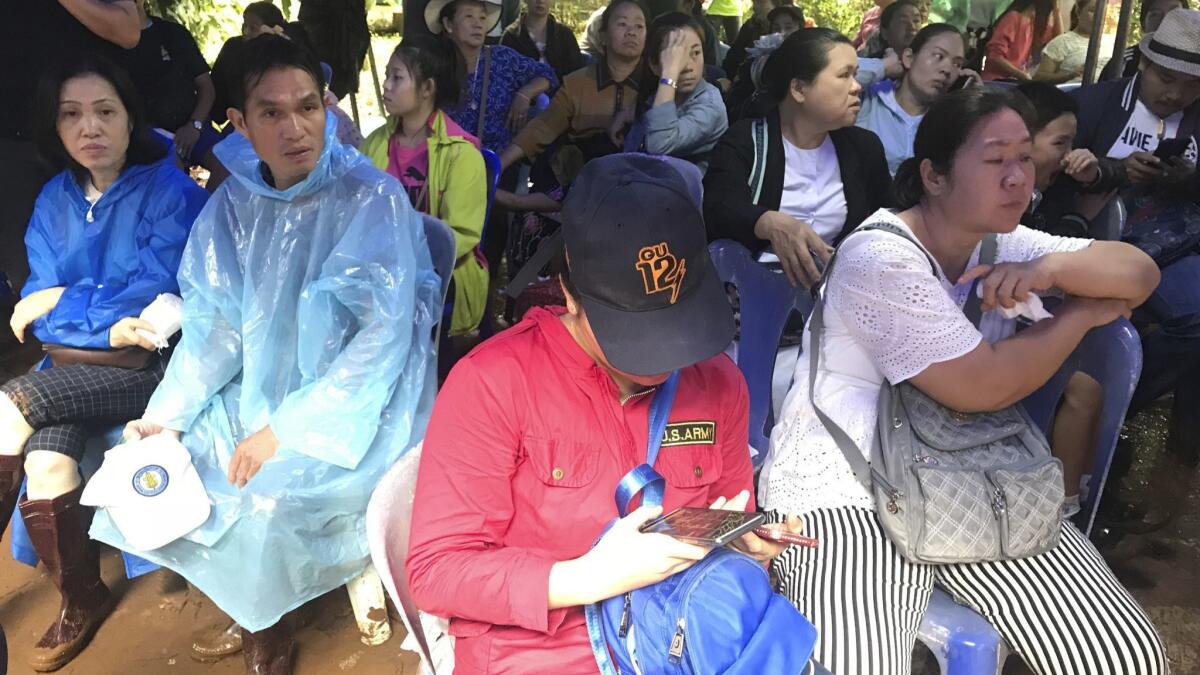 The boys' families gathered by the cave Tuesday morning, playing drums and gongs, holding fishing nets and calling their loved ones' names in a ritual expressing grief and hope.
"The relatives are … waiting for any update," said Kanet Prasertpong, the head of Maesaiprasitsart school. "They are stressed out and very concerned because it is now Day Four."
Across Chiang Rai province, well wishers were sending food and other supplies to the families, said Pan Benjawan, an English teacher at the Chiengrai Vidhayakhome School, about 50 miles from the cave.
The boys are not the first to go missing in Thailand's caves. In 2016, an Asian tourist went missing in Chiang Rai's Saithong cave after he ventured inside to meditate. His body was never found.
Styllis is a special correspondent. Times staff writer Shashank Bengali in Lahore, Pakistan, contributed to this report.
---
UPDATES:
9:18 a.m.: This article was updated throughout with staff reporting.
This article was originally published at 5:25 a.m.
Sign up for Essential California for news, features and recommendations from the L.A. Times and beyond in your inbox six days a week.
You may occasionally receive promotional content from the Los Angeles Times.