Thailand court ousts prime minister after abuse-of-power verdict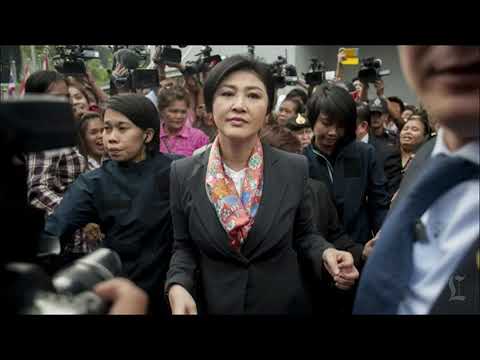 Thailand's constitutional court has ordered Prime Minister Yingluck Shinawatra to leave office in connection with an abuse-of-power case.
Reporting from Bangkok, Thailand —
In a controversial ruling that deepened Thailand's political crisis, the country's constitutional court on Wednesday ordered Prime Minister Yingluck Shinawatra to leave office, ruling that she abused her powers when she transferred a government official from his post three years ago.
The court also demanded the removal of several of Yingluck's Cabinet ministers who it said were complicit in the transfer, throwing the status of her caretaker government into uncertainty ahead of elections scheduled for July.
Two dozen other ministers remain in their posts, including Deputy Prime Minister Niwatthamrong Boonsongpaisan, who was named Thailand's new acting leader.
Shinawatra's opponents had accused her of transferring the official, National Security Council head Thawil Pliensri, in order to install a member of her influential family in the post. Appearing in court Tuesday, she denied any wrongdoing, saying she "never benefited from any transfer of civil servants."
The ruling sparked fears of new violence between Shinawatra's mainly rural supporters, known as Red Shirts, and the mainly urban and southern anti-government protesters who have massed in Bangkok in recent months demanding her ouster. More than 20 people have been killed since November.
The protests have waned in recent months, but Thailand remains bitterly divided between the rival camps. Shinwatra's opponents accuse her of being a stand-in for her brother, ousted former Prime Minister Thaksin Shinawatra, who has lived in exile since 2008 to escape a jail sentence in a separate abuse-of-power case.
Yingluck Shinawatra has led a caretaker administration with few powers since December, when she dissolved parliament and called elections that her Pheu Thai party was expected to win. But the Constitutional Court annulled a vote held in February after anti-government protesters blocked polling places in one-fifth of voting districts nationwide.
The court's unanimous ruling on Wednesday prompted new allegations that the judiciary is on the side of the anti-government protesters. The constitutional court has dealt several setbacks to the Pheu Thai party in recent years, including forcing two Thaksin-backed prime ministers from office in 2008.
Suchit Bunbongkarn, a retired constitutional court judge, said the ruling was appropriate.
"The court tried to play the game by the rules," Bunbongkarn said. "It is a question of political legitimacy."
The ruling buoyed the flagging anti-government movement, and within hours protest leader Suthep Thaugsuban marched with supporters triumphantly to their main protest site at Bangkok's Lumpini Park.
One protester, Tikamporn Wonglangka, who hails from Chaing Rai in northern Thailand, said she welcomed the court's decision and that she hoped the rest of the Cabinet would be removed when the national anti-corruption body rules on a Shinawatra-backed rice-subsidy scheme. Opponents say the subsidies, which have cost billions of dollars, were a bid to buy support for the government among farmers in the populous northeast.
"I want elections but this all has to finish first," she said. "I want reform first."
Adisorn Piengkes, a former lawmaker from the Pheu Thai party, said the court's decision was "based on emotion."
"The decision was not legal. The court is not for the people; it is for the upper class."
Asked whether Yingluck's supporters would take to the streets to protest the ruling, Adisorn said, "The people of Thailand must fight for democracy in the future."
Roughneen is a special correspondent. Staff writer Bengali reported from Mumbai, India.
Sign up for Essential California for the L.A. Times biggest news, features and recommendations in your inbox six days a week.
You may occasionally receive promotional content from the Los Angeles Times.