Ex-princess shocks Thailand with prime minister bid. Her brother, the king, objects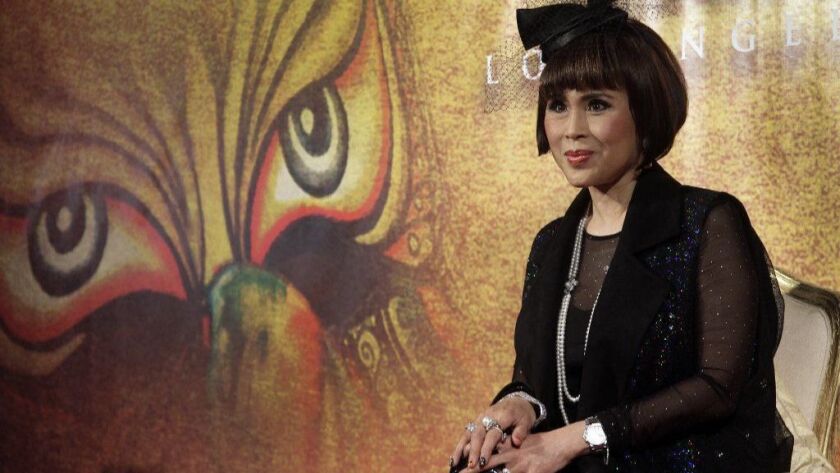 Reporting from Bangkok —
Thailand has endured 12 successful military coups, several failed ones, massive street demonstrations and palace intrigue since its constitutional monarchy was established nearly a century ago.
It has never seen anything like this.
A 67-year-old former princess, the daughter of Thailand's beloved late king, entered the race for prime minister on Friday, upending next month's elections and stunning a country where the monarchy is deified and has traditionally floated above politics.
Even more surprising was that Ubolratana Mahidol — a UCLA biostatistics graduate, actress, pop singer, philanthropist and Instagram celebrity — was nominated by a party allied with a fugitive ex-prime minister, whom hard-core supporters of the royal family revile as an enemy of the monarchy.
The shock announcement suggested the start of a rapprochement between the royal family and the exiled premier, populist billionaire Thaksin Shinawatra, whose decade-and-a-half rivalry has deeply divided the Southeast Asian kingdom. The timing of a deal appeared right, too, with the ex-princess' brother, King Maha Vajiralongkorn, due to be formally crowned as Thailand's 10th monarch in May.
But hours after declaring her candidacy, the king issued a televised statement saying that his sister's decision to enter politics was "extremely inappropriate" and violated the Constitution.
Although she had given up her title, "having a high-ranking member of the royal family involved in politics, regardless of in what way, is against the royal ancient tradition … and national culture," read the statement, aired just before 11 p.m.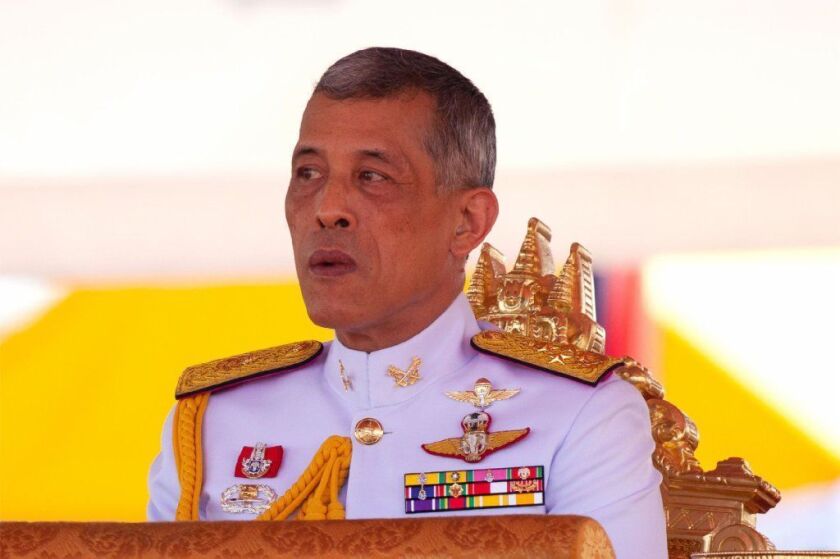 It remained unclear Saturday morning whether Ubolratana, who surrendered her title decades ago but is still treated as royalty by Thais and the media, would stay in the race or heed the king's wishes. Neither Ubolratana nor her party had any immediate comment.
"With this latest dramatic intervention, the king is signaling a split in the royal family, and once again overtly intervening in Thai politics," tweeted Andrew Macgregor Marshall, the Scottish journalist formerly based in Bangkok who first reported on Wednesday that the deal was in the works. "There are dangerous days ahead. Thailand is in uncharted political territory."
Vajiralongkorn's extraordinary rebuke led observers to wonder whether the princess and Thaksin's party had failed to consult with the king on her candidacy — an almost unimaginable gaffe in Thai politics — or whether a deal with Thaksin had collapsed.
But for several feverish hours, the former princess' decision redrew the political map of Thailand.
Khaosod, a news website, called it "undoubtedly the biggest bombshell in modern Thai political history."
"I find it shocking," said Pavin Chachavalpongpun, associate professor at the Center for Southeast Asian Studies at Kyoto University in Japan. "This definitely further complicates Thai politics. … I cannot imagine what the election is going to be like."
Ubolratana, the elder sister of the current king, suddenly became the odds-on favorite in the March 24 election — billed as a restoration of democracy after five years of military rule. The army, however, has widely been seen as choreographing the election to install its favored candidate as prime minister.
The incumbent, former army chief Prayuth Chan-ocha, who also filed to run for prime minister on Friday, has cast himself as a defender of the monarchy. But many Thais have chafed at Prayuth's imperial style and aggregation of powers while economic growth stagnates.
In 2014, the army ousted an elected government led by Thaksin's sister. The Shinawatra clan's political machine has won every election Thailand has held this century, and his populist appeal was seen by some as a threat to the longstanding pillars of the Thai body politic — the army and the monarchy.
His rise has plunged the kingdom into a long tug-of-war between "yellow shirt" supporters of the establishment and Thaksin's "red shirt" partisans.
The military carried out a 2006 coup to topple Thaksin, who fled the country to avoid criminal charges he says are politically motivated. He has run his party and several proxies from exile — including Thai Raksa Chart, the party that nominated Ubolratana — but is reportedly eager to return to Thailand to enjoy his fortune.
Close watchers of the Thai royal family had said King Vajiralongkorn — who assumed the throne when his father, King Bhumibol Adulyadej, died in 2016 after reigning for 70 years — would have had to sign off on his sister's entry into politics. If so, it would appear that the king privately supports his sister's efforts, but suddenly publicly is now condemning them, and the question is why?
"There's been a lot of speculation in recent months about the king not necessarily being pleased with Prayuth," said Michael Montesano, a visiting senior fellow at the Institute of Southeast Asian Studies in Singapore.
"It could be personal chemistry, it could be wanting to show he's in charge," Montesano said of the king. "He's a willful figure who has made clear that he has an expansive view of royal powers."
The former princess — long reported to be King Bhumibol's favorite child — was born in 1951 and left Thailand to attend MIT. She graduated from UCLA with a Master's in biostatistics, which falls under the UCLA Fielding School of Public Health, in June 1977, the university said.
But she fell out with her father over her marriage to an American, fellow student Peter Jensen, in 1972. She gave up her royal title and lived an unassuming life, raising their three children in the San Diego area.
After the couple divorced in 1998, she returned to Thailand, where she took on some ceremonial duties and started several charities. But she also pursued singing, acting and talk-show hosting with zeal, chronicling her exploits on her playful private Instagram feed and turning into one of the country's most well-known social media celebrities.
She has also displayed a common touch, and won more admirers after one of her children died in the 2004 tsunami.
Last year, on a variety show she hosted, Ubolratana joked that she doesn't like when Thais greet her with the customary phrase, "Long live your highness," which feels stiff and distant, and she'd prefer it if people said, "Long may you be slender." The #longliveslender hashtag trended on Thai social media in the hours after her announcement.
In a statement on her private Instagram feed Friday afternoon, Ubolratana thanked her supporters "for a chance to lead Thailand toward progress and prosperity."
"I have already relinquished all royal titles, and I am living as a commoner," she wrote. "Therefore, I'd like to exercise my rights and freedom as a commoner under the Constitution and the law."
Ubolratana is friendly with Thaksin — they were photographed together watching the 2018 soccer World Cup — but rumors of their alliance caught fire Wednesday with a Facebook post by Marshall, the Scottish journalist.
"It has long been rumored that Vajiralongkorn wants to broker a 'grand bargain' that ends the decade-and-a-half-long red-versus-yellow conflict between Thaksin and the royalist and military elite," Marshall wrote.
Many Thais were dumbstruck. Ardent royalists were appalled that a member of the revered family would join forces with Thaksin.
On social media, Thais debated whether politics would sully the monarchy — or whether the royal family's entry into politics would snuff out even the faintest embers of democracy.
"Long live the princess," Facebook user Prasert Reanian wrote. "You've done the right thing to heal the cracks of the nation and make the country reconcile, unite and help each other again."
However, another user, Tep Veasna, wrote: "This is shameful. You dragged the royal family into politics. I oppose this — it damages the royal family's reputation."
Experts said it was unlikely Ubolratana could defy her brother and run, making Thaksin's return doubtful, even though the Shinawatra clan has often defied predictions of its elimination from politics. Her departure from the race would probably restore Prayuth's front-runner status.
Pavin, the Kyoto University professor, said "no one knows" what the next six weeks will bring — but he was certain of one thing.
"It seems, no matter what, there's no more Ubolratana in politics," he said.
Special correspondent Amatatham reported from Bangkok and Times staff writer Bengali from Singapore. Times staff writer Sonali Kohli contributed to this report from Los Angeles.
---
Must-read stories from the L.A. Times
Get the day's top news with our Today's Headlines newsletter, sent every weekday morning.
You may occasionally receive promotional content from the Los Angeles Times.