U.S. sending as many as 500 troops to help with Nepal quake recovery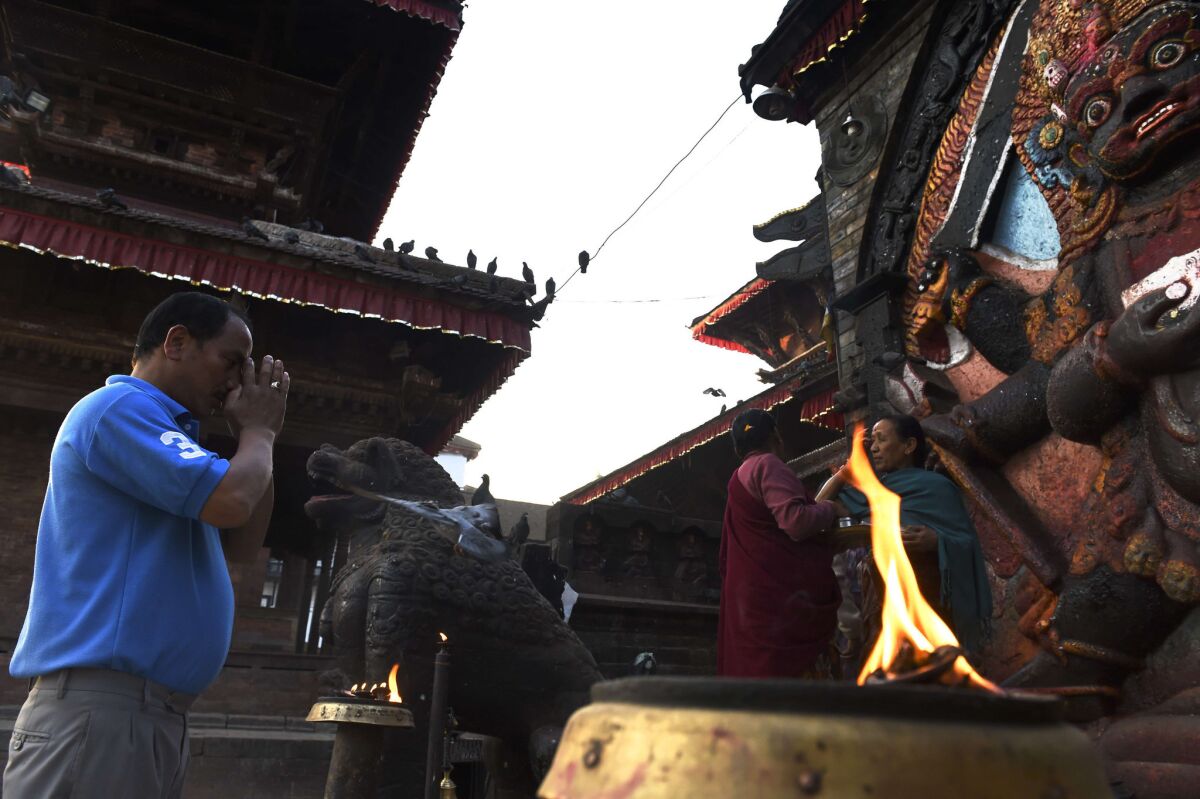 Reporting from Katmandu, Nepal —
A week after a massive earthquake leveled many areas in Nepal, the U.S. military is sending up to 500 troops, plus aircraft and equipment, to help deliver aid that has been stuck at the tiny country's main airport.
The assistance has been pouring in from around the world but has been slow to reach victims in Katmandu, the capital, as well as smaller towns and villages.
The magnitude 7.8 quake that struck April 25 killed more than 6,600 people and left hundreds of thousands homeless, many stranded in remote areas, some of which have yet to receive help.
The death toll is expected to climb even as search-and-rescue operations begin to wind down this week, a Nepal army official said.
Three U.S. flights scheduled to arrive late Saturday were delayed, according to U.S. and Nepalese officials.
The expanded U.S. military involvement is aimed at relieving the bottleneck for earthquake aid that has piled up at Katmandu's Tribhuvan International Airport and taking relief shipments to distribution points across the country, officials said.
Officials said the response mirrors the relief operation carried out in 2005 in Pakistan after an earthquake that killed 86,000 people. Nepal's high-altitude, mountainous terrain, most of it inaccessible by road, is similar to that of the quake-affected areas of Pakistan.
Among the first U.S. aircraft to arrive, perhaps as early as Sunday, will be four vertical-takeoff Osprey that will be joined by Army Chinook helicopters and C-130 cargo planes, said Marine Corps Brig. Gen. Paul Kennedy, commander of the operation.
U.S. forces will also be bringing in forklifts to better manage the shipments at the airport, which has only one runway and has been severely congested in the week since the quake.
Already, 25 U.S. service members have created an operations center in a second-story yoga studio on U.S. Embassy-owned grounds in Katmandu. Scores of military personnel will be housed in tents and at forward staging bases around the country. Some of those sites are operated by the Nepalese military, which has long had close ties to U.S. forces.
"This wasn't an unknown that this earthquake would happen. We've been preparing for it and planning for it," said Bill Berger, head of disaster response for the U.S. Agency for International Development, which is leading the American effort.
The flights will take off and land from Tribhuvan airport as well as several smaller airstrips and helicopter landing zones around the country, Kennedy said. U.S. aircraft are not expected to deliver goods directly to towns or villages but instead will ferry them to distribution points where Nepalese authorities and international aid agencies will take charge.
"We'll fill a niche and then will be supplanted by the professionals," Kennedy said.
The operation has added urgency because of the coming monsoon season, when remote areas become even less accessible, said Berger.
U.S. officials obtained permission Saturday from Nepalese civil aviation authorities to help the country's air-traffic controllers manage the flights. Among the Air Force personnel deployed are airfield specialists who will work closely with local air traffic staff members.
Officials would not put a time frame on the mission but said it probably would last weeks. U.S. forces in Japan will supervise the operation.
"We're going to have as small a footprint as we can possibly have to run this thing," Kennedy said.
Air Force Lt. Col. Glenn Rineheart commands the Guam-based 36th Mobility Response Squadron that will be speeding the off-loading of aid at the airport.
"The question is how do we get the aid to the people who need it the most? There's a lot of cargo that's just being taken off the plane and it starts piling up," Rineheart said.
Nepal's army has been working with airport staffers and the DHL international shipping company to clear the backlog, he said, but "they're kind of getting overwhelmed."
He compared the response to U.S. military disaster relief after the 2010 earthquake in Haiti and 2013 typhoon in the Philippines.
Rineheart said the U.S. took longer to respond in Nepal than in Haiti because of the distance and the time it took to formulate the mission.
"You want to make sure you're not duplicating" other countries' responses, he said. For instance, the Indian army also has sent helicopters to assist.
Rineheart said Saturday that U.S. military flights were expected to begin arriving within 48 hours.
The United Nations has said that 8 million of Nepal's 28 million people were affected by the quake. At least 2 million are expected to need tents, water, food and medicine during the next three months.
The U.S. assistance comes just in time, said Nepal army Col. Anand Kumar Adhikari.
"Desperately we need support. People in remote areas, especially where roads are blocked by landslides, that has to be supported," Adhikari said from his headquarters at the airport.
Of the country's 75 districts, 34 suffered some damage, he said. In 14 districts, the devastation was severe.
"The critical part now is to deliver relief items" from the 40 tons they have amassed, he said, including ready-to-eat meals, but mostly non-food supplies they plan to drop from aircraft in remote areas until roads can be cleared.
Adhikari served with a yearlong planning group at U.S. Central Command at MacDill Air Force Base in Tampa in 2012 and is headed to the National War College in two months for a year of study. He says Nepal and the U.S. have "good interoperability."
"They understand us, we understand them," he said. "For short-term and long-term recovery, the U.S. military are the biggest assets."
It's unclear how soon the country and its capital will recover.
Katmandu's largest tent city of displaced residents, Tundikhel, has shrunk from 12,000 to 2,300 people as many left for outlying areas. Some who remained Saturday said they had nowhere else to go.
Junu Sundash, 19, grew up in an orphanage, then trained as a beautician to help raise her disabled younger brother; the quake destroyed their apartment building and left them sharing a tent in the camp with 18 others. The mall where she works is still closed because of quake damage. She doesn't plan to leave her tent anytime soon.
"I just want to be able to work at the beauty parlor and help my brother," she said.
As concern spread about sanitation, Katmandu District authorities banned meat, hoping to prevent communicable diseases. They urged residents to wear protective masks, already a popular item near quake-damaged buildings, to block the dust and stench.
More than 370 search-and-rescue personnel will begin winding down their efforts this week, Adhikari said, as the response shifts to recovery and relief.
He said the death toll could reach 10,000 as more bodies are recovered from debris.
"Hope is still there," he said, "but the chance is very slim."
A week ago, Udab Gautam, 40, went to collect rent at a building he owns in the bustling Gongabu area of the capital. After the quake struck, his younger brother, Suman Phuyal, rushed there to find Gautam's building reduced to a heap of bricks and twisted metal rods.
Phuyal, 30, has returned every day since.
At first, watching as rescue teams used two construction shovels to clear debris, he was sure that his brother would be found alive and rescued. Others have been, as late as Thursday.
But by Friday, the teams had recovered five bodies and started using only one shovel. They found seven more bodies at the site Friday, three Saturday.
A crowd of several hundred gathered to watch, complaining about the stench. Several dozen armed police officers forced them back, worried that a nearby brick building listing perilously would collapse.
Phuyal, a diminutive figure in a blue Adidas tracksuit, watched it all wearing a protective mask that failed to shield his tired, tearing eyes.
When he left at dusk Saturday, his brother remained among the missing.
molly.hennessy-fiske@latimes.com
shashank.bengali@latimes.com
Follow @mollyhf and @SBengali on Twitter for coverage of the Nepal earthquake
---
Must-read stories from the L.A. Times
Get the day's top news with our Today's Headlines newsletter, sent every weekday morning.
You may occasionally receive promotional content from the Los Angeles Times.