In Mekong Delta backwaters, Vietnam vets find peace in a town that war destroyed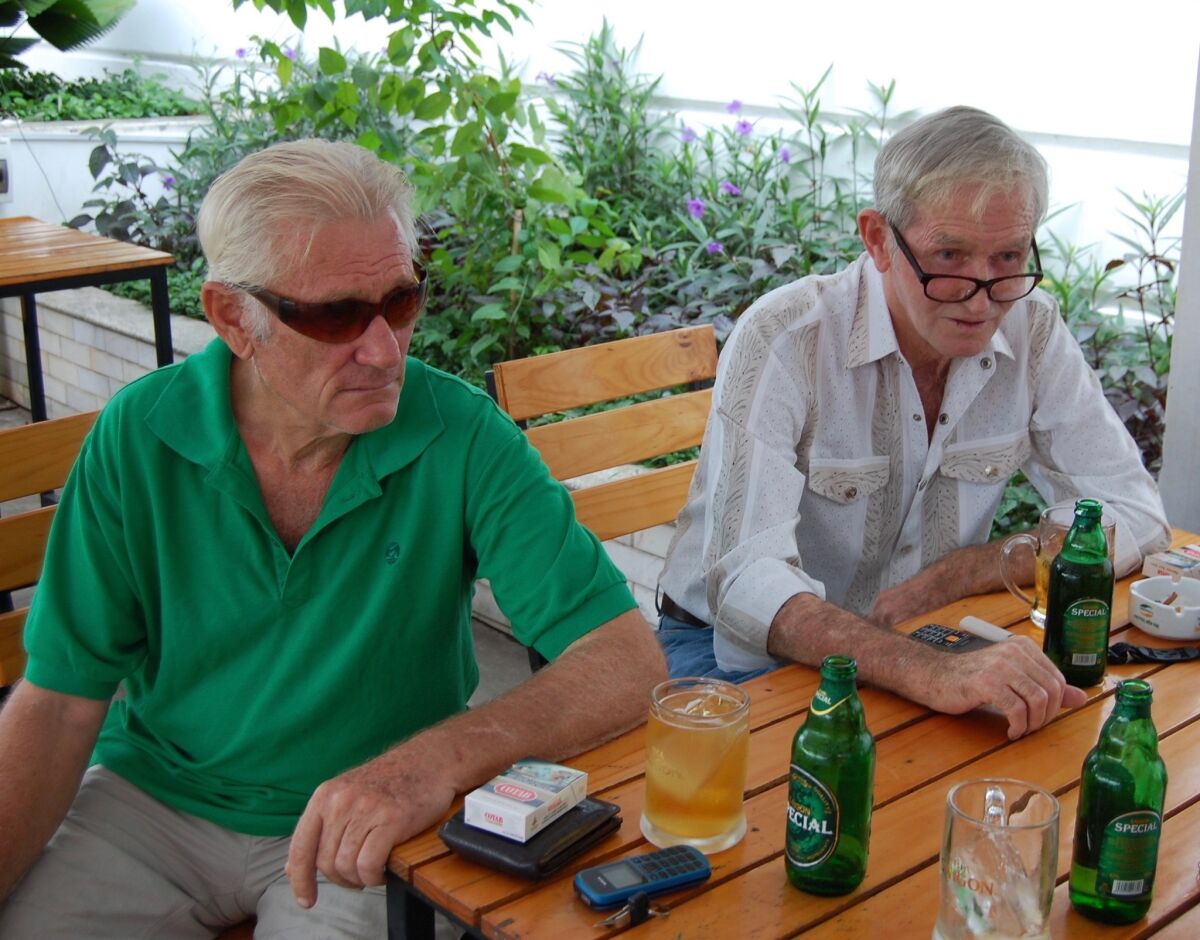 Reporting from BEN TRE, Vietnam —
Most foreign veterans who arrive in this swampy stretch of the Mekong Delta make their way to the Oasis Hotel.
The two-story, pale-yellow building on the Ben Tre River boasts a small pool near the open-air dining area and cold beer. They come looking for solace, something stronger than the support groups and pills. Then they meet Ken Horsfall.
This morning, the scent of roast pork wafted through the hotel. Horsfall, the 71-year-old owner from New Zealand, appeared from the front lawn in his usual attire, a half-buttoned, grease-stained shirt. He'd turned the electricity box into a meat smoker.
Horsfall never fought in Vietnam, or the American War, as it's known here. But in 2008, he and his wife, Nguyen Thi Lieu, settled in one of the towns most devastated by it. She wanted to trace her past; he wanted a new adventure.
They opened the hotel and welcomed veterans, many of whom traveled to Ben Tre with no illusions of heroics and decades of nightmares. Suddenly Horsfall, who loves telling stories so much he self-published a book of them, became part of this one — a gentle facilitator for the aging men who returned to find peace in a place where they once made war.
"They've got to get over here and confront it," he said. "They lost their youth here."
Saigon, now called Ho Chi Minh City, fell to Communist troops 42 years ago April 30, marking the end of the conflict. It's a holiday in Vietnam. Dates like that are not lost on John Foggin, one of the first foreign vets to settle in Ben Tre and try to make sense of his past.
He and his wife, Lan, live down the street from the Oasis. Horsfall popped in the other day on a three-seat bicycle he built from lawn chairs and an electric motor.
"It's like you have a big hole in your body and it won't close," said Foggin, 78. "When I first came back, I was trying to get closure. I can't explain it. I feel relaxed now."
He and his wife met when he was stationed in the South; they married before the war's conclusion.
As North Vietnamese Communist forces took over, Lan, now 70, fled the country with Foggin. Her brother, a supporter of the South Vietnamese, killed himself.
She did not go back for nearly a decade and a half. Now the couple live with her relatives in the spacious soft-pink house they built in the 1990s.
The Foggins have taken to the river town's pace and feel safer here than in California. They return to San Diego only for insulin and heart medicine.
Surrounded by family and bathed in a river breeze, the Foggins don't see a reason to leave.
Ben Tre lies about 50 miles south of Ho Chi Minh City, amid a tangle of tributaries. This tropical town became a milestone on the path to war in 1959 when a female Vietcong general led an uprising against Saigon's American-backed regime.
Nine years later, a battle between U.S. forces and Communist troops leveled half the houses here. The scene forever linked this region to words attributed to an American officer: "It became necessary to destroy the town to save it."
About 1,000 residents died; the war claimed 2 million Vietnamese and more than 50,000 American soldiers.
Ben Tre today is a city of more than 200,000. Locals sell coconut husks and cargo boats laden with woven baskets and quail eggs ply the river. The outdoor market smells of fish and flowers.
Organizations don't track the number of veterans who return to live in Vietnam. But thousands of American soldiers have visited since the countries normalized relations in 1995. So have vets from countries such as Australia and New Zealand, who fought alongside South Vietnam.
Some satisfy their desire for cheap beer and female companionship amid the neon lights of Ho Chi Minh City. Others, torn by guilt, start charities to combat the debilitating effects of Agent Orange, a toxic defoliant sprayed by American warplanes. Still more, recently retired and unable to shake a nagging curiosity, visit battlefields on air-conditioned bus tours.
"Vets are driven by a sense of confusion as to why they were there," said Christina Schwenkel, associate professor of anthropology at UC Riverside. For those who decide to stay, "it allows them not only to witness peace but to participate in the process."
Years before he returned to Vietnam, Australian veteran Ken Watkins knew he had a problem.
Memories of the war echoed worst at night. His first marriage ended. His second wife told him it was impossible to share a bed. Someone said a trip back would help. A buddy knew a man with a hotel.
He flew here six years ago — to a country he never actually knew, conflicted about his role shaping its history.
Like many afternoons now, Horsfall and Watkins drank Saigon beer on the Dong Khoi patio, a bar across the river in the town center.
Watkins goes by the nickname Cowboy, which fits the former sheep shearer who wears pointed-toe boots and striped shirts with shiny buttons.
He met Hornsfall at the Oasis, where even the name implies refuge. A section for vets on the hotel's website reads, "we will do our best to help." Rooms feature a typed history of Vietnam that starts with the French occupation.
"Nearly all the blokes I know were staying at Ken's at some point," Watkins said.
"Only because I have somewhere they can stay," Horsfall said.
Horsfall and Lieu made sure Watkins met a woman named Hanh; they now live in a house with a gazebo. Watkins started paying a share of the school tuition for a local friend's son. It felt good to help, he said. The nightmares stopped.
"It's transformed me into a certain type of person," he said. "I never felt better."
Horsfall doesn't take to all the vets who come through.
He winces when he talks about the veteran who didn't care enough to remember his Vietnamese mother-in-law's name. He more fondly remembers helping reunite a South Vietnamese man and an American soldier who once worked together.
"It's the middle of the Caravelle Hotel under the chandeliers," he said. "There are three American guys coming down the stairs, a foot high over me. I said, 'Capt. Larry Rhodes, I'd like you to meet your scout. Could you stand up, please?' The tears start coming."
He paused.
"That's a good feeling story," he said, as usual, leaving it tantalizingly incomplete.
He tried to help a woman and her grown daughter find the soldier who took off before the girl's first birthday. No luck. The mother killed herself, he said, looking away.
Horsfall was born the year after World War II ended, in a small New Zealand town. He had little formal education, but curiosity and restlessness took him to Papua New Guinea and Cambodia. In his book, he recalls doing nearly 30 jobs, including underwater filmmaker, optical glass fitter, bar owner, and in-country mechanic for the Royal New Zealand Air Force.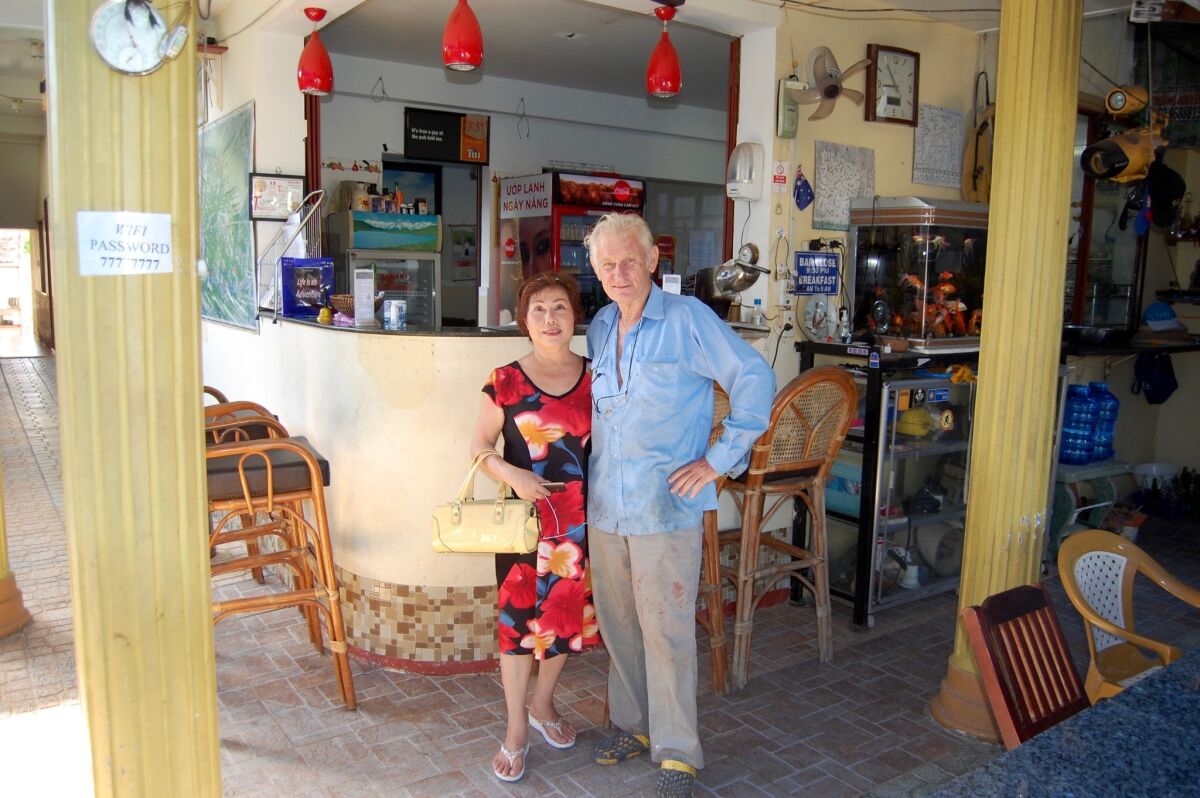 In 1993, Horsfall was in Phnom Penh, Cambodia. He went for a haircut at the hair salon Nguyen ran that also sold beer. He was working as a mechanic for the United Nations. Both had previous marriages and children.
They married four years later in New Zealand, where the couple settled for 11 years, until Nguyen decided she should return to her mother's hometown and meet her relatives. The couple had owned a bar in Cambodia, so why not a hotel?
"This feels like home," said Nguyen, 60. "I'm financially independent. People look up to me."
She runs the hotel with drill sergeant efficiency. One day, she pitched guests a tour through the canals as Horsfall launched into a tale about a treasure map he possessed that led to 150 buried samurai swords.
"Ken the Cowboy says no one smiles at him in Australia," Nguyen said, smiling.
Something less definable anchors these men and their spouses to this Mekong tributary. Their time here grants them reassurance as they age, even acceptance.
"We were the bad guys," said Dennis Coe, an American vet and Horsfall's best friend in Ben Tre, who recently returned to Washington state to seek treatment for conditions he attributes to Agent Orange.
But when he returned to his wife's hometown, no one blamed Coe for his part in the war. "You see the world from a different perspective," he said.
He'll go back, just as soon as the doctor says he can travel again, he said by phone. "I miss my friends."
Especially, he said, his buddy Horsfall.
The hotel owner is quietly proud he can fix almost anything — a cargo boat engine or a power generator using tubing and a plastic bucket. But he never mentions one item on the list of things he has helped patch: broken lives.
"Vets are welcome," he said. "We have somewhere they can stay."
Meyers is a special correspondent.
Twitter: @jessicameyers
Their parents' lives were defined by war. Now Vietnam's youth are pushing the country toward a new identity.
Born in America, Sriracha sauce tries its luck in Vietnam
They made it home from Vietnam. Now, these vets battle a rare form of cancer.
---
Must-read stories from the L.A. Times
Get the day's top news with our Today's Headlines newsletter, sent every weekday morning.
You may occasionally receive promotional content from the Los Angeles Times.