Born in America, Sriracha sauce tries its luck in Vietnam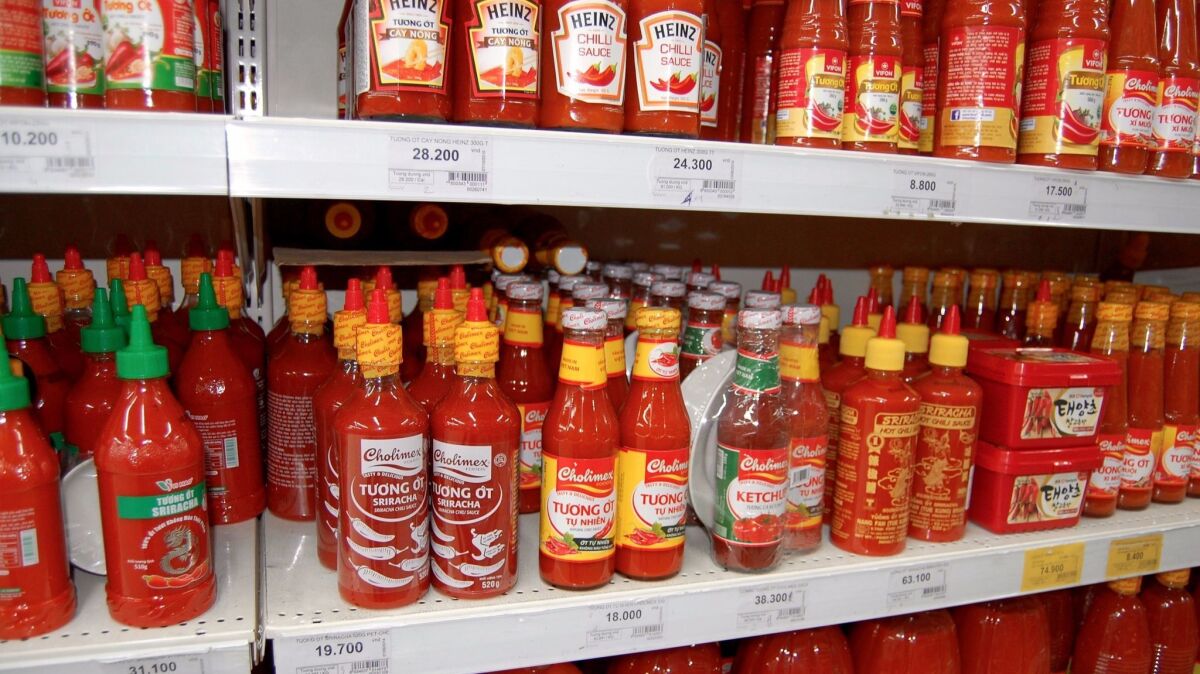 Reporting from Ho Chi Minh City, Vietnam —
Nguyen Linh's mother blames her daughter for an addiction that started seven years ago.
The older woman, on a visit to Nguyen's home in Washington, couldn't get enough of that fresh, garlicky taste tinged with heat and sugar. She stashed five bottles in her suitcase on the flight back to Vietnam.
When Nguyen's mother-in-law flew in last year, she requested it at almost every meal.
Sriracha commands a fervent following in the United States. Fans make movies about the stuff; five-star restaurants offer it. That euphoria is spreading to Southeast Asia, where a chili sauce created nearly four decades ago by a Vietnamese immigrant in Los Angeles is suddenly filling shelves in Ho Chi Minh City. The ubiquitous American condiment, which traces its roots across the Pacific, is finally making its way back.
This plastic bottle debut tells the story of globalization, but it also speaks to the powerful melding of taste and nostalgia in a country that — even more than most — links identity with food.
It's one of few items "that makes us feel like we're at home," said Nguyen, 46, who works for the World Bank in Washington. "It's really special."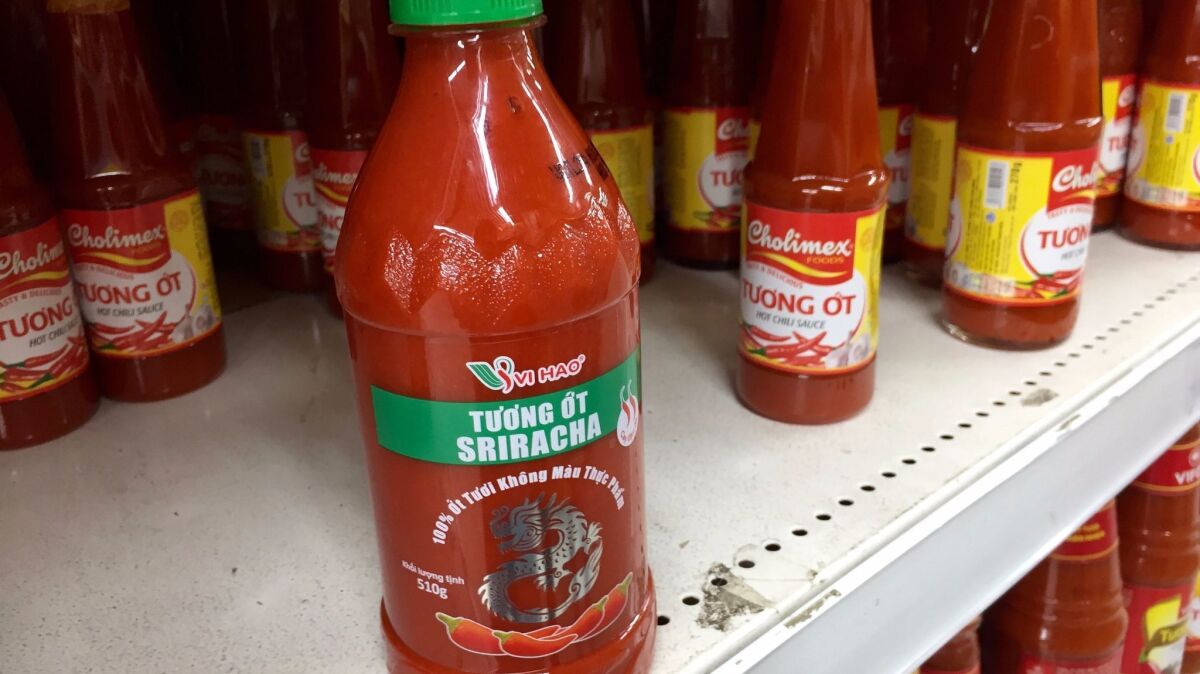 Finger-shaped red and green chilies accompany dishes in Vietnam, a nation that prides itself on fresh herbs and balanced flavors. President Obama dutifully dropped the scorching ringlets into his bowl of rice noodles and grilled pork while dining at a Hanoi street-side restaurant last year with chef Anthony Bourdain.
People eat together in the tropical air. The scents of mint and fermented fish sauce cling to outdoor tables and short plastic stools.
Such tastes influenced David Tran, who started producing a peppery marinade 42 years ago in Vietnam. A major in the South Vietnamese army, he fled the country after it fell under Communist rule and Saigon officially took the name Ho Chi Minh City.
Tran settled in L.A., where he was determined to make a concoction colorful and fiery enough to satisfy the Southeast Asian population filing into the city. He named his company Huy Fong Foods, after the freighter that sailed him out of Vietnam.
"We started this because we like fresh, spicy chili sauce," Tran said, in a mission statement of sorts on the company's website.
He made his first sauces by hand in a bucket. Tran called one Sriracha, a version of the Si Racha chili sauce that traces back to a coastal town in Thailand. His had a deep red hue, a thick river of garlic, distilled vinegar and jalapeno peppers poured into a plastic bottle with a green top and a rooster logo. The rest is history.
They wanted some authentic Sriracha and all I could say was, 'sir-what-cha?'
— Tour guide Vo Vu
Huy Fong Foods credits its local distributor for pushing into Vietnam. Tran, in an email, said strict agricultural regulations in the U.S. make produce "more safe to eat." The company directed sales questions to the distributor, C. Pacific Foods.
C. Pacific's Caroline Chang said the Norwalk business sold more than 57,000 bottles since it started working with a Vietnamese client last April.
"It is exciting to see them move this much inventory," she said.
The bottles head to places like Phuong Ha Shop, a two-aisle store in downtown Ho Chi Minh City jammed with Heinz ketchup bottles, hoisin sauce and cat litter.
"Lots of Vietnamese enjoy American Sriracha because it's spicier and has more taste than the Thai version," said Diep Huong, a longtime employee there who estimates the store sells up to 20 boxes a month. The shop attracts foreigners for imports such as chocolate and biscuits, but she watches more Vietnamese buy Tran's Sriracha.
The bottles nestle next to rivals: a fire-engine-red Thai one whose label looks remarkably similar save for a Buddha-type figure offering lobster on a tray, and Cholimex's Tuong Ot, a fruitier, less acidic Vietnamese hot sauce.
A 17-ounce bottle of American Sriracha costs nearly $5, around $2 more than the Thai version and five times as much as some Vietnamese hot sauce brands.
Tran is unusual in that he never trademarked his product, so rivals can not only duplicate the sauce, but also label it Sriracha.
"My mom bought some out of nowhere and I just liked it," said Vu Duc, a 16-year-old student who — like many in the U.S. — had trouble explaining exactly why. He finished his iced coffee at a cafe and started thinking about dinner. "When my mom makes chicken and there's no dipping sauce, it's very boring. I'm going to ask her to buy more."
Chili sauce is a controversial topic in a country where homemade dipping sauces are an essential part of many meals. Vietnamese take their food seriously. Restaurants fit into alleyways and drift onto sidewalks. Northerners consider additions to pho, the staple noodle soup, an act of corruption; southerners dump heaps of garnishes into their bowls.
"Viet people love eating," said Vo Vu, who runs Saigon Street Eats, a food tour in Ho Chi Minh City, with his wife. "You can see people are basically eating all day here…. And we love talking about eating."
And yet Sriracha has not gone mainstream in Vietnam. The sauce received more online attention when it appeared in Thailand grocery stores in December than when it showed up on shelves here. Ho Chi Minh City's tourist stands sell Starbucks T-shirts, but few market ones with rooster sauce logos. Connoisseurs can find bottles at larger grocery stores, but outdoor markets with fresh eggs and dried noodles don't stock it.
How to make your own Sriracha »
"Some people have gotten used to eating Sriracha with pho, but I don't see it pushing out the other chili options in the Vietnamese kitchen," said Andrea Nguyen, who lives in Northern California and has written several books about Vietnamese food. "Sriracha is not synonymous with Viet cooking. It's a Thai condiment."
Many Vietnamese devotees first tasted the rooster sauce on trips to the United States. Tuan Le, who runs L.A.-themed Bunker Bed & Breakfast in a posh district near downtown Ho Chi Minh City, still carts Sriracha back in his suitcase.
"You can get it here but people say it's not the same," said Le, 31, who grew up in Los Angeles and named his hotel after Bunker Hill in downtown L.A. A California Republic bear flag greets visitors and a hipster courtyard diner offers chicken and waffles, with Sriracha available on the side.
But can a sauce whose origins come from one side of the Pacific make it big when it crosses back? Or is Sriracha an American phenomenon that Vietnamese will always view as a representation of somewhere else?
Vo, the food tour guide, first heard about "the cock sauce" four years ago while showing around Texans.
"They wanted some authentic Sriracha and all I could say was, 'sir-what-cha?'"
He's since found some. While Vo thinks the flavor is nice enough, he questions just how much it will catch on "unless they make it more spicy."
Tran's simple sauce has never followed convention. Vietnam, like everywhere else, is divided between fans and skeptics. Sriracha's future success here rests on winning over some highly discerning palates.
"With American Sriracha, the color is more vibrant and the taste richer," said Nguyen Ly, as she perused chili sauce bottles in the basement grocery store of a Ho Chi Minh City mall.
The 22-year-old engineering student tested a dribble in the U.S. and has hunted for it ever since. "I don't use the Vietnamese [hot sauce] because it doesn't taste quite the same," she said.
Nguyen once more eyed four rows of glistening red juice, infused with everything from sweet chili to white vinegar, absent of Tran's Sriracha.
She turned the cart and made her way down the aisle.
Meyers is a special correspondent.
ALSO
Their parents' lives were defined by war. Now Vietnam's youth are pushing the country toward a new identity
Meet the culinary zealot fighting to preserve Syrian cuisine despite years of war
China cautions U.S. against starting a trade war, casting itself as champion of globalization
Must-read stories from the L.A. Times
Get the day's top news with our Today's Headlines newsletter, sent every weekday morning.
You may occasionally receive promotional content from the Los Angeles Times.