Brazil sees some of the largest antigovernment demonstrations in its history
Reporting from Sao Paulo, Brazil —
Some of the largest antigovernment demonstrations Brazil has seen took place Sunday, after long-standing accusations of corruption against former President Luiz Inacio Lula da Silva crystallized into formal charges against him last week.
Lula was charged with money laundering and criminal misrepresentation last week. Though he denies any wrongdoing, the scandal now threatens to engulf his successor, President Dilma Rousseff.
NEWSLETTER: Get the day's top headlines from Times Editor Davan Maharaj >>
Hundreds of thousands gathered Sunday to protest in cities and towns across Brazil, with 100,000 reported in Brasília, and an estimated 500,000 in Sao Paulo -- the largest demonstration held in that city, according to pollsters Datafolha. The previous record was held by a "Diretas Ja" ("Direct Elections Now") protest in 1984, toward the end of the country's 21-year military dictatorship, with 400,000 people in attendance, according to the same group.
Across Brazil, upward of 1.3 million people were estimated to be out on the streets Sunday to call for Rouseff's ouster and Lula's imprisonment.
In a sign of the volatility of the political times, powerful center-right politicians joined the Sao Paulo demonstration only to find themselves booed and jeered at. "People seem to be in an 'Out With Them All' mood," Luciana Genro, a member of Congress and founder of the Socialism and Liberty Party, tweeted. "If Car Wash continues and goes all the way, the political caste will fall," she wrote, referring to "Operation Car Wash," the name given to the corruption investigation into bribes and kickbacks at Brazil's partly state-owned oil giant, Petrobras.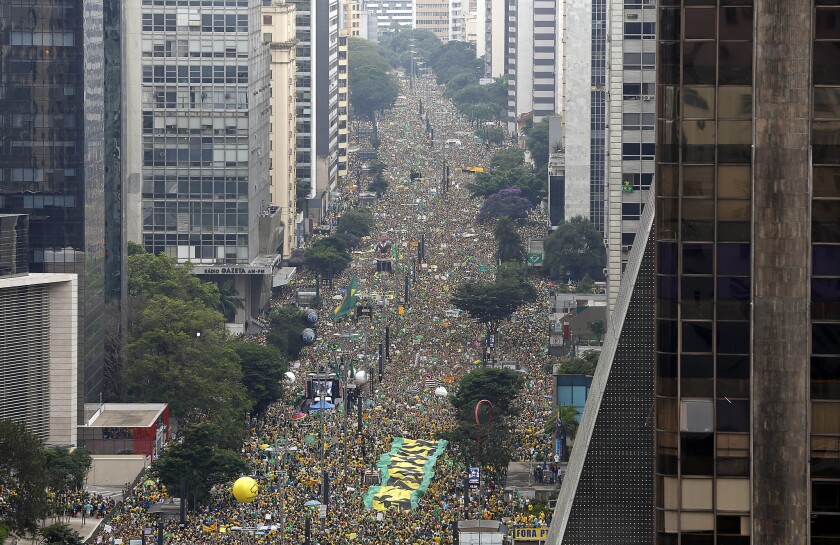 "I want Dilma out, but we have a serious problem: There is no leader we can believe in. There is an impasse. We need a leader, a powerful leader, perhaps someone new," said Liege Carrela, 57, an architect, speaking in the thick of the crowd on Avenida Paulista.
From a series of large, well-organized platforms atop large trucks, each organized by a different element of the right-wing opposition movement, speaker after speaker decried government corruption, in many cases employing highly charged rhetoric. "Lula says he knows nothing!" shouted one speaker, his words amplified by a large sound system that sent them echoing down the streets on either side of the avenue. "But I see no one here with the word 'idiot' branded on their forehead. They take us for fools!" he roared.
The protests, planned by a loose coalition of new, right-wing political organizations, take place against the backdrop of an economic recession that may be the worst in Brazilian history, according to the newspaper Folha de Sao Paulo. By the end of the year, Brazil's economy will have shrunk by 8.7%, after 11 consecutive quarters of contraction, the paper warned.
"I want to see a big political shock," said protester Dalton Sales, 37, an economist at Citibank. "There has to be a big change. I know it's going to be difficult, but as a Brazilian, I always have hope that we can change for the better."
All around, protesters, who were for the most part white and visibly affluent, held signs and banners reading, "Dilma Out," "I want my country back," "Hunger for Change," and "Moro: Pride of Brazil," referring to Judge Sergio Moro, head of Operation Car Wash. Others brandished blowup dolls of Lula and Rousseff in prison garb. The atmosphere was cheerful, almost euphoric at times, and the crowd chanted and sang. Families could be seen taking selfies and group photographs. But some of the imagery was oddly violent. Thousands in the crowd wore paper masks depicting Lula and Rousseff as gray-faced zombies, blood oozing between Lula's bared teeth.
"[Dilma] knew what was going on in her government, it's impossible that she didn't," engineer Renato Castro, 61, said. "I would prefer for her to resign, but she will never do that, so she has to be forced out."
At the Maksoud Plaza hotel, a block from the packed, seething Avenida Paulista, a newly formed committee made up of politicians and members of antigovernment groups convened to discuss the next steps toward Rousseff's impeachment.
If the presidential impeachment process, already underway, is successful this year, Vice President Michel Temer of the Brazilian Democratic Movement Party would become president. Should he be excluded for any reason, new presidential elections would be called – potentially disastrous in the year that Brazil is scheduled to host the Olympic Games.
If impeachment does succeed, but not until 2017, then a new president would be chosen by Congress.
Another possibility -- supported by opposition politicians, including former presidential candidate and current member of Congress Marina Silva -- is the quashing of Rousseff's 2014 election victory by the Supreme Court. Silva may be in the best position to win, say some commentators, in a snap election now.
New Zealand tourists David Webb, 26, a business advisor, and Laura Davies, 27, a civil engineer, had stumbled on the demonstration by accident on their third day in the city. Emulating some of the demonstrators around them, they had taken selfies with police officers and also with "some guys in army fatigues." Informed that the protesters in military dress were probably members of extremist groups calling for military intervention, who are always present at the antigovernment protests, Davies' face fell.
"Oh," she said. "That's a lot more intense than I had realized."
Rigby is a special correspondent.
ALSO
Brazil's corruption inquiry seeks arrest of ex-President Lula, adding pressure on government
Egyptian justice minister fired after saying he would jail the Prophet Muhammad
Far-right party surges in German elections after anti-immigrant campaign
---
Must-read stories from the L.A. Times
Get all the day's most vital news with our Today's Headlines newsletter, sent every weekday morning.
You may occasionally receive promotional content from the Los Angeles Times.