Drought blamed for upsurge in dengue fever in Brazil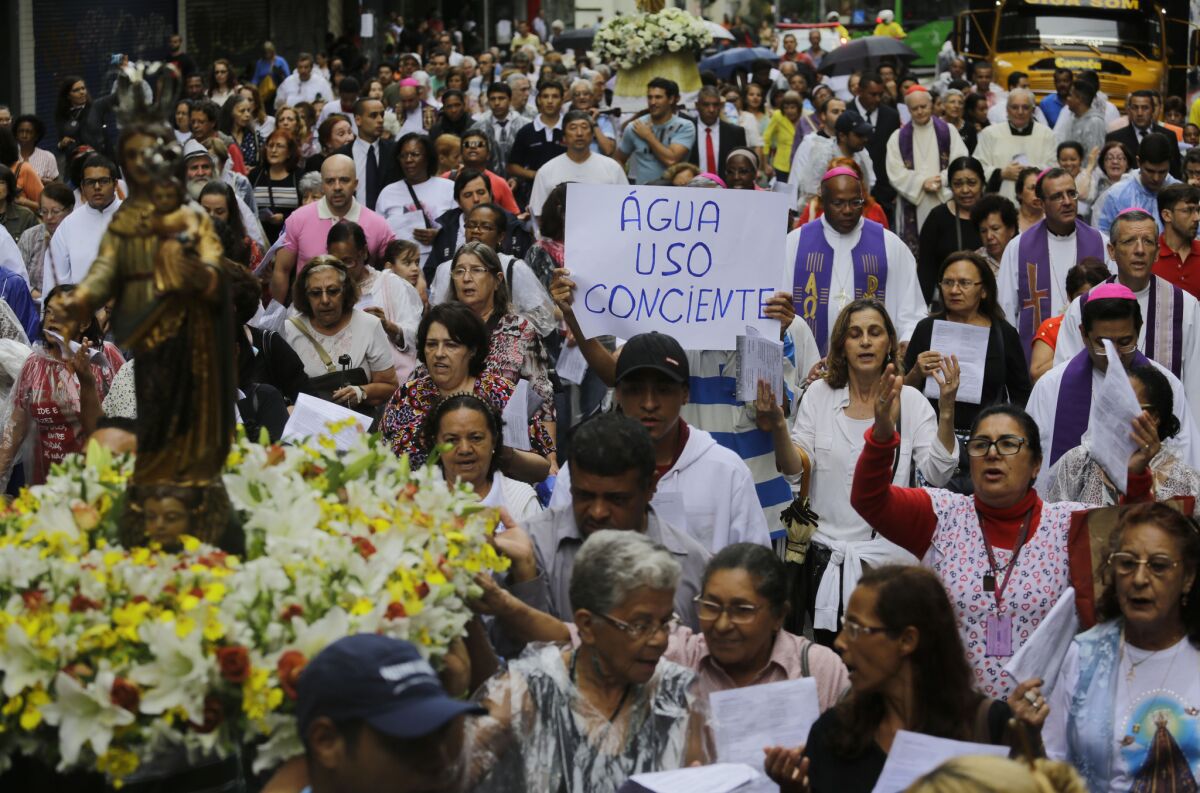 Reporting from São Paulo, Brazil —
Brazil's armed forces have joined the battle against an outbreak of deadly dengue fever in São Paulo, South America's largest city, a jump blamed in part on the severe drought and water crisis plaguing the region.
The virus, spread by mosquitoes, resulted in 132 deaths across Brazil in the first 12 weeks of the year, the government said, compared with 102 during the same period in 2014. The uptick in confirmed cases in São Paulo has been far greater: 20,764 through April 11 this year versus 7,126 in the same period last year.
The spread of dengue is usually associated with heat and the rainy season, since the Aedes aegypti mosquito often comes in contact with humans after breeding in exposed still water. But government admonitions against open water containers have been complicated in recent months by a regional water crisis, in which a majority of households have lost water service at some point. As a result, many families have been storing water wherever they can, thus providing more breeding grounds than usual for mosquitoes.
On Wednesday, 50 trained members of the armed forces began a mission of accompanying health workers in the city's most affected areas, providing protection and attempting to persuade more residents to take the threat and prevention measures seriously. Already, 2,500 city disease specialists have been visiting households daily.
"São Paulo is still not living through an epidemic," said Adjunct Health Secretary Paulo Puccini at a news conference on Wednesday. "I'll only speak of an epidemic when the entire São Paulo municipality reaches a certain level [of infection]. For now, we are calling it an outbreak."
Photos released by the city show men in green camouflage alongside health workers in blue vests and jeans knocking on doors in the city's lower-middle-class neighborhoods.
Brazil is rich in water resources, but last year's rainy season in the heavily populated Southeast, which includes São Paulo, was the driest in eight decades. Experts have said that poor city planning in the state contributed to the crisis in urban water supply, which may well continue into the future.
Poorer neighborhoods have been hit the hardest, but even many upper-class homes and restaurants in the city have water only during the daytime, and many city residents are relying on home water tanks to store reserves.
Dengue fever ranges from flu-like symptoms to hemorrhagic fever and death. The virus is not communicable from person to person, and most individuals experience the worst symptoms when infected for the second or third time.
Earlier this week, the U.S. Centers for Disease Control and Prevention issued a low-priority "Level 1" travel notice for dengue in Brazil, noting that "Acre, Sao Paulo, and Goias are the states most affected." According to the World Health Organization, dengue kills more than 22,000 people per year.
Bevins is a special correspondent.
Must-read stories from the L.A. Times
Get the day's top news with our Today's Headlines newsletter, sent every weekday morning.
You may occasionally receive promotional content from the Los Angeles Times.