Cup brings whole new world to Brazil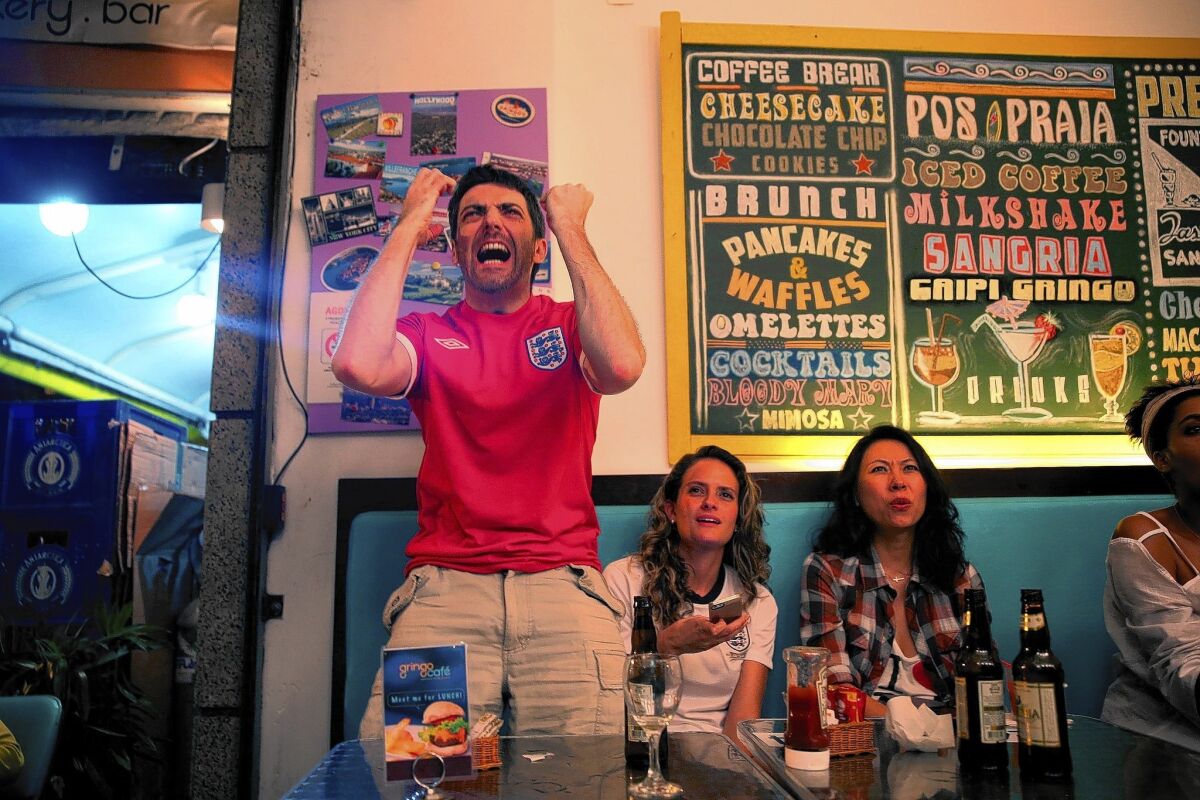 Reporting from RECIFE, Brazil —
Ana Ramos was flabbergasted when she found out that she was considered a "gringo" in Recife, a host city for the World Cup soccer tournament in Brazil.
After all, Ramos has always lived in Mexico.
"That's them! The Americans," said Ramos, who was among a group of Mexico fans eager to celebrate their team's 3-1 win over Croatia on June 23.
"Well, I'm sorry, you are," said the smiling driver of a local health services van, who offered to give the Mexico fans a ride downtown for celebrations with Brazilians and others from around the world.
With their country's vast size and relative lack of immigration in recent decades, many Brazilians are not accustomed to interacting with foreigners. The 2014 FIFA World Cup, which began June 12 and ends July 13, offered some Brazilians the first opportunity to meaningfully interact with people from other places.
"I don't think Brazil has ever had this many foreigners throughout the country," said Igor Fuser, professor of international relations at the ABC Federal University in Sao Paulo.
In Brazil, the word "gringo," unlike in Latin American Spanish, may be used to describe any foreigner, whether from Canada or Japan or Bolivia.
Fuser said the concept of "gringo" is very imprecise, but that it can include a certain deference to foreigners.
"Brazil can be said, broadly speaking, to have an inferiority complex," he said. "There is the idea that everything that comes from gringolandia is better."
But foreigners are also often seen as people who don't understand Brazil or are foolish or clumsy.
"A lot of people assume that foreigners have money and present an easy opportunity for those who want to trick or take advantage of them," said Wesley Souza, who met foreigners for the first time during a World Cup party in Sao Paulo.
Brazilians speak of the "complexo de vira-lata," or "stray dog complex," a term coined by literary icon Nelson Rodrigues to describe the trauma inflicted by losing the World Cup final to Uruguay in 1950, the last time Brazil hosted the tournament.
Some Brazilians say the vira-lata complex means constant self-doubt as the country tries to measure up to the rest of the world. In many ways, the ambitious 2014 World Cup was imagined as a vehicle for proving that Brazil could host the tournament just as well, if not better, than anyone else.
As an estimated 600,000 foreigners have poured into 12 host cities during the tournament, the exchanges between foreigners and locals seem to have gone well, many fans said.
Sports Minister Aldo Rebelo has said "the event has met the challenge of protecting everyone without any serious incident." Incidents included 80 Chile fans breaking into Rio de Janeiro's Maracana stadium and police in Sao Paulo dispersing celebrating Argentina fans with a smoke-and-noise grenade.
"I think the foreigners were more surprised than we were at times, at how prepared and normal we were," said Luiza de Sa, 30, who worked part time at the World Cup stadium in Natal. "But the experience was sensational. The great revelation for us was when Ghana mounted a stage in town, and put on events with their culture and music."
Brazil is often compared to the United States, a country of mixed racial background that is so large that citizens tend to stay within its borders. Most Brazilians live along the coast, far away from the 10 countries on its borders, and economic issues compound the difficulties of international travel for most people.
Brazil's media pay close attention to international coverage of the country. After foreigners were reported praising the World Cup and the reception Brazilians gave them, support for the tournament increased, according to a recent poll.
"It's absolutely amazing how extremes of rich and poor mingle so effortlessly, as if it was nothing," said Ben Anderson, 22, from England. "But everyone has been outrageously nice to us and eager to welcome us. If the World Cup was in England, we'd never treat foreigners so well."
Nathanael Walter, 13, of Sao Paulo, said he'd never spoken to a foreigner before June.
"It's one thing to just have in our imagination what foreigners are like," he said. "But that doesn't work. You have to meet them. It's much cooler."
Bevins is a special correspondent.
Must-read stories from the L.A. Times
Get the day's top news with our Today's Headlines newsletter, sent every weekday morning.
You may occasionally receive promotional content from the Los Angeles Times.