Armenia contemplates the unlikely: a nonviolent revolution on the cusp of victory
Reporting from Yerevan, Armenia —
For weeks, Armenians attempted the unthinkable — to bring down their government through peaceful mass protests.
On Monday night, they returned to the capital's central Republic Square, this time to celebrate their impending victory.
"I'm so proud to be Armenian now," said Satenik Gevorgyan, 28. "This is the kind of change we've been waiting for all our lives."
Armenia's parliament is expected to elect opposition leader Nikol Pashinian as prime minister Tuesday, nearly a month after the 42-year-old led hundreds of thousands of Armenians in a civil disobedience movement. The nonviolent demonstrations began in April and at times paralyzed the capital, Yerevan, with road blockages, labor strikes and street dance parties.
The demonstrations were unprecedented in size and scope for this small, mountainous republic tucked in between Georgia and Turkey, and Iran and Azerbaijan. Frustrated youths fed up with the lack of economic opportunities under the decade-long rule of former President Serzh Sargsyan dominated the protest movement, and quickly galvanized generations across the country.
The movement was most remarkable for its unexpected outcome: the peaceful ousting of a pro-Russia ruling elite in a former Soviet space.
Armenia's movement has been unusual also for its lack of a geopolitical element, unlike in Georgia and Ukraine in recent years. In the latter two nations' so-called color revolutions — the Rose Revolution in Georgia and the Orange Revolution in Ukraine — Russia's interests came in conflict with those of the West, particularly the United States, which sought to bring both of those former Soviet states closer to the European Union.
In Armenia's case, the protest leaders took an Armenia-centric stance. Pashinian promised early on that, if elected, he would not change Yerevan's relationship with Moscow or the West.
Armenia, a former Soviet republic that gained independence in 1991, is tied closely to Russia through trade, subsidized gas and military dependence. Russian soldiers guard Armenia's borders with Turkey and Iran. Russia's Gazprom energy giant supplies Yerevan with cheap gas, and Armenia is a member of the Moscow-led Eurasian Economic Union, a trade bloc that also includes Russia, Belarus and Kazakhstan.
Last year, Armenia signed an agreement with the European Union that stops short of entrance requirements to the economic bloc, but provides financial assistance for adopting certain reforms. The agreement was signed under intense scrutiny from Moscow, which was reassured only after Yerevan agreed to enter the Eurasian Economic Union first.
Pashinian, a former journalist turned opposition member of parliament, seemed an unlikely prime minister six months ago. But in the last month, he has proved to be a master of populist street movements and "the right man at the right time," said Richard Giragosian, the director of the Yerevan-based Regional Studies Center, a think tank.
Pashinian, has tapped into and mobilized Armenia's frustrated, younger generation, who have grown up in a post-Soviet republic whose potential for democracy and prosperity have fizzled under a political elite that catered to the country's wealthy oligarch class.
"Pashinian has a unique combination that's rare in Armenia and, in fact, rare in the post-Soviet space: a combination of charisma and tactical expertise," Giragosian said.
He was also graced with luck: The tipping point in Armenia came because of "the combination of political vulnerability of the Republican Party with an economic crisis," he said. "It was the perfect storm."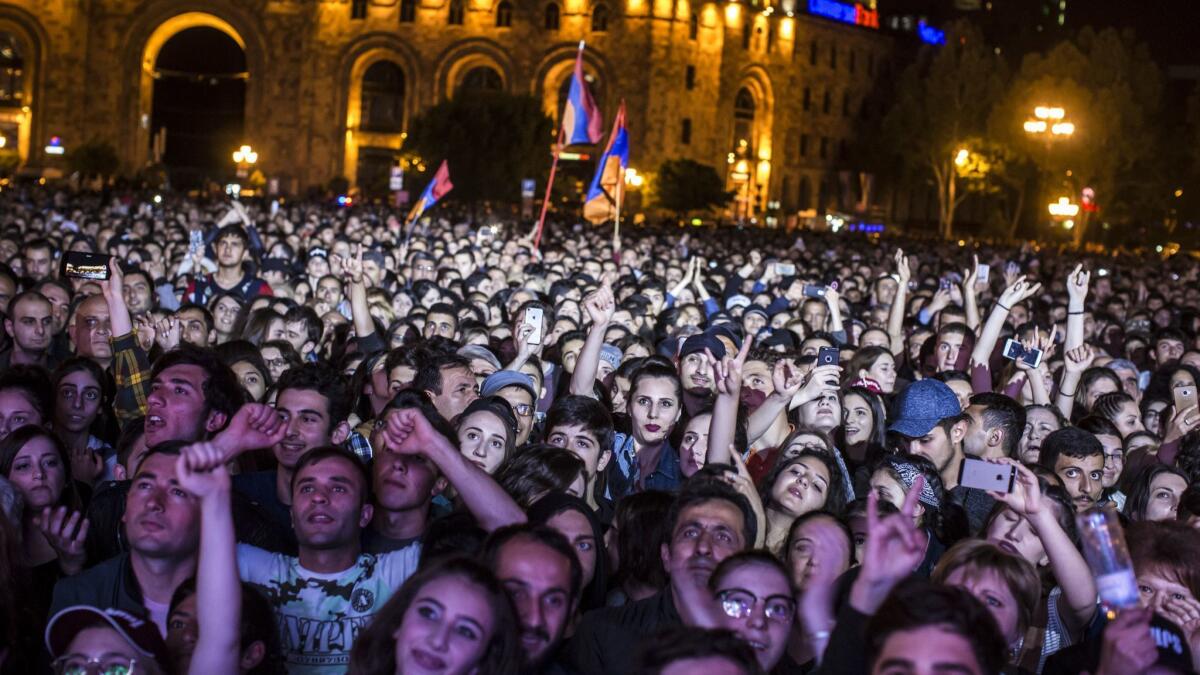 Sargsyan was elected president in 2008 in a vote contested by his opponent, whom Pashinian supported. Violent street clashes protesting the vote left 10 dead.
Sargsyan went on to win a second, five-year term. Term limits prevented him from running again, but constitutional reforms bolstered the position of prime minster starting in 2018. Sargsyan's Republican Party, eager to retain its political and economic control over the country, nominated Sargsyan, 63, to the post, essentially paving the way for him to rule indefinitely.
The decision was not taken lightly in Armenia, where economic growth has benefited only the top 5% of the country's 2.9 million people. Critics of Sargsyan and his party said cronyism and corruption keep the oligarch class — which is closely connected to the ruling party — wealthy, while the rest of the country suffers. About 30% of Armenians live below the poverty line.
Pashinian began a cross-country march on April 1 in protest of the prolonged rule of Sargsyan. Beginning in Gyumri, Armenia's second-largest city, he and a group of followers and members of his opposition party, Civil Contract, walked the 75 miles to Yerevan 13 days later, just three days before parliament was scheduled to elect Sargsyan as prime minister.
When they arrived in Yerevan, the city was already galvanized. Hundreds of demonstrators camped out on the French Square near the opera house and not far from the parliament building. Protesters blocked a main intersection for four days to call attention to the movement.
Despite the growing demonstrations, the Republican Party defiantly elected Sargsyan prime minister on April 17. Pashinian immediately called for mass acts of nonviolent, civil disobedience across the city. Demonstrators blocked metro entrances, squares and central streets of the capital. Groups of demonstrators danced in the streets and blocked roads by pulling benches into intersections, paralyzing the center of the capital and launching the beginning of what became known as Armenia's nonviolent Velvet Revolution.
On April 23, in an unexpected turn of events, Sargsyan capitulated and announced his resignation, saying "the movement on the streets is against my rule, I will comply."
"Pashinian was right, I was wrong," he added.
Last Tuesday, parliament voted again, but the Republican Party refused to elect Pashinian. About 250,000 protesters poured into Republic Square, the largest demonstration in Armenia's 27 years of post-Soviet independence. The capital was again paralyzed by roadblocks and protesters the following day, until the Republican Party agreed to support Pashinian's nomination as prime minister in a new vote this Tuesday.
"We will now stop our actions for a while and rest," Pashinian told the crowd that night.
A week later, Armenians are still feeling euphoric from the momentum of their nonviolent revolution. Several thousand turned out in Republic Square for a celebratory concert Monday night and waited to hear Pashinian speak on the eve of the crucial vote. Earlier in the day, the speaker for the Republican Party announced that its majority in parliament would back Pashinian's election.
"Nikol Pashinian is cooler than Che Guevara!" said Eric Sargsyan, 26, who had left his birthday party with friends to come to the square to see "the future prime minister." (He is not closely related to the former president.)
"This man will go down in Armenian history!" he shouted over the loudspeakers blaring rock music.
If elected, Pashinian has said he will form a temporary government to begin addressing Armenia's economic and political crisis, and call for parliamentary elections in the fall. Until then, the Republican Party will still hold the majority of seats in the parliament, possibly creating significant hurdles for the new government.
"This is only the start of the game," said Artak Manukyan, an economist and chairman of the National Center for Public Policy Research, a think tank in Yerevan. "If it all goes smoothly, I think there will be huge opportunities for Armenia."
Twitter: @sabraayres
Ayres is a special correspondent.
Sign up for Essential California for news, features and recommendations from the L.A. Times and beyond in your inbox six days a week.
You may occasionally receive promotional content from the Los Angeles Times.