Britain says a proposed 'Brexit' deal reached with EU, but an agreement still requires numerous approvals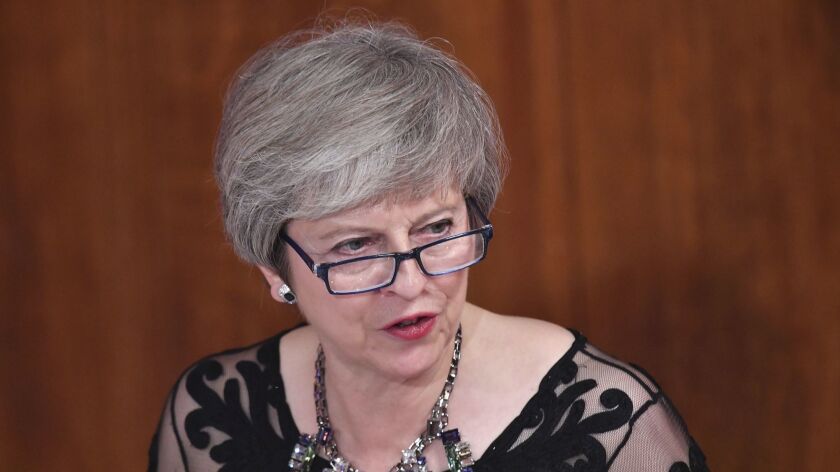 Reporting from London —
British government officials said Tuesday that a proposed "Brexit" deal had been reached with European Union negotiators after months of difficulties, though a final agreement still requires overcoming significant political skepticism and opposition.
British Prime Minister Theresa May and a divided Cabinet are expected to hold a special meeting Wednesday on the proposed conditions for the country's exit from the 28-nation EU.
The details of the proposed agreement were not immediately available, but British officials have said recently that a draft deal was 95% complete. A key and challenging part of the talks has been how to avoid checks along the border between Northern Ireland, which is part of Britain, and Ireland, which is a member of the EU. Other issues included access to European markets and worker rights protections.
The pound rallied 1.5% against the dollar after news of the draft deal became public.
Representatives of the other EU nations are scheduled to meet Wednesday in Brussels, and a spokesman for chief negotiator Michel Barnier said a deal was not finalized.
"We are not there yet," said the spokesman, who was not named per EU policy.
Britain's opposition Labor Party recently said it expected to reject May's proposal for an exit deal because her Conservative government was offering "really bad and even worse" choices.
Negotiators face a March 29 deadline for when Britain is supposed to leave the EU. A final agreement requires approval by the British Parliament, the European Parliament and the EU countries.
The possibility of a no-deal exit if a friendly agreement is not reached has raised concerns about economic fallout and confusion at the borders.
In August, the British government announced that leaving the EU without an exit deal could mean significant disruption to daily life, including higher credit card payments and a loss of banking and pension services. A deal remained a top priority but a series of technical documents would provide contingency plans, officials said.
The European Commission on Tuesday published notices outlining changes in the event of no deal. They point to several possible disruptions, including that British truckers' licenses won't be valid in the EU and air passenger rights may no longer apply to a flight traveling from Britain to the EU by a non-EU airline.
The EU said it was proposing visa-free travel for British citizens on short trips, even without a deal, as long as Britain reciprocates.
British voters in June 2016 favored breaking away from the EU by 52% to 48%. The vote involved deep divisions in the country and intense political infighting — largely from within May's Conservative government.
The prime minister has come under intense pressure from both sides, with those on the "remain" side trying their utmost to thwart any amicable breakup and the Euroskeptics of her party accusing her of betrayal for agreeing to any deal that they feel would result in Britain leaving the EU in name only.
Former Foreign Secretary Boris Johnson, who campaigned for the "leave" side and resigned from the Cabinet because he could not agree to the kind of Brexit that May was pursuing, tweeted about his concerns Tuesday before the draft agreement was announced.
"People did not vote for colony status," he wrote.
After the announcement, Johnson called for Cabinet members to reject the draft deal and said the problems associated with the deal that May's government was negotiating were evident months ago.
"It will mean that we are having to accept rules and regulations from Brussels over which we have no say ourselves," he said. "It is utterly unacceptable to anybody who believes in democracy."
Britain also faces a movement called People's Vote seeking a second referendum on the decision to leave the EU. The campaign seeks a vote on whether to stay in or leave the bloc of nations based on whatever deal the government makes with the EU.
The campaign last month organized a march that drew an estimated 700,000 people in London to demand a vote on Brexit. It was the largest show of public opposition to government policy since an anti-Iraq war protest rally in 2003 attracted more than 1 million people, according to estimates.
Boyle is a special correspondent.
---
UPDATES:
4:10 p.m: This article was updated with an additional comment by former British Foreign Secretary Boris Johnson and other details.
2:45 p.m: This article was updated throughout with Los Angeles Times reporting.
This article was originally published at 8:55 a.m.
---
Must-read stories from the L.A. Times
Get all the day's most vital news with our Today's Headlines newsletter, sent every weekday morning.
You may occasionally receive promotional content from the Los Angeles Times.