In major setback for British government, Theresa May delays Brexit vote
British Prime Minister Theresa May announces she has postponed Parliament's vote on her European Union Brexit deal.
Reporting from LONDON —
Facing an embarrassing defeat, British Prime Minister Theresa May on Monday delayed a critical parliamentary vote on her plan for Britain to depart the European Union, leaving the long-running process in question and casting fresh doubts on her ability to hold on to power.
After spending weeks traveling the length and breadth of the country, taking part in radio phone-ins with the public and conducting closed-door meetings with members of her fractured Conservative Party, May was forced to reckon with the grim reality that she simply lacked majority support for her deal.
In a statement to Parliament on Monday, May conceded that her plan for leaving the European Union probably would have been defeated "by a significant margin."
May said that although she had "broad support" for large parts of her deal, she realized there was "widespread and deep concern" over some elements — most notably, how to resolve the issue over the Irish border. May said she planned to go back to EU leaders in the coming days to discuss possible changes to a backstop plan, which already has come under intense scrutiny and criticism.
Despite the growing discontent, May held firm that the overall deal she struck was the right one. And a "Brexit" vote, she cautioned, cannot be delayed indefinitely.
This is the "best deal that is actually negotiable with the EU," she said, telling her colleagues it was not enough to simply oppose the deal without coming up with "real and workable solutions" instead of political sniping.
Yet political sniping is what she got.
Opposition Labor Party leader Jeremy Corbyn accused the government of being in "complete disarray." And during May's address to Parliament there were shouts of "weak" and "resign" from opposition lawmakers, while lawmakers on May's Conservative side of the house were conspicuously quiet.
The announcement that the Brexit vote would be called off was leaked to the British press despite repeated statements from the prime minister's office and her Cabinet members in recent days that the vote would unequivocally go ahead as planned. She later confirmed it in a speech to the House of Commons.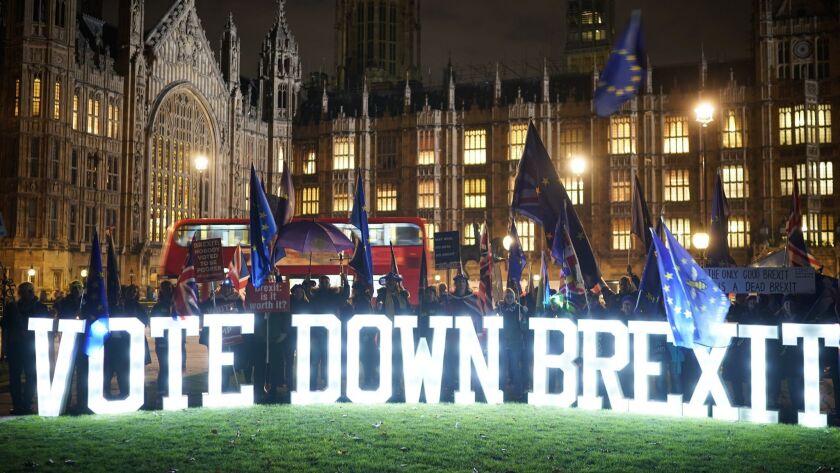 Even before she addressed Parliament, lawmakers were quick to line up and criticize the prime minister's decision and question her grip on power. Steve Baker, former Brexit minister, who quit in July after saying he could not support the negotiating strategy that May was pursuing, said the deal was so bad May "didn't dare put it to Parliament for a vote."
"This isn't the mark of a stable government or a strong plan," he said on Twitter.
The pound plummeted at the news of further uncertainty around Britain's withdrawal from the European Union, dropping 0.5% to $1.26 and down 0.8% to 1.10 euros.
The vote had been planned for Tuesday evening. Lawmakers were going to be asked to support or reject the deal that May and her team hashed out with negotiators in Brussels during 19 months of often-fraught discussions.
It has been agreed to by the remaining 27 EU members but needs to be backed by Britain's Parliament to become law before the country formally leaves the EU on March 29, 2019.
If it is not passed, there is the very real risk that Britain could leave the bloc without any deal, which economists have warned would be the worst of all scenarios. There is also a campaign known as the People's Vote hoping that if the situation becomes intractably deadlocked, lawmakers will be forced to call a second referendum on Britain's EU membership.
The campaign received a boost Monday when the European Court of Justice ruled that the United Kingdom could cancel Brexit without requiring the permission of the other 27 EU member states.
Even before May decided to delay the vote, it had been widely anticipated that she was heading to defeat.
Passionate campaigners for both the leave and remain sides have been vocal in their objections to the deal that was struck, which is intended to secure the rights of EU citizens living in Britain and British citizens living in EU countries.
It also lays out the amount of money the U.K. must pay to the EU as a form of divorce settlement and looks to ensure no hard border emerges between Northern Ireland, which will leave the EU, and the Republic of Ireland, which will remain an EU member.
But the so-called backstop plan for Northern Ireland has proved to be the most contentious, with detractors arguing it would keep Britain too closely bound by EU rules.
May argued that this was purely a contingency plan and would only be realized in the unlikely event that no new trade deal was reached between the two sides by December 2020.
But it made no one happy, including the Democratic Unionist Party, which May depends on to maintain a majority in Parliament. The party repeatedly threatened to vote against the deal.
EU leaders were reportedly stunned by Monday's developments and have repeatedly said that the deal agreed to is the only one on the table. A European Commission spokeswoman said Monday that the EU would not renegotiate the withdrawal agreement.
Boyle is a special correspondent.
---
UPDATES:
7:50 a.m.: This article has been updated with May postponing Brexit vote.
This article was originally posted at 4:45 a.m.
---
Must-read stories from the L.A. Times
Get the day's top news with our Today's Headlines newsletter, sent every weekday morning.
You may occasionally receive promotional content from the Los Angeles Times.