Britain replaces key minister as immigration scandal deepens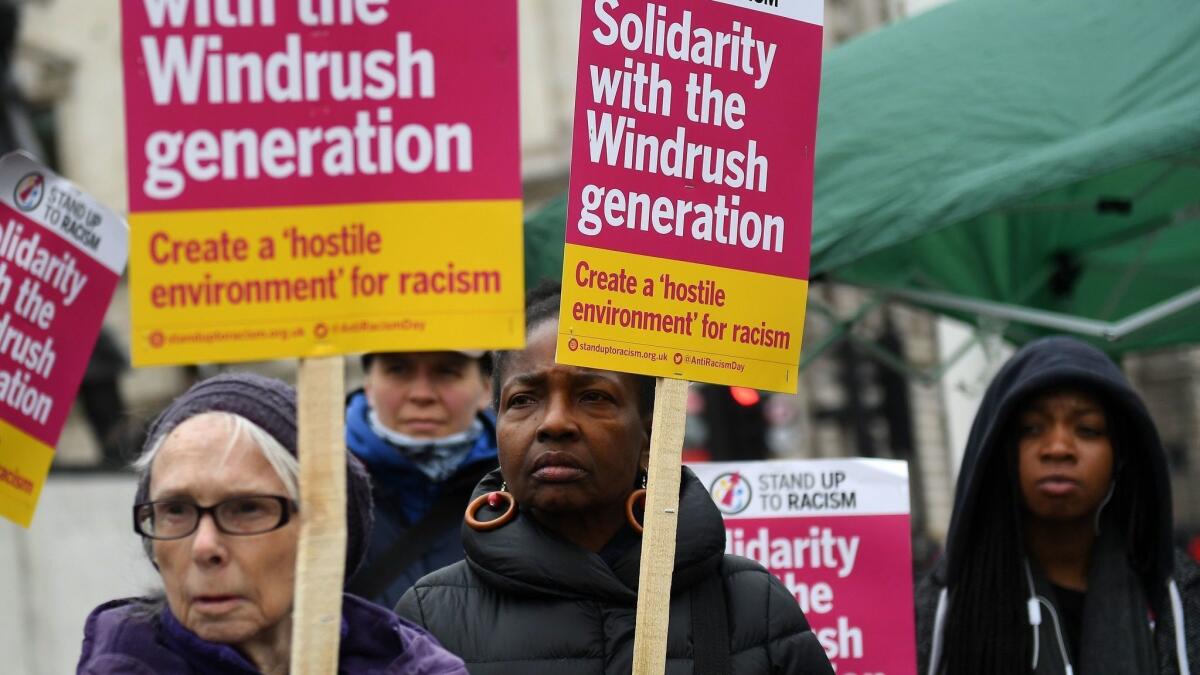 Reporting from London —
British Prime Minister Theresa May appointed a new home secretary on Monday, naming a politician from an ethnic minority to the job for the first time as her government reels from the fallout of a crisis that threatens hundreds of legal Caribbean migrants with deportation.
Sajid Javid, a lawmaker and second-generation Pakistani Briton, was appointed to the influential job just hours after his predecessor, Amber Rudd, resigned over her handling of the growing immigration scandal, admitting she had "inadvertently" misled members of Parliament about deportation targets.
The appointment marks the first time a nonwhite politician has held one of the four top jobs in British government and offers hope to some critics who have slammed the Conservative government's tough immigration policies.
Vowing he would "do right" by the so-called Windrush generation, he said he sympathized inherently with their plight.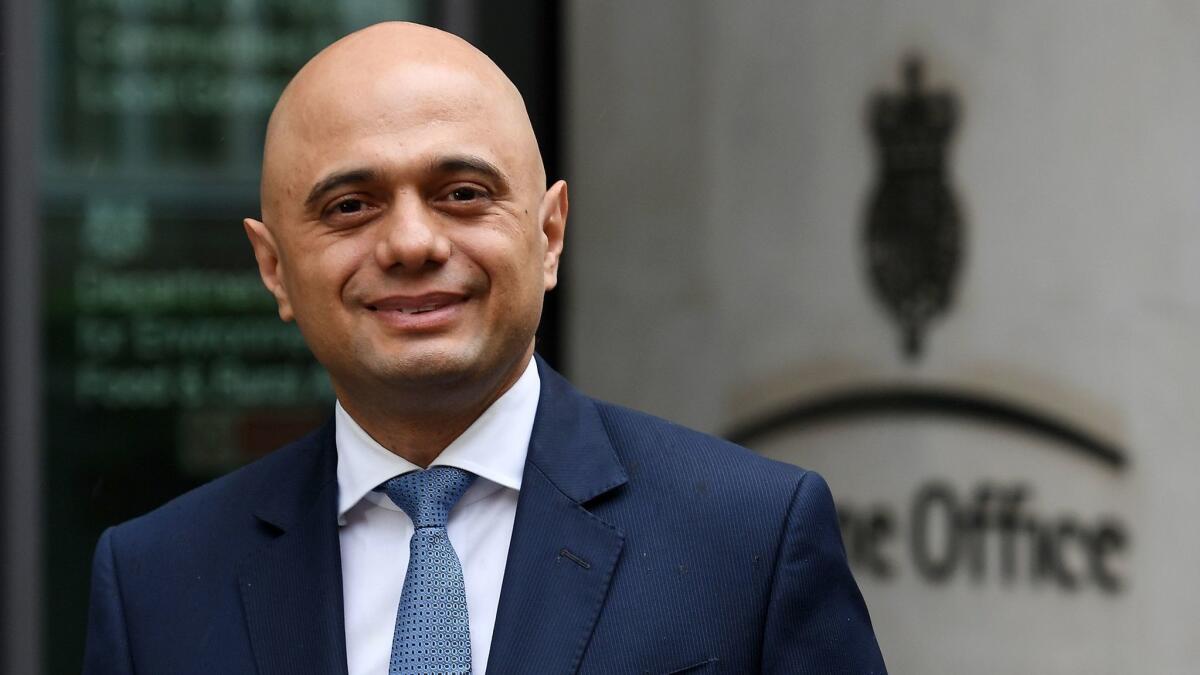 "I thought that it could be my mom, my brother, my uncle or even me," he said in the House of Commons shortly after accepting his new role.
Windrush refers to the name of the ship that brought hundreds of workers from the Caribbean to Britain in 1948 to help rebuild the country after World War II. Many more arrived in waves from 1948 to 1971, seeking work as laborers, cleaners, nurses and drivers, and were told they could stay indefinitely.
Some came as children with their parents and never applied for passports or official paperwork, yet for many, Britain is the only home they have known.
Their immigration status did not pose a problem until the Conservative government, under then-Home Secretary Theresa May, vowed to clamp down on immigration and create a "hostile environment" for those in the country illegally. Doctors, employers and landlords were encouraged to check people's legal status, and many longtime residents who could not prove when or how they arrived suddenly were stripped of their rights.
People were fired from their jobs, denied medical care and threatened with deportation.
Despite repeated apologies and promises to provide compensation and citizenship to those affected, there has been sustained public outrage. Pressure also mounted on Rudd to explain the government's wider immigration targets. But her efforts to clarify the government's mission only backfired.
After saying she was unaware the government even had deportation targets, the Guardian newspaper published a private letter Rudd wrote to May in January in which she described her "ambitious but deliverable" aim to deport 10% more immigrants in the country illegally over the next few years.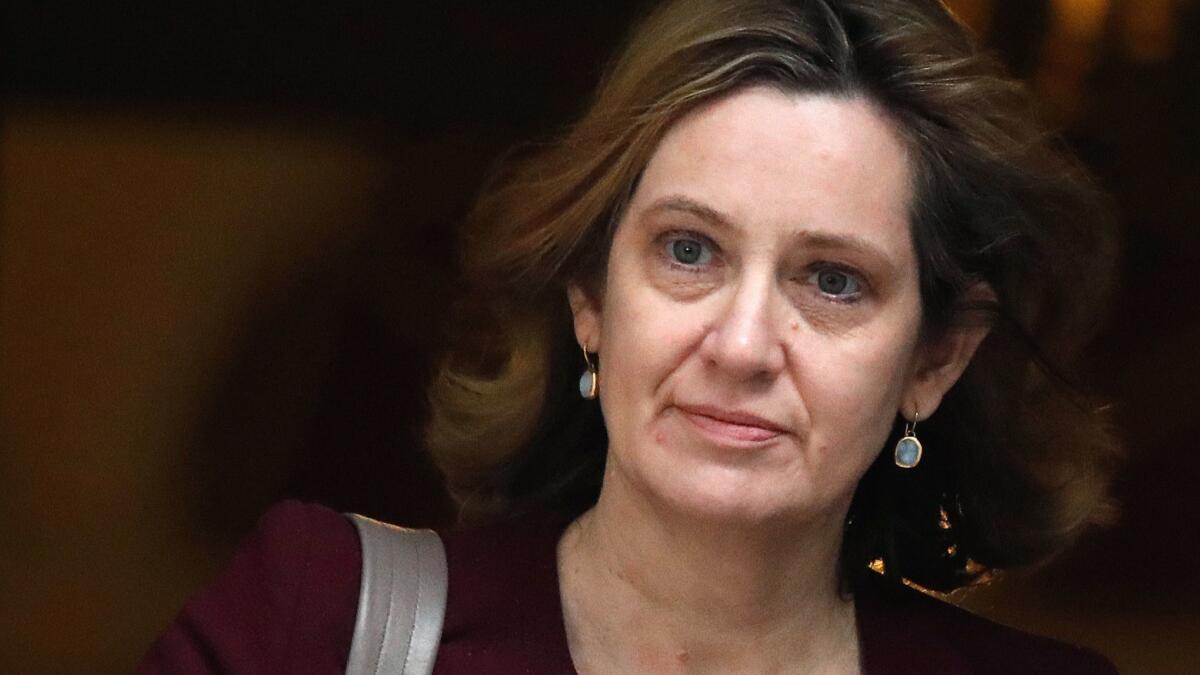 On Sunday evening, she submitted her resignation to the prime minister.
Javid, 48, is an experienced government minister and joins the Home Office from the Ministry of Housing, Communities and Local Government. He is stepping into a department that is reeling.
He said Monday that his primary aim is to make sure the Windrush generation is treated with "the decency and fairness that they deserve." Yet his job also calls for him to ensure the country's safety and security, a tall order given that London is experiencing soaring knife crime and the country is coming off a year during which there were four terrorist attacks on home soil.
Like Rudd, Javid was a member of the "remain" camp in the 2016 referendum on Britain's membership in the European Union, so his appointment helps May maintain equilibrium within her Cabinet. But he is not considered a particularly close ally.
During his few short hours in the job, he already expressed a desire to change the government's language around immigration policy and move away from talk of a "hostile environment" and instead speak of a "compliant" one.
With less than a year before Britain leaves the European Union, the Windrush scandal has focused attention on the hot-button topic of immigration, both legal and illegal, once again.
It played a central role in the EU referendum debate, with many voters who backed "Brexit" expressing a desire take back control of the borders and stiffen immigration policy.
Immigration has been a divisive issue in Britain, and reducing the number of newcomers was a major factor for many voters in the "leave" camp. The Conservative government has an oft-stated but long-unmet goal of reducing net immigration below 100,000 people a year, fewer than half the current level.
There is now concern among the estimated 3 million EU citizens living in Britain that they too are at risk.
Britain has said their rights, including the ability to live and work in the country, will be protected once it exits the bloc, but the European Parliament's Brexit coordinator, Guy Verhofstadt, emphasized that this promise had to become a reality.
"I can only urge you to go to all lengths to dispel any fears that what was visited on the Windrush generation will not be repeated with respect of the EU nationals living in the U.K.," he wrote in a letter to Javid on Monday.
Boyle is a special correspondent.
---
UPDATES:
4 p.m.: The article was updated with a staff report.
This article was originally published at 9:40 a.m.
Sign up for Essential California for the L.A. Times biggest news, features and recommendations in your inbox six days a week.
You may occasionally receive promotional content from the Los Angeles Times.