Britain's Prince Charles and Wales mark 50 years together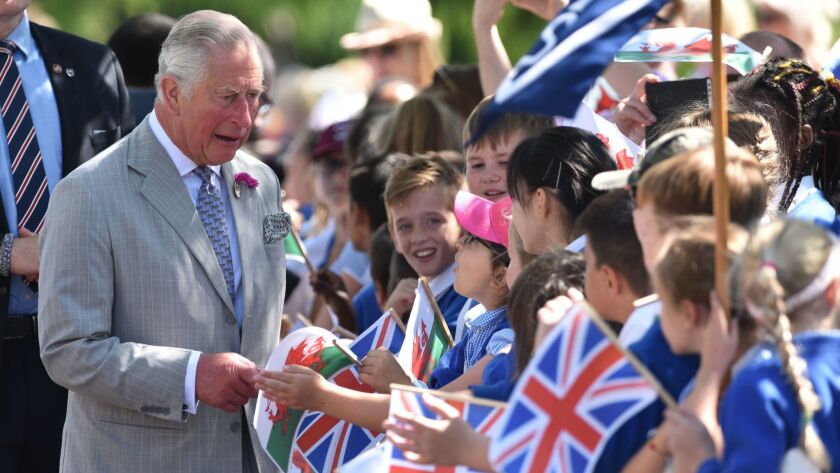 Reporting from London —
Britain's Prince Charles has spent much time in Wales over the years, but this week's visit marked an anniversary that once might have seemed unimaginable.
It's been half a century since a 20-year-old Prince Charles kneeled before his mother — Queen Elizabeth II — and was bestowed the title of Prince of Wales in an investiture ceremony at Caernarfon Castle watched by millions of people around the world.
The event July 1, 1969, contained all the grandeur and pageantry that is so synonymous with the British royal family: horse-drawn carriages, impeccably dressed Queen's Guards and a gold crown, rod and cloak.
No one could have known that the role of prince of Wales, a British country bordered on the east by England, would span so much of Charles' life and that five decades later, he would still not have become king. The queen turned 93 in April.
Charles, and his wife, Camilla, Duchess of Cornwall, spent the last week visiting some of the dozens of charities they have strong ties to throughout Wales as well as meeting with community groups and local businesses.
One stop at a logging company included hearing about efforts to make the work more environmentally friendly, as Charles has viewed reducing pollution and protecting the environment as key issues for decades.
Many Welsh residents say they feel indebted to Charles for the understated dedication he has shown to their country.
Jeweler Mari Thomas, based in the small town of Llandeilo in the west of Wales, said she owes her internationally successful business to the work Charles does through his charity, the Prince's Trust, which provides training and support to young people throughout Britain.
"The work he does behind the scenes has had an effect that people don't actually realize," Thomas said. "His support for Welsh businesses helps the economy."
When Thomas left art college 21 years ago, the trust gave her a small grant, a loan and mentoring which enabled her to turn her creative passion into a business. Her company employs 10 people, and she has had international commissions and exhibited in New York, Tokyo, Dubai and London.
"The work of the Prince's Trust has had a sizable impact on a few generations of people," she said. "All his work behind the scenes should not be underestimated.
"I wouldn't have the business I do if they hadn't given me the confidence to aspire to set up in business and also the tools to know how to run it."
Even though the events this week were decidedly more low-key than Charles' long ago investiture ceremony, they have nonetheless been significant, several residents said.
"I think he's very understated," said Cardiff resident Alice Ojeda, 27, who was supported by the Prince's Trust enterprise program to set up a business which distributes plastic-free, eco-friendly products.
She met the prince during an event Monday.
"The trust is absolutely amazing. He is the leader who started the trust and he thought about the environment long before it became mainstream," Ojeda said.
She said that while she respects and appreciates Charles' work, she has some general reservations about the role of the British royal family. She said she believes that "people who have leadership roles should be elected democratically."
In fact, the prince's investiture was not universally welcomed. In 1969, press reports said two men were killed attempting to set off a bomb near the route of the train carrying members of the royal family to the event. It was believed they were part of the nationalist campaign against the prince's appointment.
Some discontent apparently remains today.
When the Second Severn Crossing bridge — which links England to Wales — was renamed the Prince of Wales Bridge last year, an online petition in opposition gained more than 38,000 signatures.
Some political and advocacy groups would also like to see Wales gain full independence from the rest of Britain and become a sovereign state.
The leader of the Welsh government, First Minister Mark Drakeford, has urged the royal family to reconsider the presumed passing of the Prince of Wales title onto Prince Charles' oldest son, Prince William, if and when Charles becomes king.
"I don't think replicating ways in which things were done [50 years ago] is a sensible way to think about how you do things in the future," Drakeford said.
Boyle is a special correspondent.
---
Must-read stories from the L.A. Times
Get the day's top news with our Today's Headlines newsletter, sent every weekday morning.
You may occasionally receive promotional content from the Los Angeles Times.