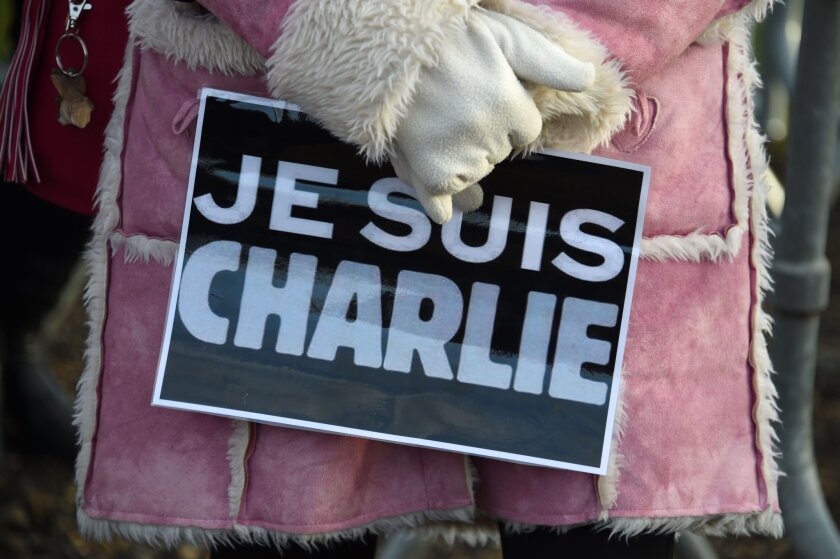 Charlie Hebdo, the French satirical weekly targeted in a January shooting rampage for its cartoons of the prophet Muhammad, is stirring controversy on social media with its take on the death of a Syrian toddler found on a beach in Turkey.
Critics are accusing the publication of racism and xenophobia for several cartoons that appeared on the back page of the latest edition under the heading: "The covers you were spared."
In one drawing, a child is shown face down in the sand, echoing a searing photograph of 3-year-old Aylan Kurdi that galvanized public outrage over the plight of thousands of refugees who have been risking their lives in overcrowded boats to reach Europe.
Behind the dead child in the drawing looms a McDonald's-style advertising board promoting, "Two children's menus for the price of one."
"So close to the goal ..." the caption reads.
See the most-read stories this hour >>
Another cartoon portrays a Christlike figure walking across the sea. Next to him, a pair of legs protrudes from the water.
"The proof that Europe is Christian," the caption reads. "Christians walk on water. Muslim children drown."
Many commentators interpreted the drawings as poking fun at Aylan, who died along with his mother and 5-year-old brother when the boat they were in capsized off the Turkish coast.
"Dear #CharlieHebdo: you have the right to be offensive, it's not a duty ... Did you really need to mock a dead kid?" wrote one Twitter user.
Others asked if anyone still wants to declare "Je suis Charlie" -- "I am Charlie" -- a reference to the outpouring of support for the magazine after 12 people were killed in the Jan. 7 attack at its Paris headquarters.
Charlie Hebdo, a staunch proponent of secularism and press freedom, has a history of courting controversy with shocking and sometimes crude depictions of society's sacred cows. In this case, however, the magazine's critics may have been mistaken about the intended target of its jokes.
According to defenders, the cartoons take aim not at Aylan, but at some of the responses in Europe to the refugees' predicament.
"i believe #charliehebdo is mocking European intolerance and not the death of Aylan," wrote one Twitter user.
Hungarian Prime Minister Viktor Orban has argued that accepting large numbers of Muslims would endanger the continent's traditional Christian values. At least two French mayors have said they would only take in Christian refugees.
An editorial in last week's edition of Charlie Hebdo compared French attitudes in 2015 to 1941, when district residents wrote to Marshall Henri Philippe Petain, head of the Nazi collaborationist Vichy government, to protest the relocation of about 150 Jews to their area.
"Haven't the French evolved more than that?" the editorial asks.
"Luckily, a miracle happened this week. An image appeared to us like that of the Virgin Mother in the sky: that of the body of a little Syrian boy, drowned, stretched out like a jellyfish on a Turkish beach," it continues.
"To listen to the commentaries, this photo will create a 'great leap' and will set off a 'crisis of conscience' in Europe. We have begun speaking of this image as if it were a relic full of prodigious powers, an icon that will give us back our faith and open our hearts. So that's Christian Europe. A Europe that still believes in miracles."
The magazine has not responded to its critics, and staff members could not immediately be reached for comment.
NEWSLETTER: Get the day's top headlines from Times Editor Davan Maharaj >>
It was not the first cartoon inspired by Aylan to stir controversy in France.
Newspaper cartoonist Emmanuel Chaunu said he was shocked at many of the comments he received about a drawing he posted on his Facebook page and that also appeared in the publication L'Est Eclair. It showed the familiar image of a child face-down in the sand, but had him wearing a satchel on his back and carried the caption, "It's back to school."
Readers wrote in to express their indignation at the newspaper for publishing a drawing in such "bad taste." Some suggested that Chaunu was inviting another attack like the one on Charlie Hebdo.
Chaunu told the paper that the drawing was not intended to be humorous but rather a "tribute drawing, a symbolic drawing." (Link in French.)
It was inspired by the usual media fascination with the start of the academic year, which he said had nothing particularly noteworthy to it this year.
"At the same time, comes this child, a kind of dead Little Prince, who left no one indifferent," he said. "So I gave him an element from our daily life, a school bag, a symbol of a return to school that he will never have."
Special correspondent Kim Willsher in Paris contributed to this report.
For more international news, follow @alexzavis on Twitter
ALSO:
Young migrants making perilous trek to Europe without parents
Drowned Syrian toddler embodies heartbreak of migrant crisis
At PEN gala, Charlie Hebdo editor calls for free expression and debate
---