Name by name, France commemorates victims of terrorist attack on Paris
People attend the national tribute to those killed in the Nov. 13 terrorist attacks.
(Miguel Medina / AFP/Getty Images)
French flags adorn windows in Hede-Bazouges, north of Rennes, during the national tribute to the 130 people killed in the Nov. 13 Paris attacks.
(Damien Meyer / AFP/Getty Images)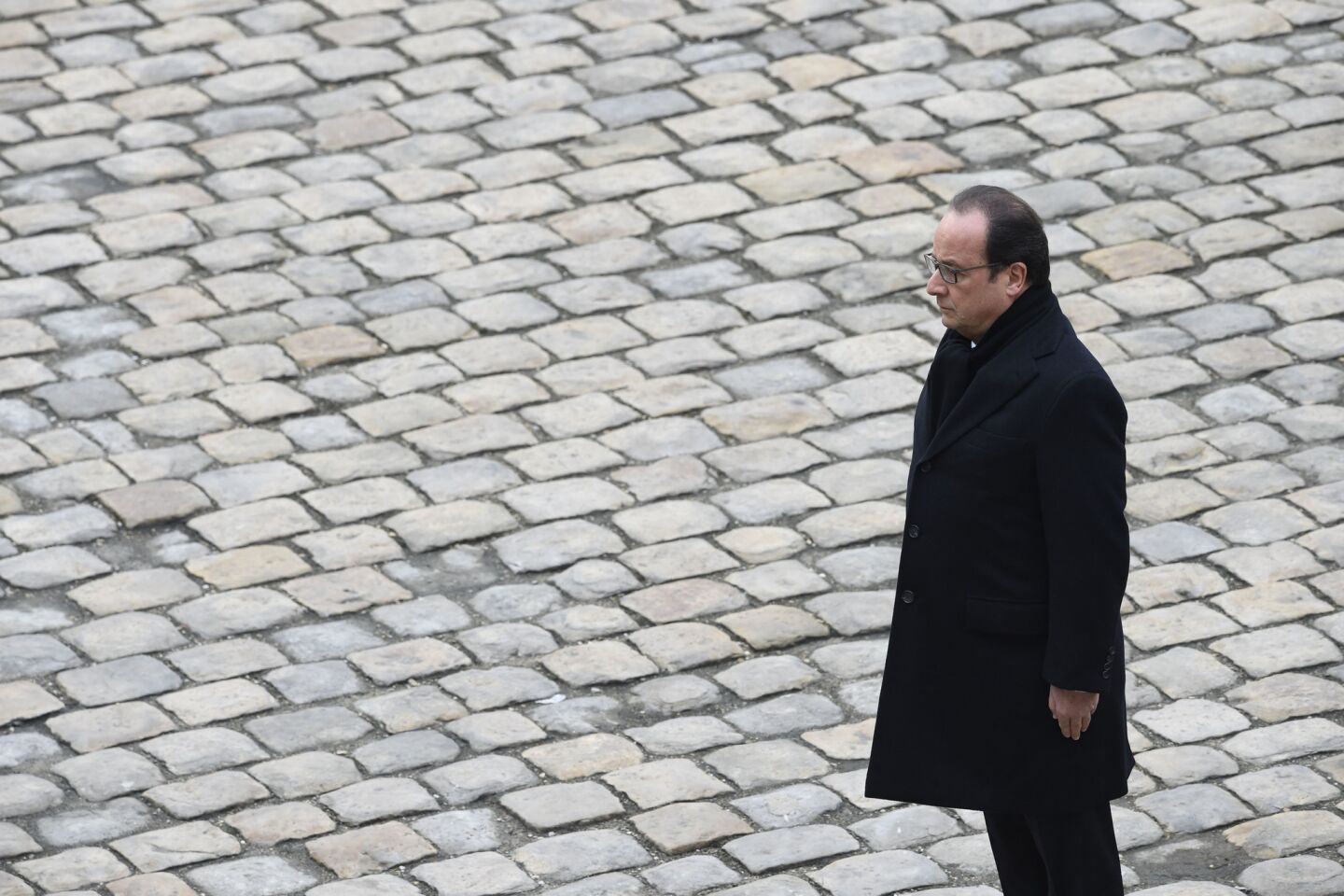 French President Francois Hollande attends the tribute to those killed in the Nov. 13 Paris attacks.
(Miguel Medina / AFP/Getty Images)
Members of the French Red Cross accompany people wounded in the Paris terror attacks as they arrive for the tribute.
(Miguel Medina / AFP/Getty Images)
French President Francois Hollande, center, attends the tribute with other governement officials at the Hotel des Invalides.
(Miguel Medina / AFP/Getty Images)
reporting from Paris —
Nick Alexander, 36 ... Chloé Boissinot, 25 ...Mathias Dymarski, 22 ...

Mourners bowed their heads and stood in somber tribute as the names of the dead were read out Friday at a ceremony to commemorate victims of the bombing and shooting rampage in Paris two weeks ago.
Most of the victims were young people enjoying a night out when they were cut down in one of Europe's worst terrorist attacks. The youngest was 17. The oldest, 68.
As the last name rang out, a heavy silence fell over the majestic courtyard at the Invalides military monument in Paris, where France traditionally honors its war dead.
Outside, French flags fluttered from windows and passing cars, an unusual gesture in a city where public displays of patriotism are rarely seen outside sporting events.
But as the country struggles to come to terms with the second major terrorist assault on Paris this year, some people wanted nothing to do with the official memorial. Many victims and their loved ones believe the country's leaders should have done more to protect them after the deadly attacks in January on a satirical magazine and a Kosher grocery store.
"Ten months later, the same people are able to restart and this time, cause 10 times more deaths," Emma Prevost wrote in a Facebook post this week. Her brother, Francois-Xavier, 29, was among the 130 people killed on Nov. 13.
Prevost urged victims and their families to boycott Friday's ceremony. But others said they found comfort in standing together against the Islamic State extremists who claimed responsibility for the assault.
French President Francois Hollande, who stood alone before the crowd assembled at the Invalides, vowed to do everything in his power to "destroy the army of fanatics who committed these crimes."
He noted the youth of many of the victims, who were attacked as they sat on cafe terraces, shared meals at neighborhood restaurants, watched a soccer game and sang along with a rock band at a historic concert hall.
"It's because they represented life that they were killed. It's because they represented France that they were slaughtered. It's because they represented freedom that they were massacred," he said.
"I salute this new generation. They were hit, but they are not afraid. ... They will live life to the full, in the name of the dead who we mourn today."
Salah Emad El-Gebaly, 28 ... Nohemi Gonzalez, 23 ...Olivier Hauducoeur, 44 ...
About 2,000 people attended the commemoration, a somber affair at which the national anthem was played twice. They included government officials from across the political spectrum, rescue workers and survivors, some of whom arrived in wheelchairs and stretchers.
But with security fears still high, only invited guests were allowed into the locked-down courtyard.
Others found their own ways to honor the victims. They lay flowers and lighted candles at the many memorials that have sprung up in the hip eastside neighborhood that was a focus of the attacks. They played guitar outside the Bataclan concert hall, sat on cafe terraces in the bracing cold and carried on with their lives.
In the Place de la Republique, ragged posters pledging solidarity with Charlie Hebdo, the magazine targeted in January, were still visible amid the mounds of flowers, photographs, drawings and poems honoring victims of the latest attacks.
"We feel like we know them all," said Sandrine Gil, a 47-year-old civil servant who traveled to central Paris from the northern suburbs with her 27-year-old daughter, Elodie, to leave a flag at the monument.
Amid the sea of messages, there were desperate pleas for peace: "I am tired of all the sorrow and the pain that I feel in the world. Pray for Paris," someone had written in black paint on a whitewashed board.
There were appeals for tolerance: "Don't confuse terrorists with Muslims," a child wrote as part of a class project.
And there were declarations of defiance: "I am 10 years old and even I am not afraid," another added in red, green and pink markers.
Other messages were more personal: "I love you," a grieving father wrote beneath a photograph of confident-looking young woman. He signed the note simply, "Papa."
Hyacinthe Koma, 37 .... Caroline Prenat, 24 ... Hugo Sarrade, 23 ...

A few blocks away, Karine Reulen, 41, pulled a single bloom from a bunch of roses she was carrying and left it in front of a shuttered cafe. It was her third such stop that morning.
"There are no words for this," said Reulen, who planned to return with her 4-year-old daughter on Saturday to repeat the pilgrimage from one attack site to the next. "It could have been me 15 years ago, when I was out on these terraces. I frequented all these places."
Christian Pitou, 69, affixed a poem he had written to the barriers outside the Bataclan.
"I couldn't go to Les Invalides, so I came here," he said, tears rolling down his cheeks. "It's a place of mourning. We are all touched by this."
The gesture came naturally to the former primary school teacher, who used to teach poetry to his students.
"We have the art of living here in France that we want to preserve, a culture of poetry, music, art in all its forms," he said.
Majdoline el-Yagoubi hadn't planned on taking part in the day's commemorations. But when she found herself with half an hour before an appointment near Place de la Republique, she ordered a coffee on a deserted cafe terrace.
Her father was driving his taxi through the neighborhood when he heard the gunfire and beat a hasty retreat. Around the same time, her brother heard three explosions outside the soccer stadium where he was watching a game.
"It's a way to fight the fear we all feel and to continue to live," said the 26-year-old political science graduate. "That's the best way to fight the terrorists."
Special correspondent Kim Willsher contributed to this report.
Follow @alexzavis on Twitter for news out of Paris
ALSO
Poland won't extradite Roman Polanski to the U.S.
Chinese democracy activist gets 6 years in prison
Debate over rhino horn trade ramps up as South Africa ban is lifted
Must-read stories from the L.A. Times
Get the day's top news with our Today's Headlines newsletter, sent every weekday morning.
You may occasionally receive promotional content from the Los Angeles Times.