Authorities vow to investigate hacking attack in French presidential campaign as voting begins Sunday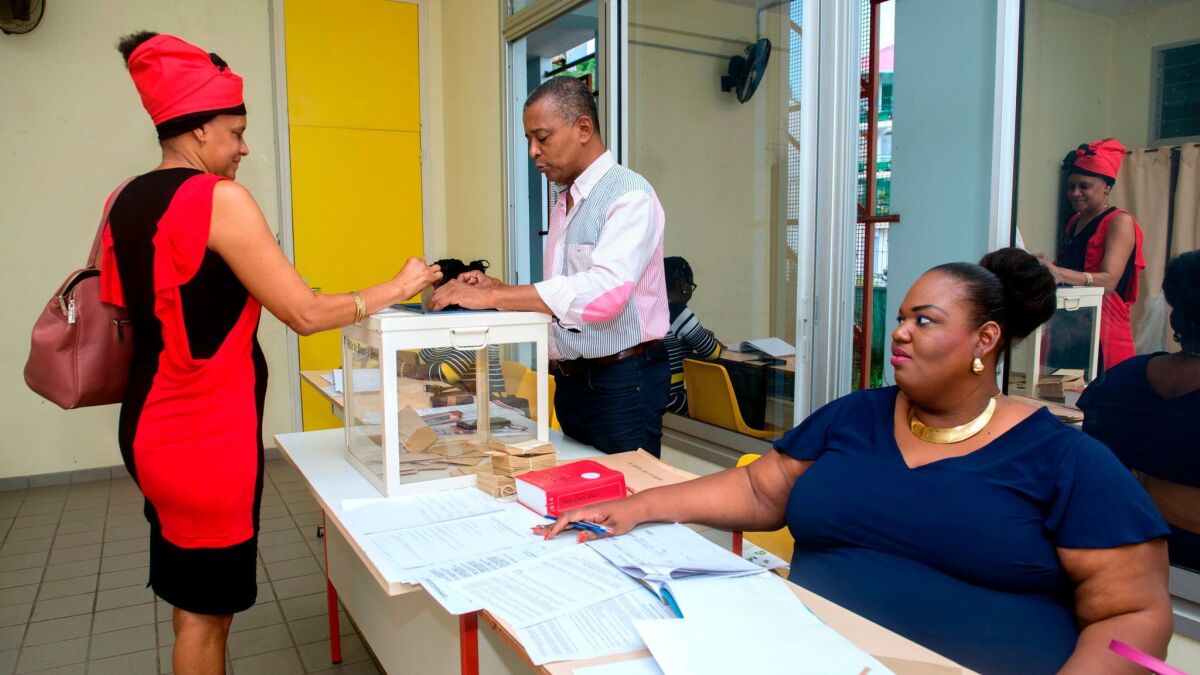 Reporting from PARIS —
French voters will choose their next president Sunday after a final campaign that has been scrappy, ill-tempered and overshadowed in the home stretch by a hacking attack.
Just before a Friday midnight deadline that requires candidates to stop campaigning, front-runner Emmanuel Macron was hit with the leak of thousands of campaign documents — some reportedly fake — in what his team called a "massive and coordinated" attempt to upset the election.
France's government cybersecurity agency said Saturday that it will investigate the attack, according to a government official who said it appeared to be a "very serious" breach.
The timing of the leak meant Macron was unable to respond Saturday, with polls scheduled to open at 8 a.m. Sunday. During the so-called election pause, candidates are banned from making any statement or comment until voting closes at 8 p.m. Sunday evening.
Just before the deadline, Macron's En Marche! (Onward!) movement issued a statement saying fake papers had been mixed in with tens of thousands of genuine campaign documents including internal emails and financial data, to "spread doubt and disinformation."
It described the leak as a "real attempt to disrupt the French presidential election" and said it would be taking all steps to find out who was behind the "unusual operation."
Macron's team did not designate a culprit but has blamed Moscow-backed groups for repeated hacking attempts during the campaign. Russia has made no secret of its support for Macron's rival, the far-right National Front leader Marine Le Pen.
French media pointed out that the White House and experts blamed a Russian-linked group for hacking the email account of John Podesta, Democrat Hillary Clinton's campaign manager, during the U.S. presidential campaign.
"Coming in the final hours of this campaign, this operation clearly amounts to democratic destabilization as was seen in the United States," an En Marche! spokesman said.
Le Monde newspaper said the leaked documents were spread quickly by Le Pen supporters. Just minutes before the midnight deadline, National Front Vice President Florian Philippot, a close advisor to Le Pen, wrote on Facebook: "With MacronLeaks are we learning something investigative journalists have deliberately hushed up?"
There was no word from the White House or the U.S. intelligence community on the hacking.
Rep. Adam B. Schiff (D-Burbank), the ranking member of the House Permanent Select Committee on Intelligence, said Saturday that the hacking in France was of grave concern.
"While we are still awaiting confirmation from French officials that there are indeed forgeries being dumped along with authentic stolen documents, this would represent yet another dangerous escalation of cyber interference in a Western nation's democracy," Schiff said in a released statement. "I worried about the Russians dumping forged documents among the real, or worse still, adding fake paragraphs into real emails."
Schiff added: "Imagine the impact on an election if hackers inserted false information into a real email that suggested illegality by a candidate, and then published the document. If this was done close to an election, there would be no opportunity to disprove the forgery and who would believe the victim even if they could? In France with Macron's campaign, that nightmare scenario may be playing out, with hackers reportedly mixing fake documents in with the real and then dumping them."
On Saturday morning, the French electoral commission warned all media they faced criminal prosecution if they published or republished the leaked documents, posted as #MacronLeaks on social media websites.
Macron declared he was taking legal action against "unknown persons" on Thursday after Le Pen made a remark at the end of a bruising second-round debate that she "hoped we wouldn't learn that he had an offshore account with a bank in the Bahamas." She was referring to documents on the Internet claiming Macron had a bank account in the Cayman Islands. Nicolas Vanderbiest, a Belgian expert on fake news, said the false information had originated in Russia.
It is impossible to say what consequences the final hacking attack has had because opinion polls are also banned during the electioneering pause. On Friday, the last opinion poll by Ipsos showed Macron winning 63% of votes and Le Pen 37%.
Imagine the impact on an election if hackers inserted false information into a real email that suggested illegality by a candidate...
— U.S. Rep. Adam B. Schiff (D-Burbank), ranking member of the House Permanent Select Committee on Intelligence
The most bitterly contested and turbulent election campaign in France in decades ended ominously for Le Pen, who was booed on a visit to the 800-year-old cathedral in the city of Reims in northern France, which saw the crowning of 25 French kings in the Middle Ages.
Le Pen's populist anti-Europe, anti-globalization, anti-immigration program saw support for France's far right rise to record levels, and led to the traditional left and right parties — the Socialists and the Republicans — being thrown out of the race in the first-round vote two weeks ago.
The margin between Le Pen and Macron widened after the head-to-head televised debate Wednesday evening throughout which Le Pen was relentlessly aggressive toward her rival. At one point Macron snapped that she was avoiding talking about her program.
"You had two minutes to say why the French should vote for you and all you did was [insult me]," Macron told her.
At her last major rally in Ennemain, a remote village in post-industrial northern France that is part of the National Front heartland, Le Pen on Thursday told locals that she had been combative on behalf of the "ordinary people," but some judged her debate performance a mistake.
"She shouldn't have been so aggressive. She should have stuck to talking about what she is going to do," said Florent Guilloy, 34, a local boilermaker. "But I will still vote for Marine. I have read the candidates' programs and I agree with her. Macron just represents the rich, and they don't want anything to do with us."
Sylvain Crepon, a French political analyst and member of the Radical Politics Observatory at the Paris-based Jean-Jaures think tank, said Le Pen's campaign had slipped up badly by not showing "presidential stature."
"She's spent a lot of time saying why she wants to do things, but not how. It's the FN's biggest fault," Crepon said.
If Macron, 39, triumphs today he will become France's youngest president after a meteoric rise from virtual obscurity. Just three years ago, few outside the Elysée Palace, where he was an advisor to outgoing Socialist President Francois Hollande, would have heard of him. When Hollande named him the new finance minister in August 2014, French media ran articles headlined: "Who is Emmanuel Macron?" He has never held an elected post.
He resigned in August 2016 to form his En Marche! movement and run for president.
Macron, a former investment banker with Rothschild's, is economically liberal, socially progressive, pro-Europe and internationally minded. If elected, he will face his first challenge in the two-round legislative election on June 11 and 14, in which he needs enough seats to form a majority in the French Parliament's lower house, the National Assembly.
So far En Marche!, which is a movement and not a political party, has 14 candidates to stand in the legislative elections. It has promised to field candidates in all 577 parliamentary constituencies, and is insisting that at least half are women and that half come from civil society or are local authority representatives.
Macron will need a majority in the National Assembly if he is to push through his promised economic and social reforms.
Pascal Perrineau, head of the respected Sciences Po university's political research unit, Cevipof, said Macron could take nothing for granted.
"Normally in France, the legislative elections follow the result of the presidential. Up until now, they have ratified either a left- or a right-wing president with a left- or right-wing government, but right now there is no right and no left. If there are 577 small elections with independent or small-horse candidates, it will be passionate for us as observers, but it will be a [political] mess," Perrineau said.
Mona Krewel, assistant professor of government at Cornell University, and an expert on elections and campaigning in Europe, said Macron will need more than a victory in Sunday's vote to govern effectively.
"The story does not end on Sunday," Krewel said. "The parliamentary elections about one month later will have a huge impact on the future of the country as well as the future of the newly elected French president.
"Having his own majority in the National Assembly will be crucial for Macron's ambitious economic reform plans, which cannot be realized if France will have to face another paralyzing period of divided government" cohabitation, she said.
Willsher is a special correspondent.
ALSO
France's Macron and Le Pen slug it out in no-holds-barred debate before Sunday's presidential election
Obama endorses Macron in French presidential race: 'He appeals to people's hopes and not their fears'
Macron vs. Le Pen: The French presidential candidates in their own words
---
UPDATES:
3:35 p.m.: This article was updated with additional details about the two candidates and the election in general.
This article was originally published at 10:45 a.m.
Must-read stories from the L.A. Times
Get the day's top news with our Today's Headlines newsletter, sent every weekday morning.
You may occasionally receive promotional content from the Los Angeles Times.