France seeks help in thwarting extremists; 3rd body found in suspect's apartment
Sylvain Perriot stops to take a picture of the flag at half mast above the Presidential Palace in Paris. France's Sate of Emergency will continue, with flags at half mast.
(Carolyn Cole / Los Angeles Times)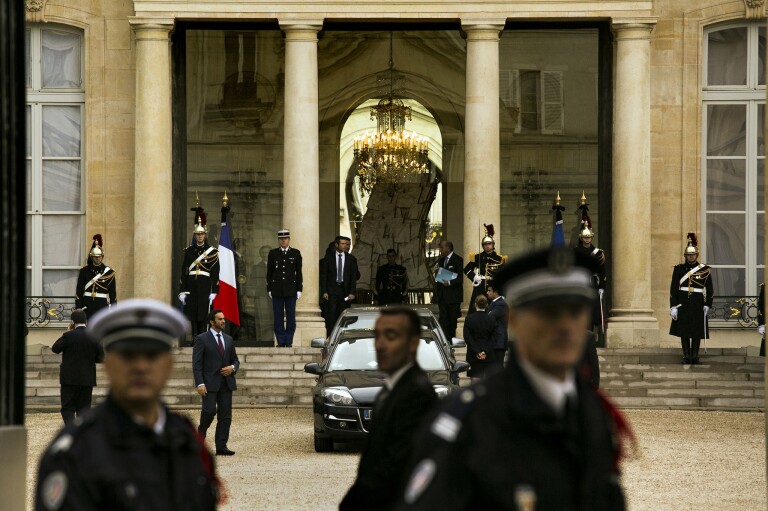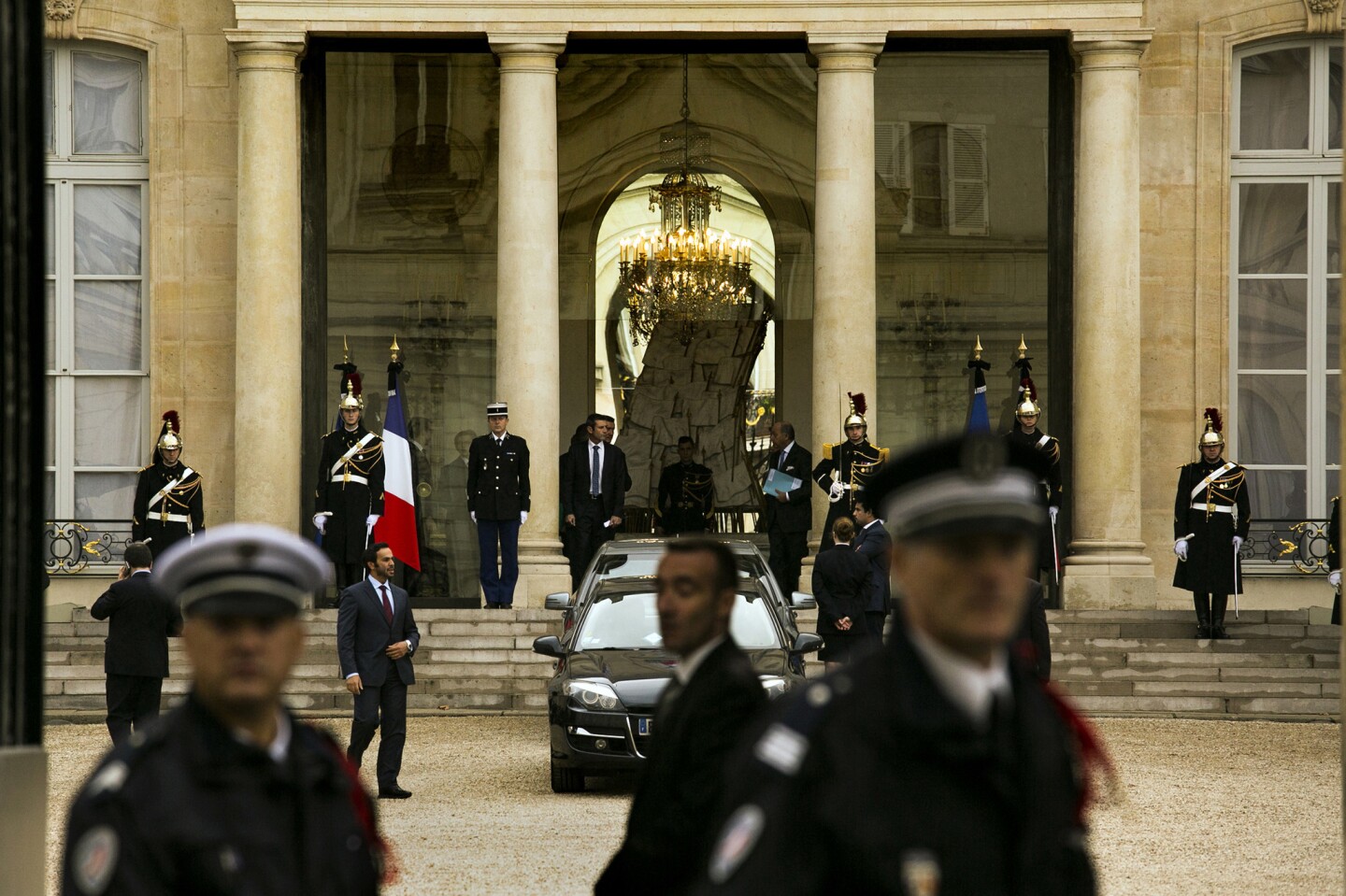 Looking inside the courtyard of the Presidential Palace, guards stand at attention for the departure of Secretary of State John Kerry after his meeting with French President Francois Hollande.
(Carolyn Cole / Los Angeles Times)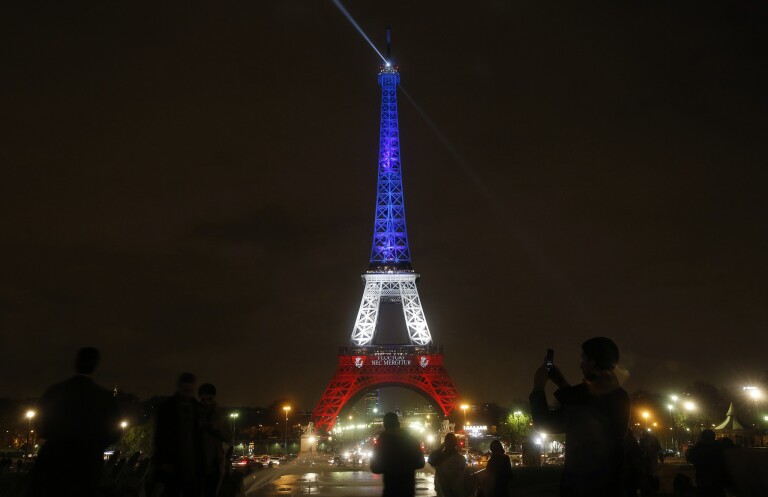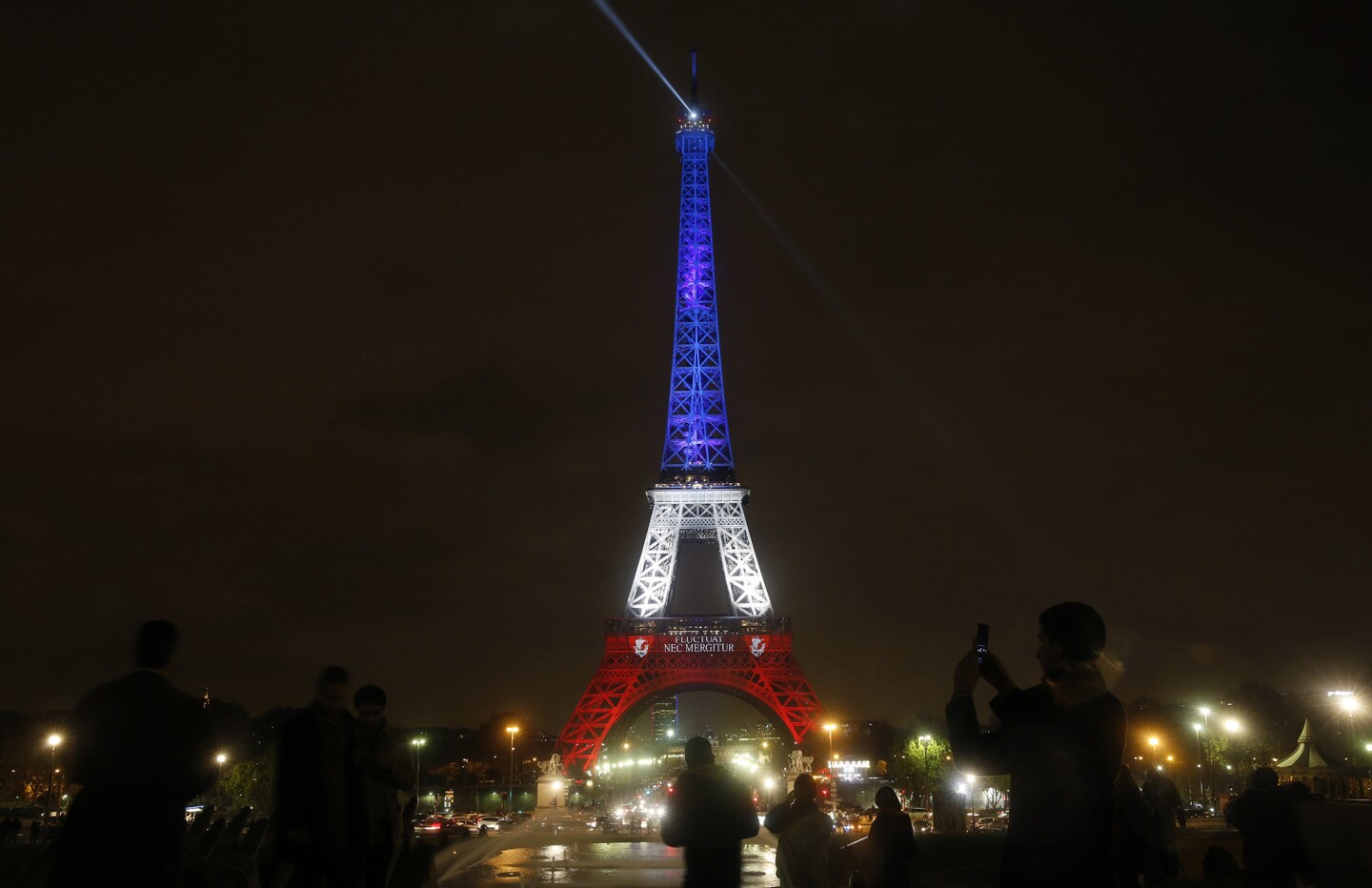 On the third day of national mourning, the Eiffel Tower was illuminated in the colors of the French flag after going dark.
(Carolyn Cole / Los Angeles Times)
On the third day of national mourning, people continue to gather in public places like the Place de la Republique, including Tao Cisse, age 5, and Maya Sutej.
(Carolyn Cole / Los Angeles Times)
People observe a minute of silence in front of the Le Carillon cafe in Paris on Nov. 16, paying tribute to victims of the terror attacks.
(Lionel Bonaventure / AFP/Getty Images)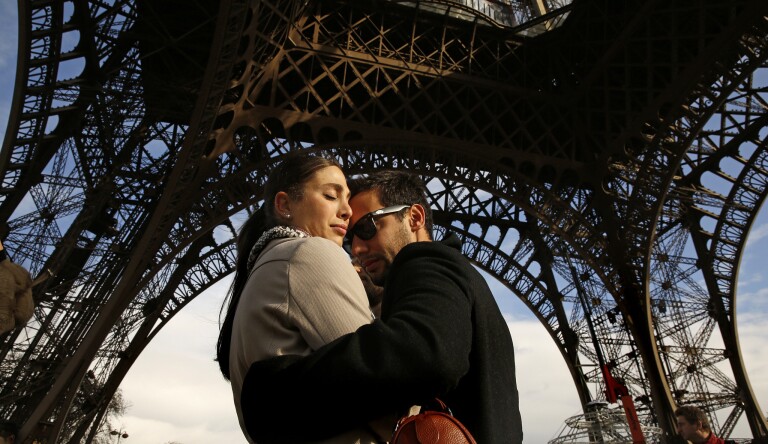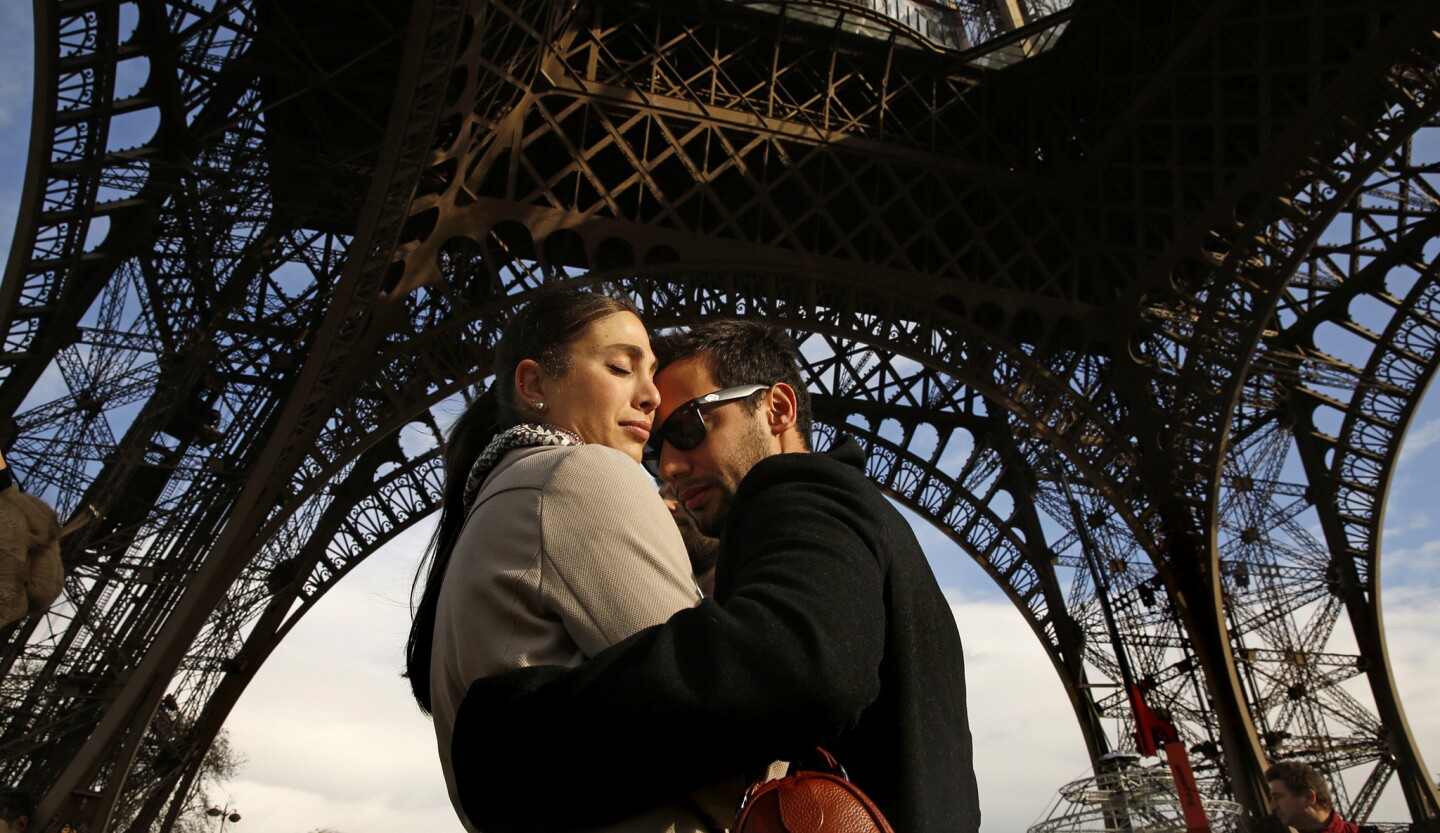 Paris residents take part in a Nov. 16 moment of silence under the Eiffel Tower in observance of those who died during the terrorist attacks three days earlier.
(Carolyn Cole / Los Angeles Times)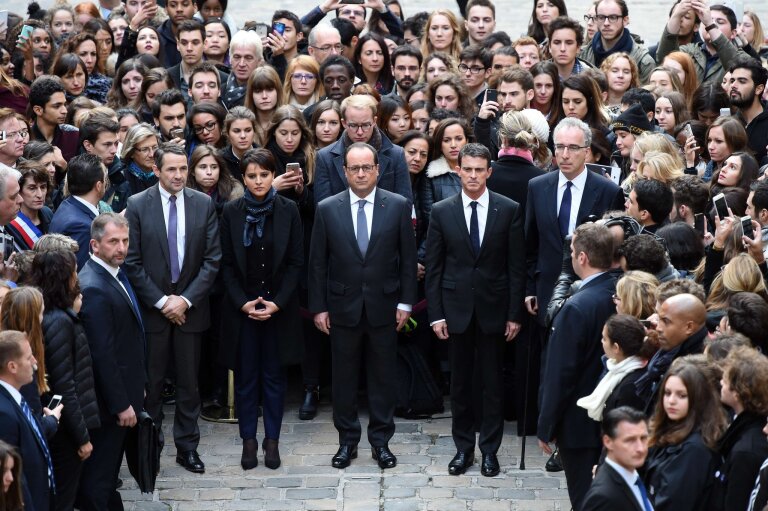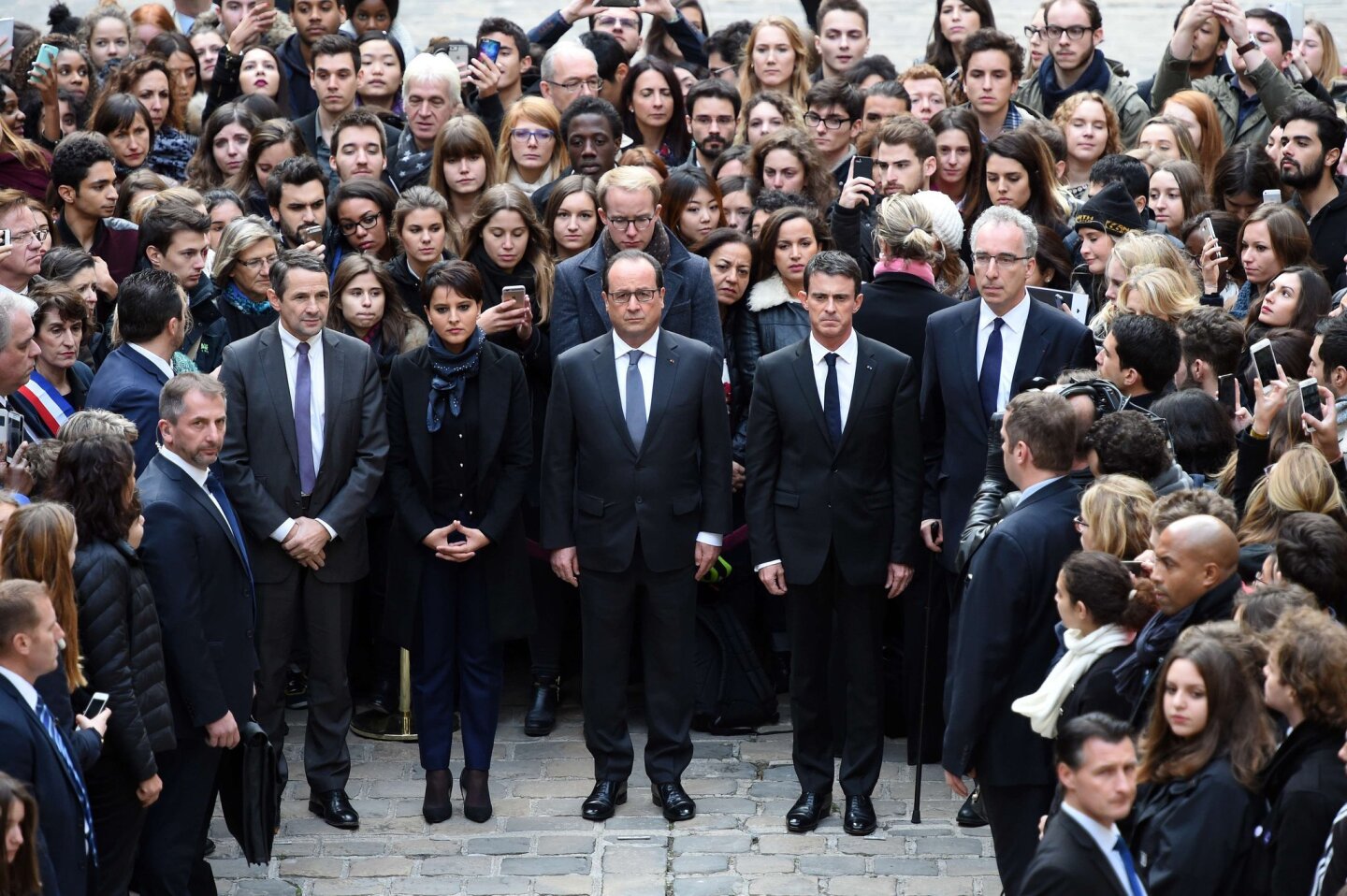 French President Francois Hollande, center, stands with government officials to observe a minute of silence Nov. 16 at the Sorbonne University in Paris.
(Stephane De Sakutin / AFP/Getty Images)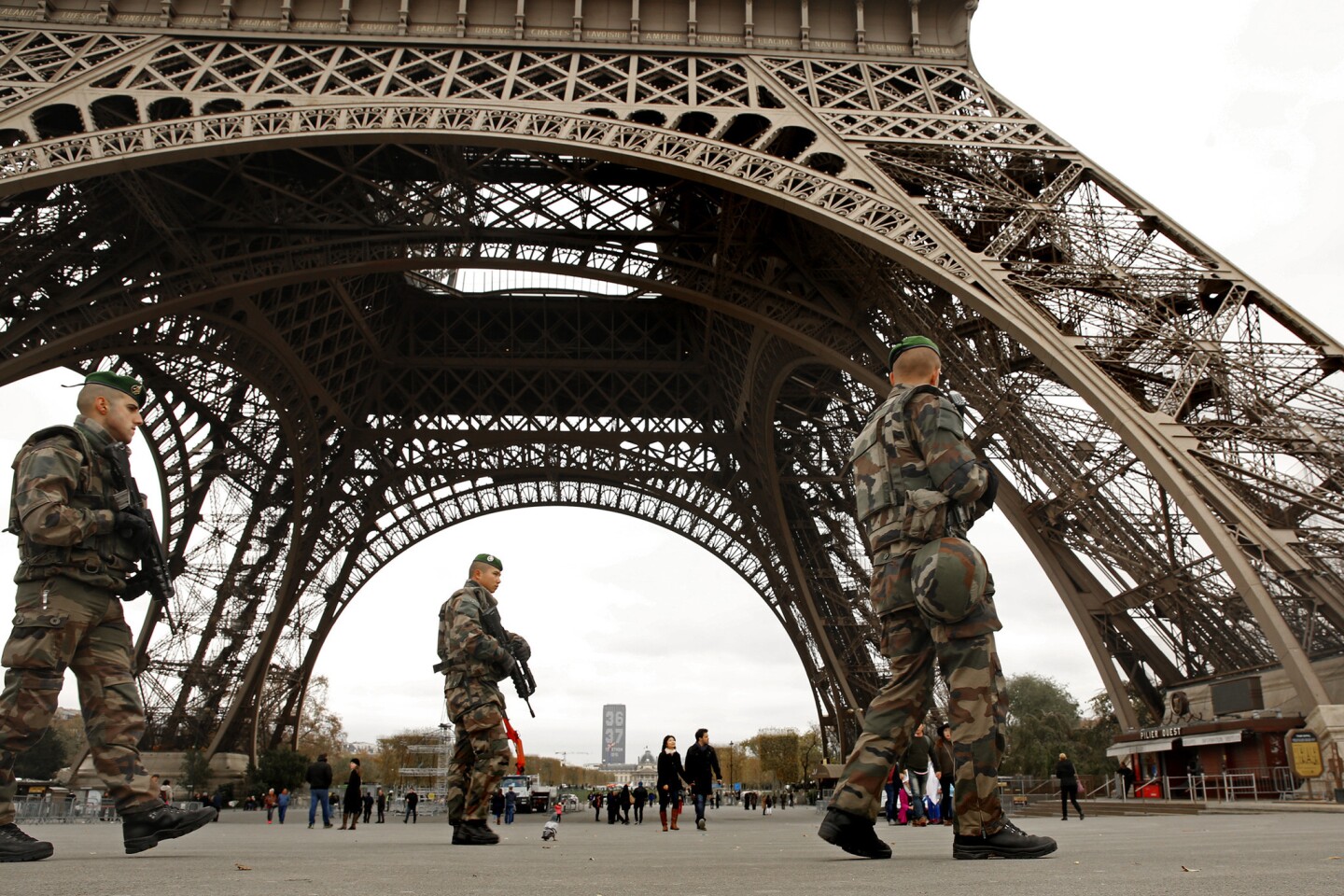 Members of the French Foreign Legion stand guard near the Eiffel Tower on Nov. 16.
(Carolyn Cole / Los Angeles Times)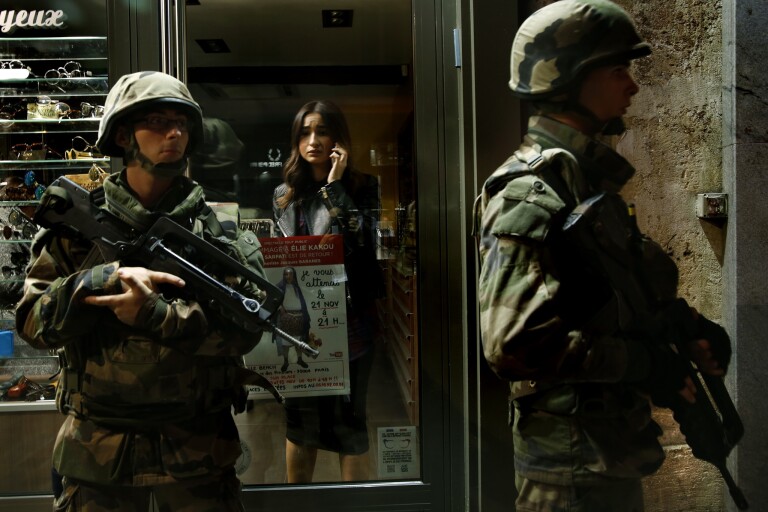 A Paris shopkeeper stays inside Sunday as soldiers guard the street where she works.
(Carolyn Cole / Los Angeles Times)
Women run past French soldiers as panic spread through the streets of Paris when rumors spread of another possible terrorist attack, which turned out to be a car left running in the street.
(Carolyn Cole / Los Angeles Times)
Prelates arrive to celebrate a Mass in memory of the attack victims at the Notre Dame cathedral.
(LIONEL BONAVENTURE / AFP/Getty Images)
An emotional crowd gathers in front of Le Carillon restaurant.
(Carolyn Cole / Los Angeles Times)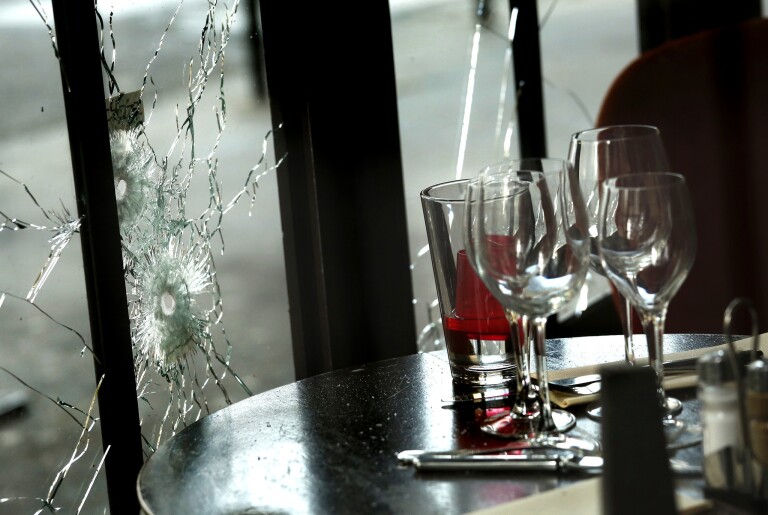 The glasses and silverware remain on the table where bullets were fired at Cafe Bonne Biere.
(Carolyn Cole / Los Angeles Times)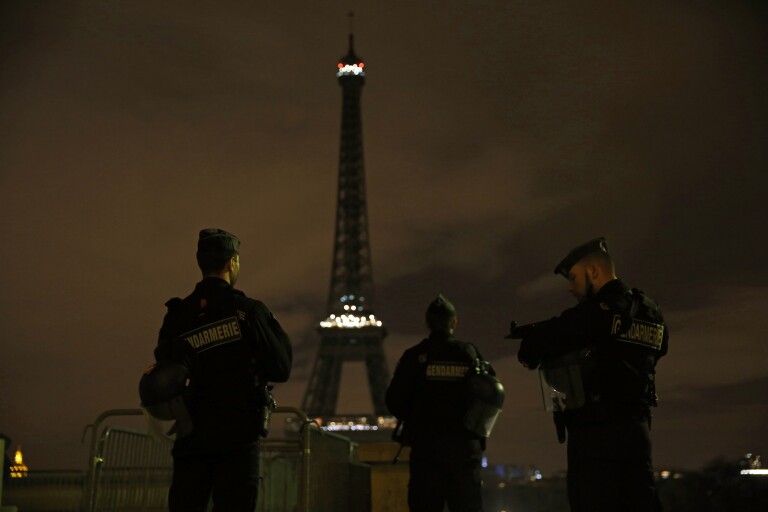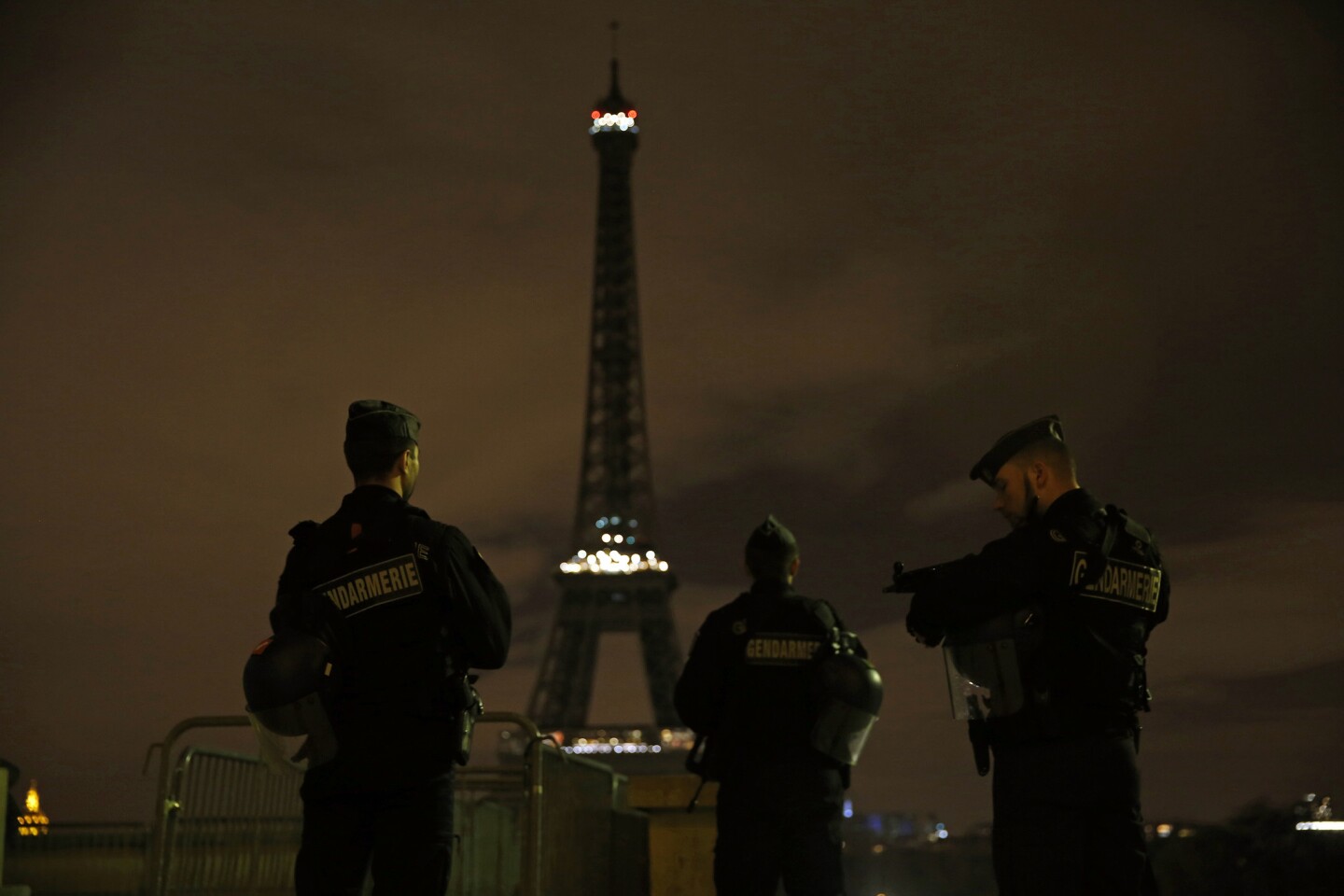 Armed police stand guard Nov. 14 near the Eiffel Tower, which was kept dark in honor of those who died in the terrorist attacks.
(Carolyn Cole / Los Angeles Times)
Mourners place flowers and candles outside the Bataclan theater in Paris.
(Carolyn Cole / Los Angeles Times)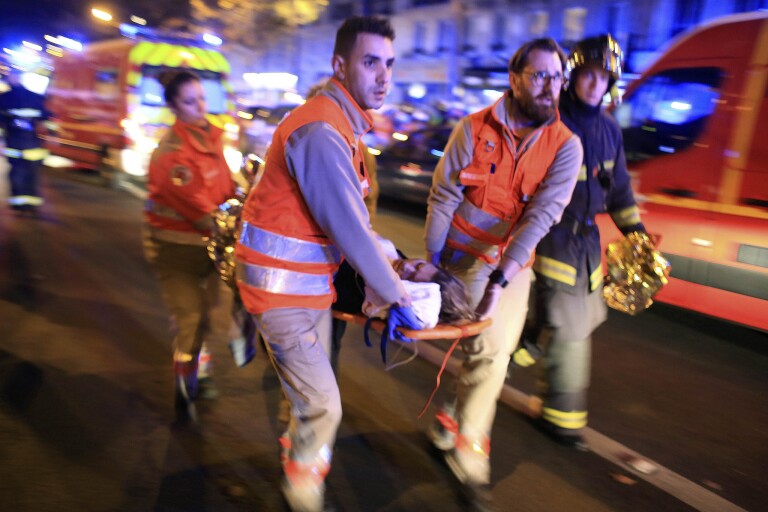 A woman is evacuated from the Bataclan theater after the shootings in Paris.
(Thibault Camus / Associated Press)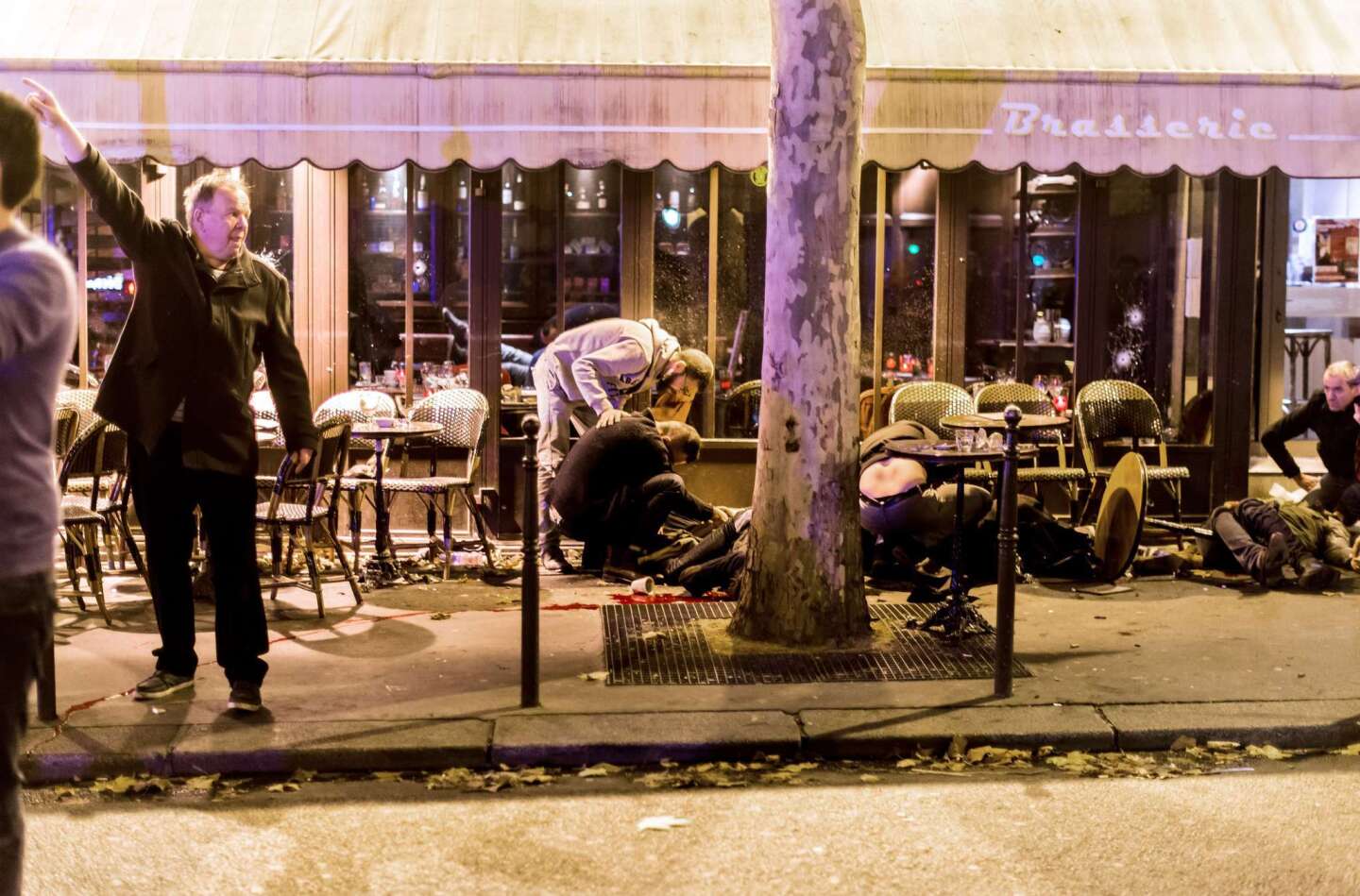 People lie on the pavement near the Cafe Bonne Biere in Paris following a series of attacks.
(ANTHONY DORFMANN / AFP/Getty Images)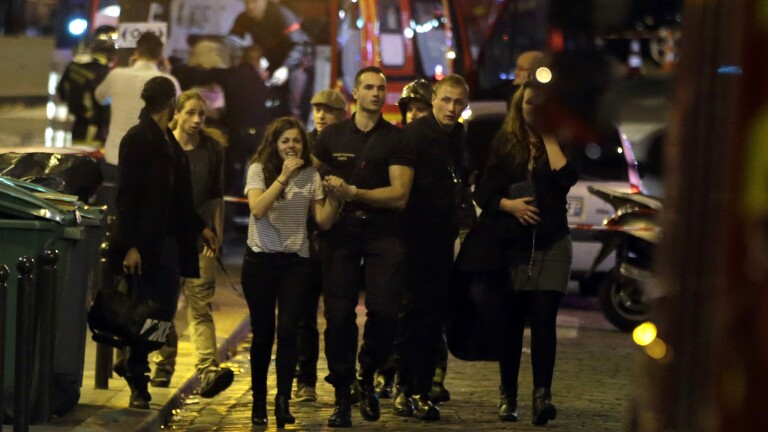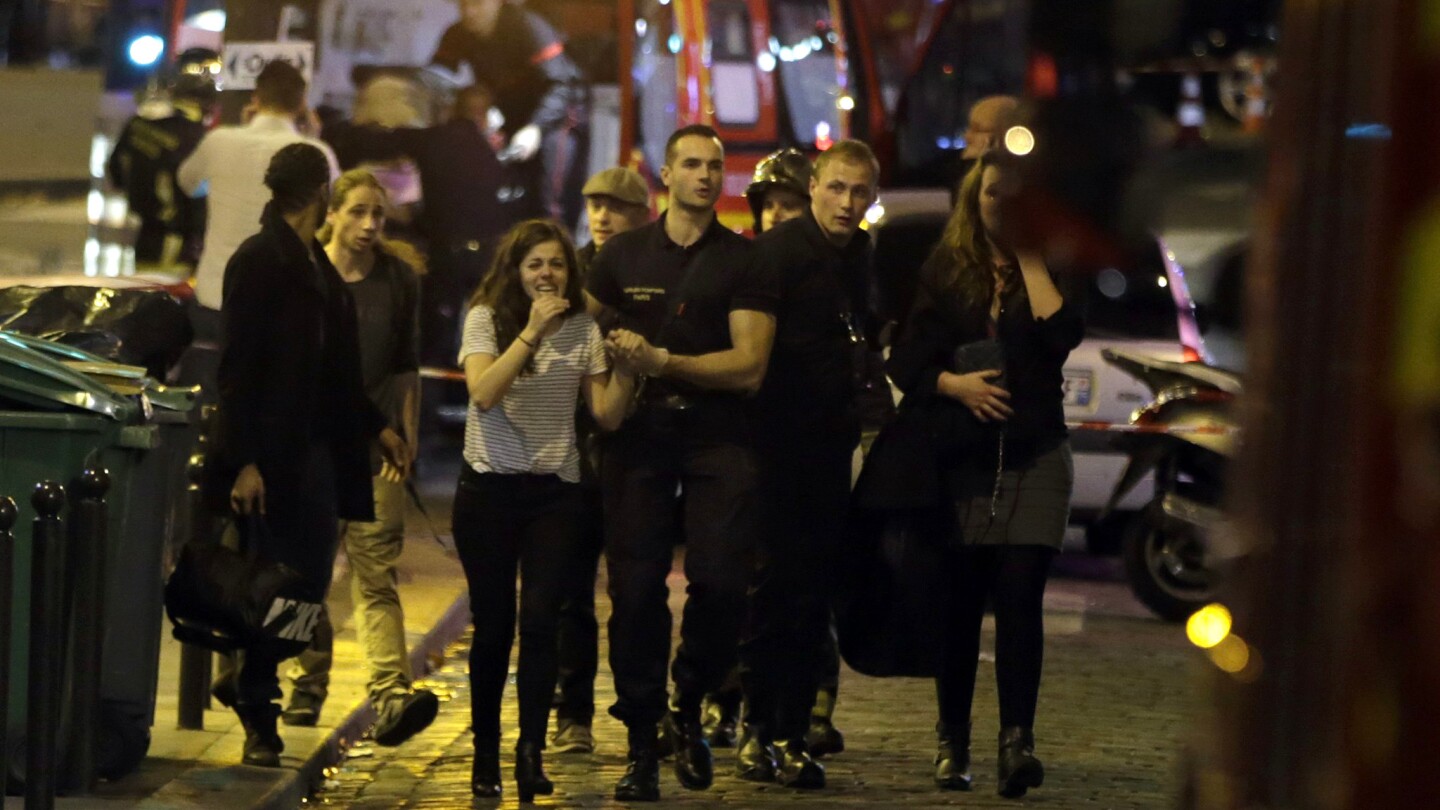 Rescuers evacuate people following an attack in Paris, where there were also reports of an ongoing hostage crisis at a concert venue.
(Kenzo Tribouillard / AFP/Getty Images)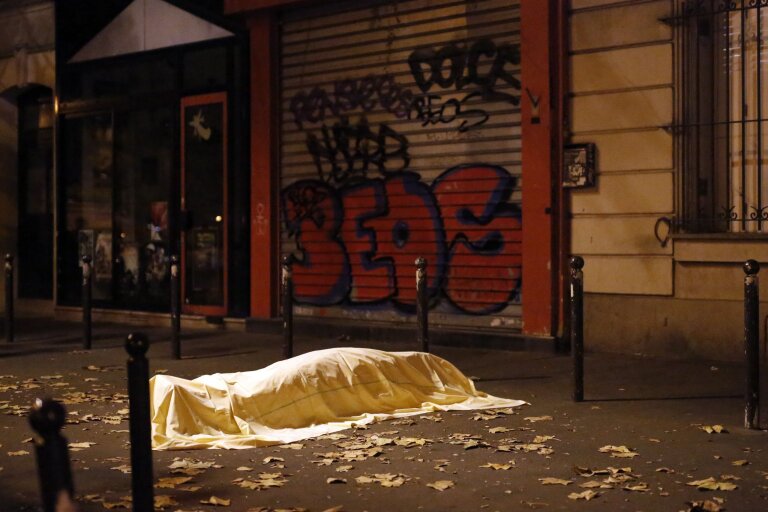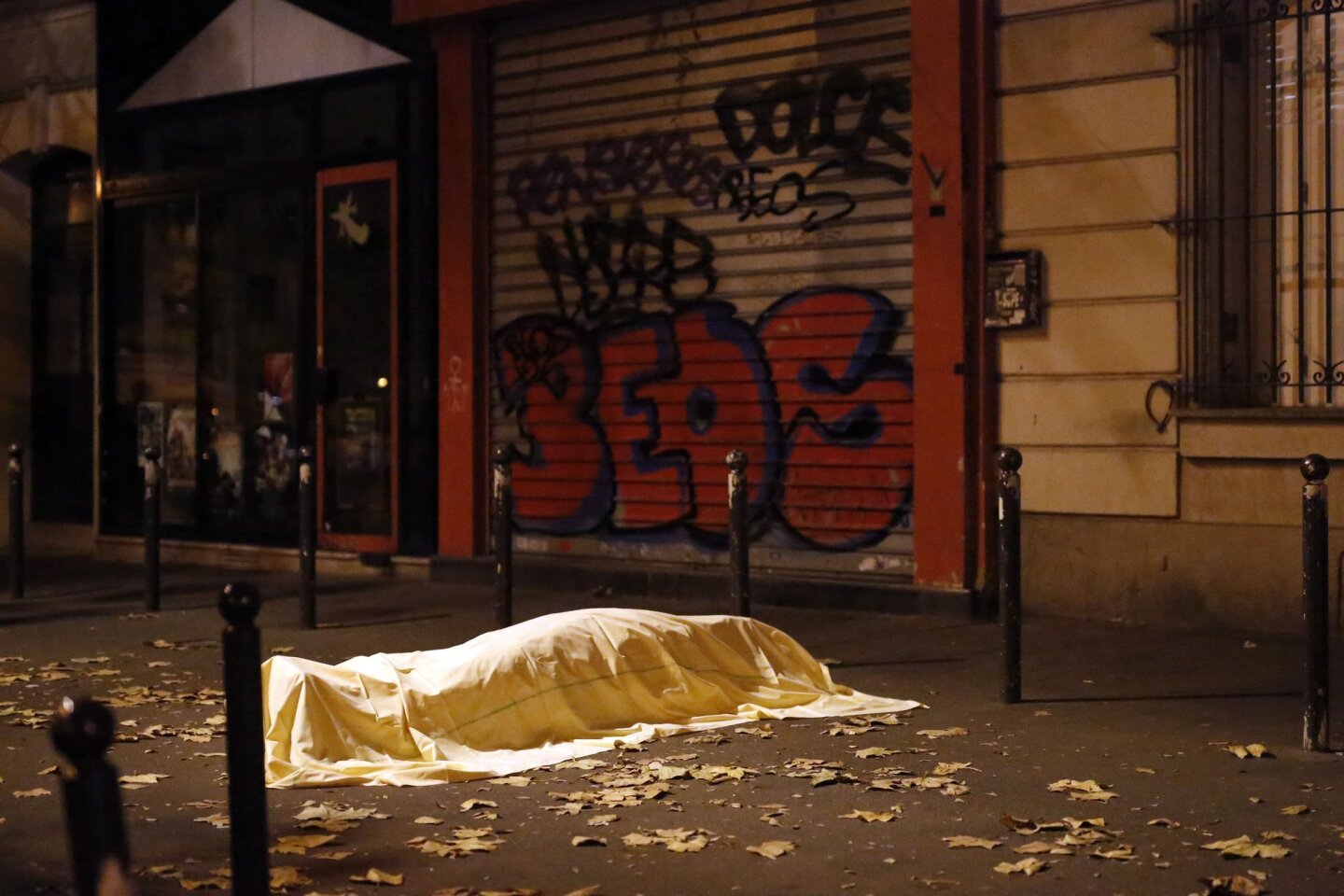 A victim lays dead under a blanket outside the Bataclan theater in Paris.
(Jerome Delay / AP)
Hundreds of people spilled onto the field of the Stade de France stadium after explosions were heard nearby during a match between the French and German national soccer teams.
(Christophe Ena / Associated Press)
reporting from BRUSSELS —
France called Friday on its European Union partners to take immediate and decisive action to toughen the bloc's borders and prevent the entry of more violent extremists.
"We can't take more time. This is urgent," Interior Minister Bernard Cazeneuve said.
One week after the coordinated attacks claimed by Islamic State in Paris, Cazeneuve and the other EU interior and justice ministers opened an emergency meeting on the next steps to take to prevent more bloodshed. France and Belgium were expected to urge their EU partners to tighten gun laws, toughen border security and choke off funds to extremist groups.
NEWSLETTER: Get the day's top headlines from Times Editor Davan Maharaj >>
"Terrorists are crossing the borders of the European Union," said Cazeneuve, underlining why the 28-nation bloc must move forward on a long-delayed system for collecting and exchanging airline passenger information. That system would allow the EU to better track extremists and foreign fighters coming and going from Syria and Iraq, he said.
Britain's interior minister, Theresa May, said the EU must quickly implement beefed-up border security measures already agreed on, saying there was a clear link between tightened borders and the safety of Europeans.
Ministers, however, were not expected to order any new measures that could be immediately introduced. Documents prepared for the meeting and seen by the Associated Press indicate the ministers instead will try to push forward on priorities already identified, but not acted on, by EU leaders following an earlier round of lethal attacks in Paris on a satirical newspaper and a kosher grocery in January.
The narrative provided by French officials on the brazen and carefully coordinated attacks a week ago on France's national stadium and Paris cafes, restaurants and a theater raises disturbing questions about how a wanted militant already suspected of involvement in multiple plots could slip into Europe undetected.
French investigators quickly identified Belgium-born Abdelhamid Abaaoud, 28, as the architect of the attacks in Paris, but believed he had coordinated the assaults against a soccer stadium, cafes and a rock concert from the battlefields of Syria.
That situation changed drastically on Monday when France received a tip from a non-European country that Abaaoud had slipped back into Europe through Greece, Cazeneuve said Thursday.
"It was a big surprise when the intelligence came in," one French police official told AP, speaking on condition of anonymity because the information was sensitive. "There were many people who didn't take it seriously, but effectively it was confirmed."
How and when Abaaoud entered France before his death remained unclear. He had bragged in the Islamic State group's English-language magazine that he was able to move in and out of Europe undetected.
As it turned out, not only was Abaaoud in Europe, but right under the noses of French investigators, a 15-minute walk from the Stade de France stadium where three suicide bombers blew themselves up during the Nov. 13 attacks that also wounded hundreds.
Paris prosecutor Francois Molins said Abaaoud was traced to the apartment in Saint-Denis through phone taps and surveillance.
Following a lengthy assault, police said the suspected plot ringleader and his female cousin died in a hail of bullets and explosions.
The Paris prosecutor's office said Friday that three bodies had been found in the apartment, including suspected mastermind Abaaoud. It confirmed that the woman was Hasna Aitboulahcen, 26. The identity of the third body has not been announced.
Security officials told the Associated Press that Aitboulahcen is Abaaoud's cousin.
Belgian authorities on Friday released seven people detained a day earlier, but continued to hold one person suspected of links to the Paris attacks and another linked to stadium bomber Bilal Hadfi but not directly to the Paris attacks.
Jean-Marc Falcone, speaking on France-Info radio, said he was unable to say if Salah Abdeslam, a friend of Abaaoud, could be back on French territory.
"We can't say anything about the exact geographic situation of that individual," he said.
European officials earlier acknowledged that French police stopped Abdeslam the morning after Friday's attacks at the Belgian border but then let him go. His brother Brahim was one of the Paris suicide bombers.
Authorities initially gave Abaaoud's age as 27, but on Thursday Paris prosecutors said he was 28. News of his death seemed to ease some tension in a country deeply shocked by the attacks.
"We now know that Abaaoud, the brain behind these attacks — one of the brains, because we must be particularly cautious, and we know what the threats are — was among the dead," Prime Minister Manuel Valls told the lower house of the French Parliament.
On Friday, French President Francois Hollande's office said he will lead a national ceremony Nov. 27 honoring the victims of the deadliest attacks on France in decades. The ceremony will be held at the gold-domed Hotel des Invalides, where Napoleon's tomb lies and which is seen as a symbol of France's military and international strength.
Of the more than 350 people wounded in the attacks, scores are in critical condition, and medical authorities have warned that the death toll is likely to rise.
On Friday, Prime Minister Manuel Valls said one more person died as a result of the attacks, raising the total to 130.
Under gray skies and rain, Paris on Friday marked a week since the bloodbath with silence and reflection.
Most demonstrations have been banned in the city since the attacks, but Parisians have been spontaneously gathering all week outside the restaurants, cafes and concert hall hit in the attacks to leave flowers, light candles or hold quiet vigils.
A demonstration planned Friday at France's oldest mosque to show inter-community solidarity after the attacks was canceled for security concerns.
Next week Hollande is going to Washington and Moscow to push for a stronger international coalition against Islamic State. French military spokesman Col. Gilles Jaron said Thursday that French forces have destroyed 35 Islamic State targets in Syria since the attacks on Paris.
MORE ON PARIS ATTACKS
How to talk to your kids about the terrorist attacks in Paris
France moves to bolster cultural venues, cinemas following terrorist attacks
Opinion: Barring Syrian refugees after the Paris attacks would reject America's very roots
---
Must-read stories from the L.A. Times
Get the day's top news with our Today's Headlines newsletter, sent every weekday morning.
You may occasionally receive promotional content from the Los Angeles Times.