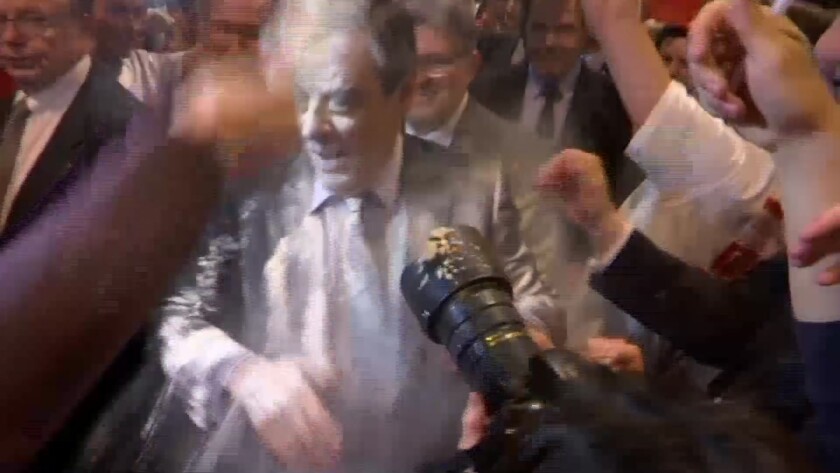 In France, when the going gets tough, the tough go to the bakery. So it was that conservative presidential contender Francois Fillion got flour-bombed as he arrived at a campaign event in the eastern city of Strasbourg on Thursday.
Video recorded by the French BFMTV channel shows the young assailant, who was wearing a pro-Fillon T-shirt, being tackled to the ground as the former prime minister was hustled away, covered in flour.
"I hope at least that the flour was French," Fillon later quipped, when he addressed supporters.
Fillon, who won the nomination for the center-right opposition Republicans on a platform that says presidential candidates must be "beyond reproach," was once heavily favored to win. But corruption allegations have hurt his chances in the two-round election, which takes place April 23 and May 7.
Last month, preliminary charges were brought against Fillon in connection with wages that his wife and children received for parliamentary jobs they allegedly never performed.
Images of the flour-doused candidate were doing the rounds on Twitter on Thursday.
"Flour is justice," declared one Twitter user.
"Bleached!" said another.
Fillon, 63, threatened legal action Thursday over leaks conerning his family's jobs. He has said he believes that the leaks came from President Francois Hollande.
It is not illegal for French lawmakers to employ relatives, and Fillon denies any wrongdoing.
"Those who are at the origin of the affair will not sleep well in the future," he said on France-Inter radio.
Twitter: @alexzavis
---